By Anna Fox
Published: 31/05/2022
-
08:07
Updated: 14/02/2023
-
11:11
Cheaper foods such as pasta and rice are going up in price, affecting those who rely on basic food products to be sustained.
The price of dried pasta has risen by 50 percent between April 2021 and 2022, according to the Office for National Statistics (ONS).
---
In a horrifying blow for those on low incomes, an average 500g of pasta now costs 53p, instead of 36p one year ago, an almost 50 percent increase.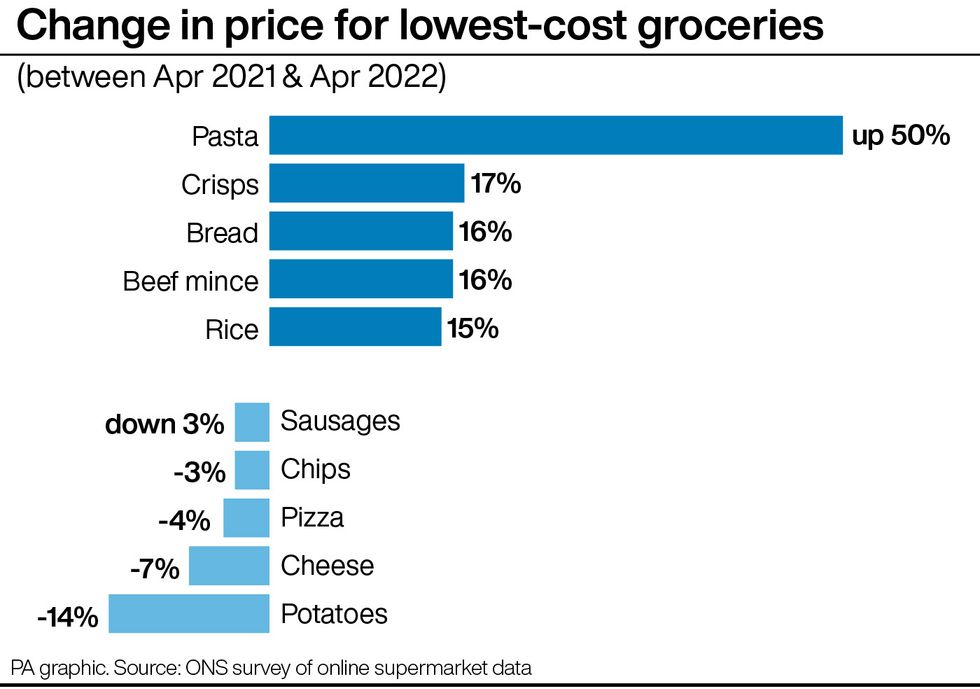 The cost of living crisis has seen the price of lowest-cost groceries soar.
PA Graphics/Press Association Images
Households have faced huge hikes in energy bills and fuel in recent weeks, in light of the cost of living crisis.
The ONS tracked prices 30 cheap food prices at supermarkets Asda, the Co-op, Iceland, Morrisons, Sainsbury's, Tesco and Waitrose.
Despite Aldi and Lidl being amongst the cheapest supermarkets in the county, they were excluded from the survey as they do not permit customers to shop online.
The statistics revealed that an 800g load of bread rose from 47p go 54p, a 16 percent increase.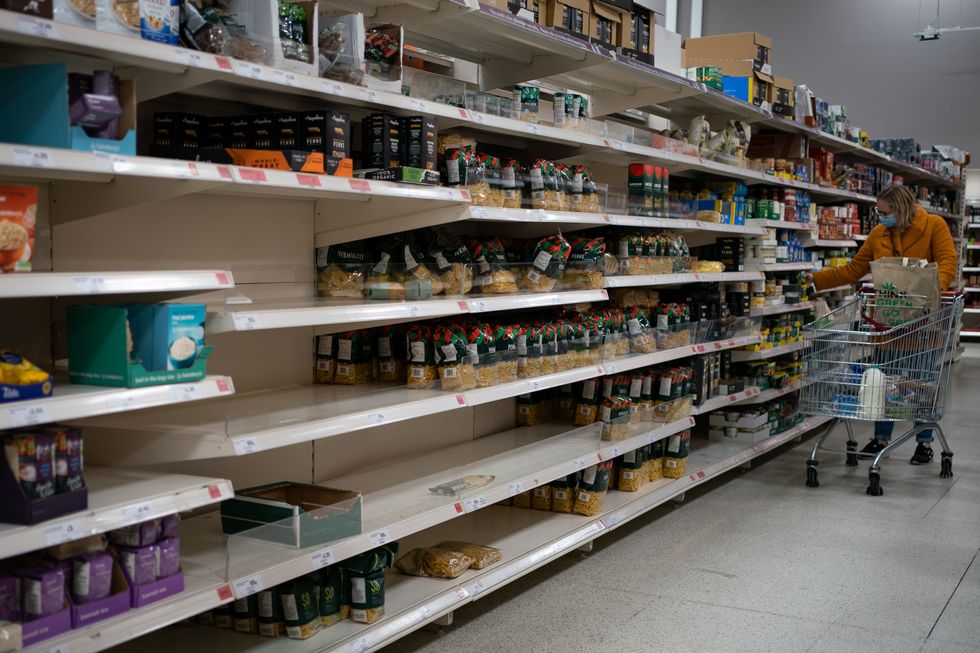 Pasta prices have skyrocketed, forcing customer to dish out 53p for a 500g pack instead of 36p which they paid last year.
Aaron Chown
A 500g pack of Minced beef now costs a shocking £2.34, and increase of 32p over a one year period.
The data concluded that the following items have changed in price between April 2021 and April 2022:
Pasta: +50%
Crisps: +17%
Bread: +16%
Beef Mince: +16%
Rice: +15%
Biscuits: +14%
Fruit Juice (Orange): +14%
Mixed Frozen Vegetables: +14%
Fruit Squash: +12%
Breakfast Cereal: +10%
Chicken Breast: +9%
Vegetable Oil: +9%
Baked Beans: +7%
Tomato Ketchup: +6%
Fish Fingers: +3%
Onions: +3%
Ham: +2%
Tomatoes: +2%
Tea: +2%
Yoghurt: +1%
Instant Coffee: +1%
Bananas: +1%
Granulated Sugar: +1%
Milk: no change
Apples: -1%
Sausages: -3%
Chips: -3%
Pizza: -4%
Cheese: -7%
Potatoes: -14%
The survey fails to take account for the costs associated with buying a product, such as the fact that lower income households often avoid buying potatoes, because they take longer to boil, therefore using expensive gas.
The survey comes as experts warn that the poorest household in the country are bearing the brunt of the cost-of-living crisis.
While inflation hit a 40-year high of 9 percent in April, those who are receiving low incomes now fork a large proportion of their income on the basics such as energy bills and fuel.
The Russian invasion of Ukraine has also led to an increase in food prices. Russia and Ukraine produce 80 percent of the world's sunflower oil and 30 percent of its wheat, leading to prices of oils to skyrocket.