By Holly Bishop
Published: 19/09/2023
-
11:17
Updated: 19/09/2023
-
15:29
Nigel Farage has been left enraged by the Financial Conduct Authority (FCA) after its said there was no evidence of Britons being debanked due to political reasons.
The GB News presenter accused the report, which was released today, of being a "whitewash" and a "joke".
---
Speaking on GB News, Farage said: "What a complete and utter farce! What a joke! The FCA are told by the government that they've got to look into it. So the FCA go to the banks and say 'Have you debanked anyone?'
"The banks say 'Oh no we wouldn't do that' and the FCA say 'oh that's just great'. It's nonsense!"
Nigel Farage reacts to FCA ruling
Farage claimed various MPs from a range of political parties had been a victim of debanking, calling it a "list as long as your arm".
The presenter questioned whether the FCA listened to these cases when they made their decision.
Farage said that the FCA themselves are a political organisation.
"The people at the top of the FCA are deeply political themselves.
"Think of Sheldon Mills, the exec director, he of stonewall, he of endless political campaigns of gender. When you ask a group of biased people to examine bias, don't be surprised when they don't find anything."
"Of the broader issues around debanking and the fact that people should have aright to a bank account they say they'll report back in the next few months. But how can I have any confidence in the people running this organisation if this is their initial conclusion.
"The problem here and this goes right throughout our financial services industry – the fish rots from the head down. It's the FCA! That have been pushing onto the banks and insurance companies this extraordinary diversity and inclusion agenda.
"I think the people running the FCA are not fit for purpose. Let's get a financial market regulator made up of people who have actually worked in financial markets – wouldn't that be a change.

DEBANKING LATEST:
Farage slammed the FCA for easily believing the banks when they denied debanking politically exposed persons (PEPs).
On a video he posted on social media, Farage said: "You say to a bank have you debanked people for political reasons they say no and the FCA says 'well there we are that's the end of the matter'.

"Well, it isn't it's a complete and utter farce, a total whitewash, it is a joke!"
The former Ukip leader called on politicians Andrew Griffith and Jeremy Hunt to intervene to recitify the situation.
Farage also called an overhaul at the FCA, with mass sacking and placing not overtly political people in senior roles.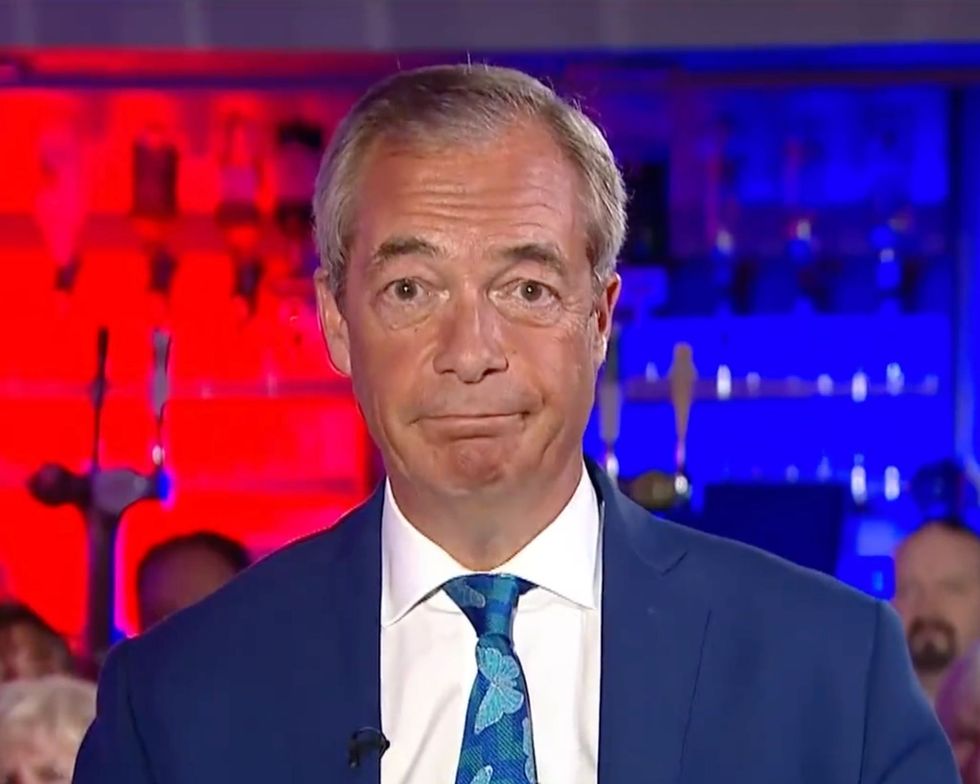 GB News' presenter Nigel Farage was debanked by Coutts, NatWest's private bankGB News
The Financial Times leaked the FCA report this morning, before it was officially released at midday.
The Treasury released a statement on the FCA report: "Free speech is a fundamental human right. No ifs, no buts - everyone must be able to express their lawful opinions without fear of losing the vital access to a bank account.
"We have already acted to force banks to explain and delay any decision to close an account to protect freedom of expression – meaning customers will have a 90 day notice period and a clear explanation for any account closure. That will be backed up in legislation this year.

"We note the initial report of the FCA. Clearly there is more to be done to validate the submissions by banks and to ensure that the FCA have thoroughly followed up de-banked customer perspectives."
In July, Farage presented a 40-page dossier which revealed that his account at Coutts had been closed mainly as a result of his political views, which were said to conflict with the bank's values.
NatWest boss Dame Alison Rose was forced to resign after losing the confidence of Government ministers after she leaked an inaccurate story about Nigel Farage's finances.
Rose admitted to a "serious error of judgment" when she discussed Farage's relationship with private bank Coutts, owned by NatWest Group, with a BBC journalist.