Published: 27/04/2023
-
10:02
Suella Braverman raised concerns that illegal migrants are fuelling crime and prostitution, as her small boats Bill passed through Parliament on Wednesday with a majority of 59.
Buoyed by her party's support ahead of the Third Reading debate, Braverman scolded the "heightened levels of criminality" linked to illegal migrants crossing the English Channel.
---
The Home Secretary said: "I think that the people coming here illegally do possess values which are at odds with our country.

"We are seeing heightened levels of criminality when related to the people who've come on boats, related to drug dealing, exploitation, prostitution.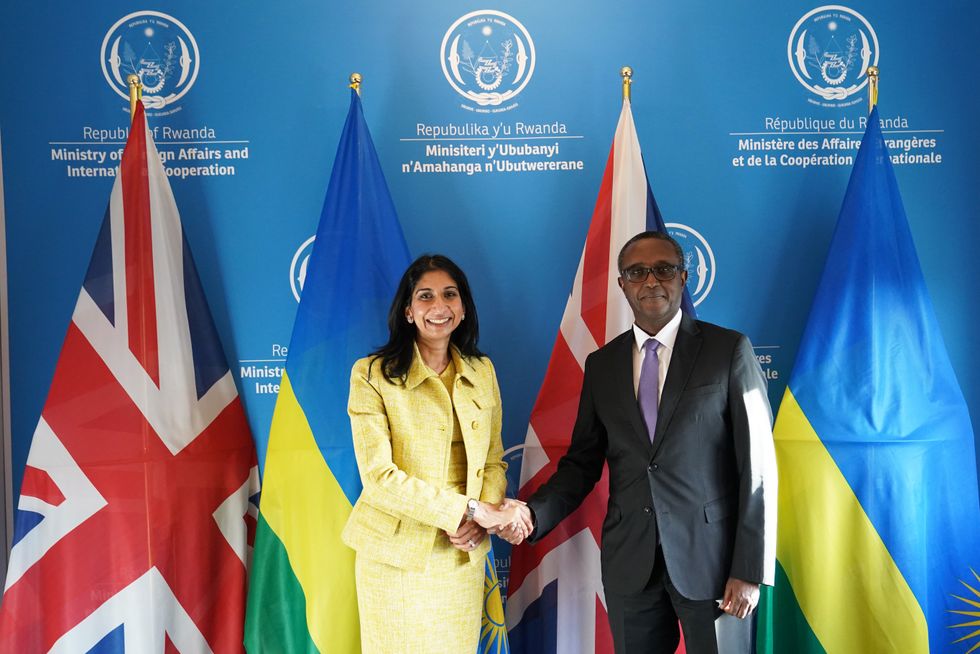 Suella Braverman and Rwandan minister for foreign affairs Vincent Biruta
PA
"There are real challenges which go beyond the migration issue of people coming here illegally. We need to ensure that we bring an end to the boat crossings."

The Illegal Migration Bill gives the Government the power to detain nearly all migrants arriving in the UK and swiftly remove them to their home country or a safe nation such as Rwanda.
Pushed to provide evidence of her criminality comments at a later event in Westminster, Braverman said the information had come directly from police chiefs testimony rather than data.
She said: "I consider police chiefs experts in their field and authoritative sources of information."

Braverman did caveat comments by adding that criminality was "not in all cases" but "many people are coming here illegally and they're getting very quickly involved in the drugs trade, in other forms of exploitation".
Despite murmurings of amendments and saber-rattling from rebel Tories, the Bill was backed by 289 MPs, with 230 MPs voting against, passing Parliament without a hitch.
Former Prime Minister Theresa May and Sir Iain Duncan Smith had been pushing for an amendment to the Bill which would grant a modern slavery exemption from deportation.
May warned MPs last month that approving the Bill would "drive a coach and horses" through her Modern Slavery Act, as she lamented "denying support to those who have been exploited and enslaved, and in doing so making it much harder to catch and stop the traffickers and slave drivers."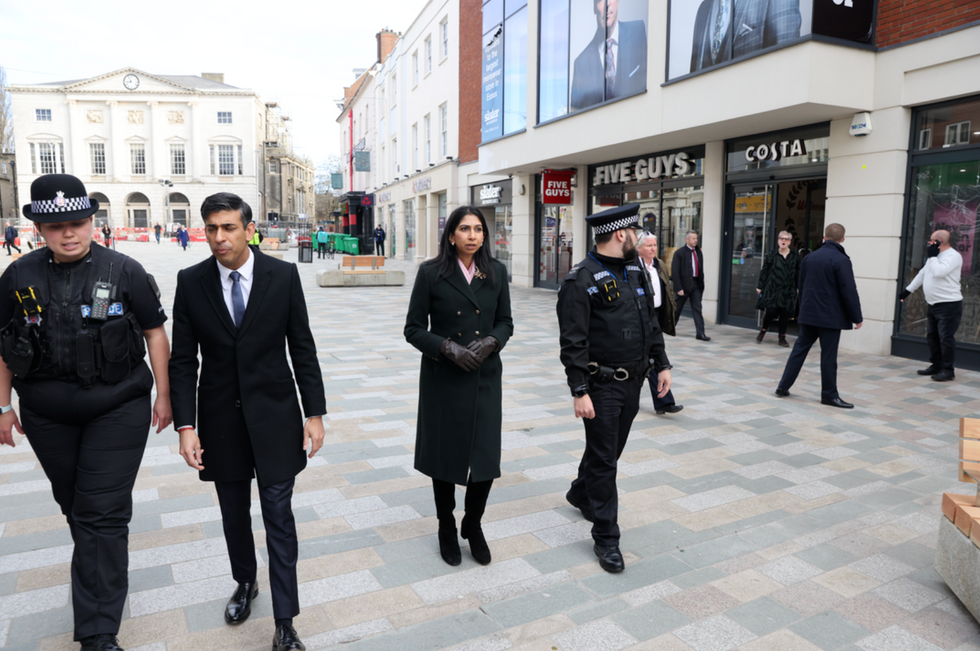 Rishi Sunak and Suella Braverman singing off the same hymn sheet
GB News
A few prominent Tories threatened to deride the Bill if it allows the Home Secretary to ignore clause 39 orders from the European Court of Human Rights (ECHR).
Sir Bob Neill, chairman of the Commons Justice Committee, told Times Radio that ignoring the ECHR "would go wholly against the whole traditions of the Conservative Party", while Sir Robert feared "an unnecessary scrap with Strasbourg judges".
However, Rishi Sunak did appease Tory rebels by softening the language of the small boats Bill to ensure greater protection for under 18 migrants.
Sunak offered the concessions that unaccompanied children would only be detained in "exceptional circumstances" and deported in "very limited circumstances" such as for "family reunion" or removal "to their safe home country".
Last year, National Crime Agency chiefs warned that a "significant number" of the Albanians in the UK who had entered illegally were working in the "grey" market or for organised criminal drug gangs and were sending back "hundreds of millions of pounds" to their home country.