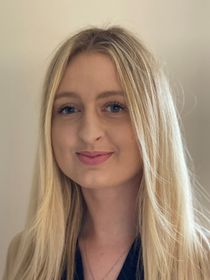 Published: 20/02/2023
-
18:03
The Archbishop of Canterbury has been rejected as head of the Anglican Communion by a group of conservative church leaders.
A group of 12 Anglican archbishops have revolted because of his backing of blessings for same-sex couples.
---
The leaders said that "the present Archbishop of Canterbury is no longer the leader of the communion" and the Church of England is no longer the body's "mother church" in their eyes.
The Archbishop of Canterbury has formally been the spiritual leader of the Anglican Communion - a global fellowship of 42 Anglican churches – since the formation in 1867.
A statement released by a conservative group called the Global South Fellowship of Anglicans (GFSA) said 12 of its archbishops were "no longer able to recognise the present Archbishop of Canterbury as the first among equals leader of the global communion".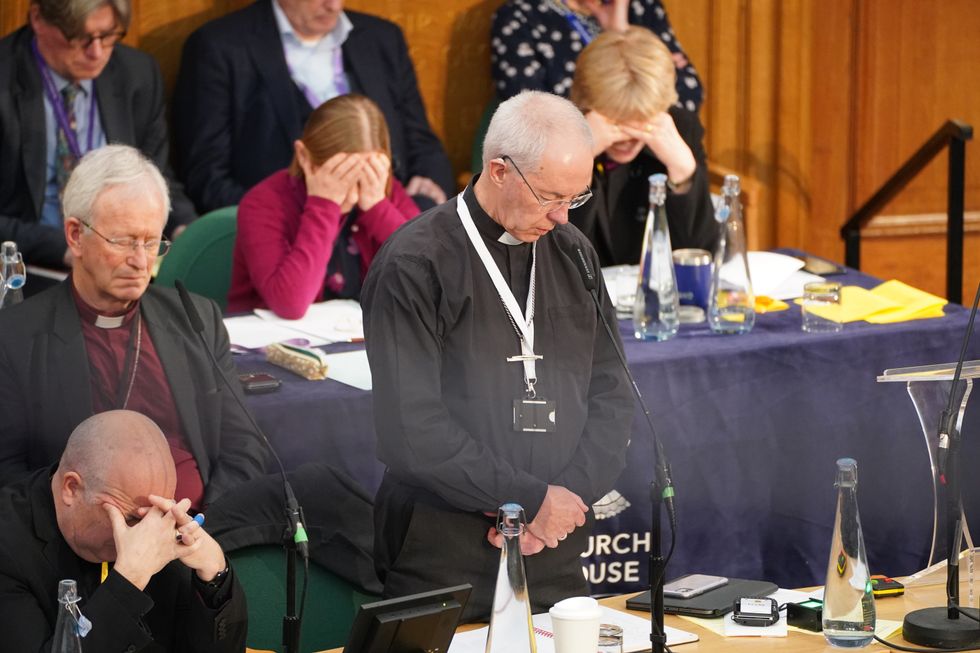 The Archbishop of Canterbury backed blessings for same-sex couples.
James Manning
It comes after the move to offer blessings for gay couples in the Church of England, which was proposed by bishops in January.
The proposal was backed by the General Synod this month.
The signatories include the Most Rev Justin Badi, the Archbishop of South Sudan, who met Welby this month during his visit to the country with the Pope.
Other signatories include the archbishops of Chile, the Indian Ocean, Congo, Myanmar, Bangladesh, Uganda, Sudan, Alexandria and Melanesia.

In total, the 12 stand for almost half of the provinces who make up the GFSA and almost a quarter of the provinces of the Anglican Communion.
The statement said that Welby had "sadly led his House of Bishops to make the recommendations [for blessing gay couples], knowing that they run contrary to the faith and order of the orthodox provinces in the communion".
They added that worldwide most Anglicans did not support same-sex relationships.
Anger among the conservative Anglican church sparked after Gene Robinson became the first openly gay priest to be consecrated as an Anglican bishop in the US in 2003.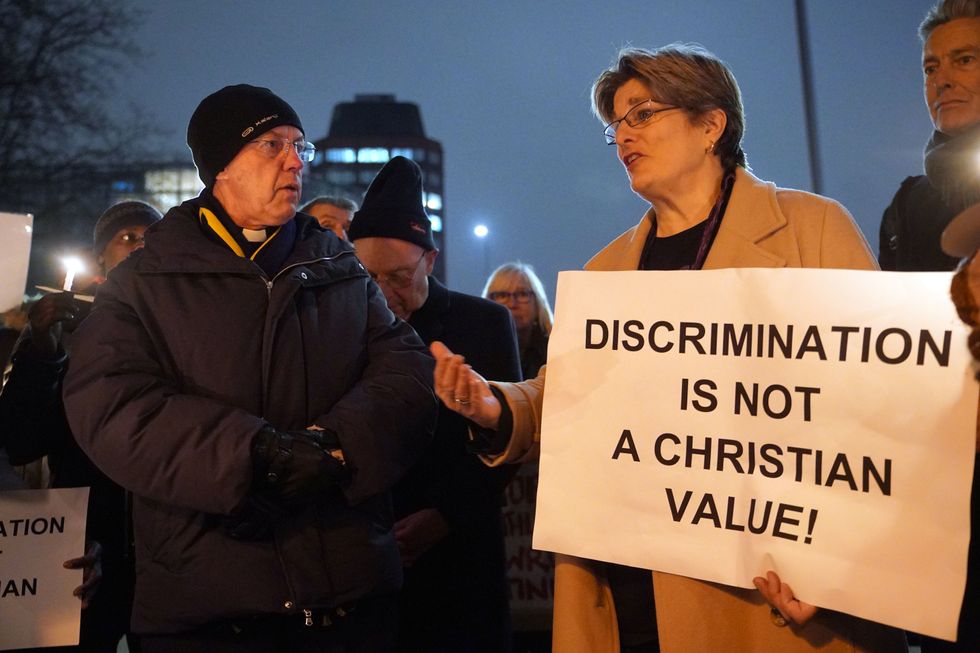 The Archbishop of Canterbury (left) spoke with Jayne Ozanne and other LGBT+ campaigners
Yui Mok
The Episcopal Church, the Anglican church in the US, became the first Anglican church to start marrying gay couples in 2015.
The Scottish Episcopal Church followed in 2017, which caused conservative Anglican leaders to demand that Welby punish the church by revoking its right to vote on the Anglican Communion's affairs.
Ben Bradshaw, the Labour MP who has been calling on the Church of England to back same-sex marriage, said: "It looks like the Archbishop of Canterbury has got the schism he badly wanted to avoid by recommending minimalist moves towards treating LGBT Anglicans equally.
"Time to end the post-colonial pretence, let the homophobic provinces go, and focus on the Church of England's job here."