Published: 07/11/2022
-
14:27
Updated: 07/11/2022
-
14:38
Danny Kelly has labelled Just Stop Oil protesters "scandalous" and "deluded" after the group's supporters caused chaos on the M25 on Monday morning.
The protesters went ahead with action to disrupt sections of England's busiest motorway despite a major Metropolitan Police operation to foil their plans.
---
A spokeswoman for Just Stop Oil said "action has gone ahead in multiple locations on the M25" on Monday morning.
The demonstrations come as the latest Cop27 international climate change talks in Egypt get under way.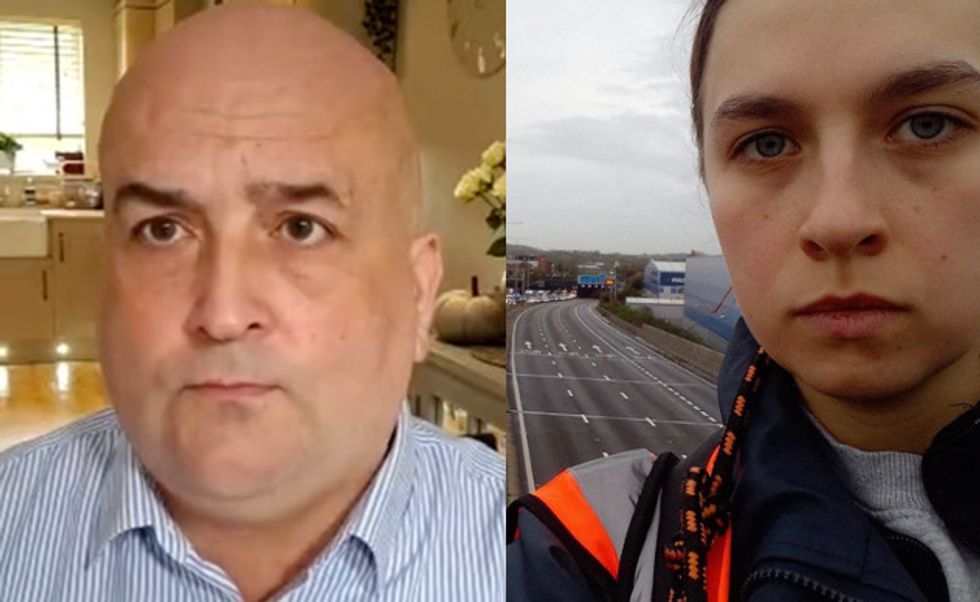 Danny Kelly and a Just Stop Oil protester
GB News/PA
And Mr Kelly has lashed out at the group following their latest action, saying some of the young activists are "morphing into Greta Thunberg".
He said on GB News: "It's scandalous, I watched one of the videos of a 24-year-old young woman hysterically screaming that she had no future.
"She even started, when I was watching her, morphing into Greta Thunberg, they're sort of morphing into Greta Thunberg these young activists, it's a disgrace.
"This is contempt of court, it's one of the most serious of the criminal infringements because you are basically undermining the sanctity of our judicial system.
"I hate what they do, I don't hate them individually."
He added: "They are deluded if they think they are going to change government policy by attaching themselves to a gantry on the M25.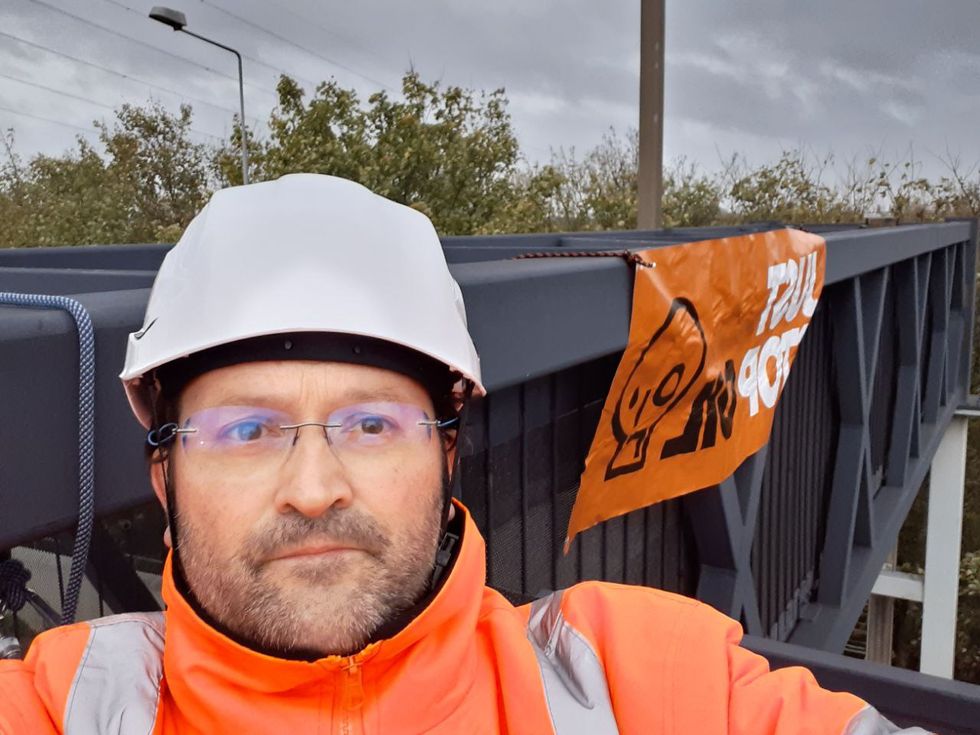 A protester who has climbed a gantry on the M25 between junctions six and seven in Surrey
Just Stop Oil
"All they're doing ironically is having thousands of cars idling pumping out CO2 into the air, something they are trying to put a stop to.
"It's just counter initiative, and the working class man or woman have had enough of it."
Surrey Police had earlier tweeted that they had reports there were protesters at a number of places along the motorway, resulting in some temporary lane closures.
The force said they would "get this resolved as soon as possible".
Essex Police said arrests were made after reports of people climbing up an overhead gantry close to junction 30 of the M25.
Hertfordshire Police said five people had been arrested after protesters attempted to climb overhead gantries at various junctions.
The Metropolitan Police said it had arrested people on Sunday evening and Monday morning as it launched an operation to identify and arrest climate change protesters suspected of planning "reckless and serious" motorway disruption.
Assistant Commissioner Matt Twist said three people were arrested on Sunday evening who were suspected of planning public disruption.
Shortly before 8am on Monday, the Met said it had arrested a further four people for conspiracy to cause public nuisance at an address in south London.
Mr Twist said: "Our investigation has strong reason to suspect the Just Stop Oil group intend to disrupt major motorway road networks which would risk serious harm to the public, with reckless action to obstruct the public on a large scale.
"All those arrested are suspected of engaging in conspiracy to cause public nuisance contrary to Section 78 Police, Crime, Sentencing and Courts Act 2022.
"There remains a possibility outstanding suspects are still intent on causing unlawful disruption to the public. The Met has mobilised specialist teams and drawn police officers from across the capital to respond.