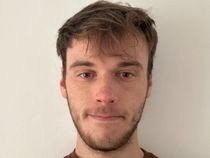 By Ben Chapman
Published: 27/06/2023
-
17:42
Updated: 28/06/2023
-
11:33
GB News Breakfast overcame strong competition from establishment media to claim the Multichannel News Programme award at the 2023 Tric Awards.
Eamonn Holmes, Isabel Webster, Stephen Dixon, Ellie Costello and Anne Diamond - along with their production team - celebrated as The People's Channel scooped the top gong.
---
Commenting on the award, Eamonn Holmes said: "We're a seven-day-a-week programme and you should judge what we do on the competition we were up against for this award.

"We're privileged to win this."
Fellow Breakfast presenter Stephen Dixon said: "First and foremost - thank you to everybody who has voted.

"Thank you to the whole production team. It's not just about people you see on air, it's about people who've done what they can to get us where we are today.
"It's nice not to be written off. I know some people are a little bit dubious about what we do but we are a news programme.

"Clearly our viewers appreciate what we do, which is great."
GB News' flagship morning show overcame competition from Good Morning Britain, Channel 4 News, ITV Evening News and Talk TV Breakfast Show.
It was a particularly poignant award for Anne Diamond, who recently revealed her breast cancer diagnosis.
She told Dan Wootton on his GB News show: "I haven't been on a world cruise, which is what I know social media has been saying… because I'm well-known now for loving cruises."

"It's been a fight against breast cancer. That's what it's been. It's been a long journey. And five months later, I'm still not at the end of the journey, but I'm through it enough to come back to work."
Fellow GB News presenter Mark Dolan, who hosts Mark Dolan Tonight from 9-11pm on Fridays-Sundays on the channel, was full of praise for his colleagues.
Commenting on the gong, he said: "Scooping the award was the highlight of the day for me. Good Morning Britain has a massive budget, it's on a channel that has been around for decades.
"It's the stiffest possible competition, yet the public chose us. It's great news for Ellie, Stephen, Eamonn, Anne and Isabel, but it's also great news for the whole channel.
"It shows that there is an audience for what we're doing, which is authentic opinion with a bit of humour along the way. I think GB News Breakfast is the best show on TV, and it's only going to go from strength to strength."
It wasn't GB News' only success of the day, as Nigel Farage claimed Best News Presenter award at the prestigious ceremony.

The former Brexit Party leader was roundly booed by top executives and talent present at the awards as he demanded reform in the way British television audiences are measured.
"You should be frightened, and you will lose your viewers", he said.
"The way we measure what we're watching is completely out of touch.
"Barb is broken and we need reform of this system.
"It's out of date, it's out of touch, and I feel very sorry for all of you!"