Published: 30/05/2022
-
06:52
Updated: 14/02/2023
-
11:13
Frank Skinner has owned up to using racist, homophobic and sexist language back in the 1970s.
In a brave interview, the veteran comedian and co-author of Three Lions spoke about growing up in the West Midlands in the 60s and 70s.
---
Skinner, 65, who has previously been described as a "leftie", told about attitudes towards minority groups during his childhood.
He said: "I'll be straight with you now, I grew up in the West Midlands in the '60s and '70s. I used racist language, I was sexist, I was homophobic.
"I completely own up to that. I have evolved and that's a good thing.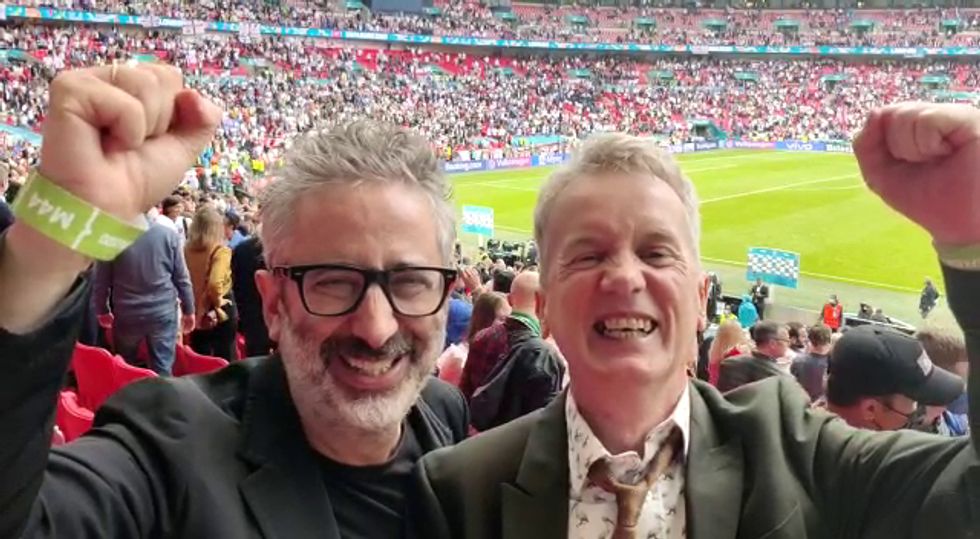 Frank Skinner and David Baddiel
vivo UK
"When I look back, I'm ok with that."
Far from asking for anyone to be cancelled or disowning his previous comments, Skinner now hopes to learn from his 10-year-old son, and vows the future is going to be a better place.
He also told the Hay Festival: "My kid, I can learn from him. He's fine with gender politics, he's fine with race.
"He doesn't even question it. We talk about those things. The future is going to be a lot better."
The Three Lions anthem, penned by Skinner and David Baddiel, was rumoured to be cancelled by the FA over concern of it offending other nations.
But the FA has now said that the plan is to continue playing a song which is "about the hope" of being an England fan.
"Contrary to reports this morning, the FA still plays Three Lions at major Wembley matches and has never had any intention of doing otherwise," a statement read.
"The song belongs to the fans and is about the hope of following the England team.
"It was requested by the FA to be played as one of our team songs at the 2018 World Cup and at the Euros last summer and this is our plan at tournaments going forward."