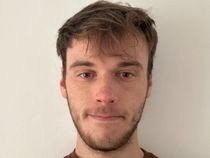 By Ben Chapman
Published: 31/07/2022
-
20:04
Updated: 14/02/2023
-
10:47
England made significant strides in adding to their medal tally on day three of the Commonwealth Games, with a successful day in the triathlon events being the main contributor.
Alex Yee, Sophie Coldwell, Sam Dickinson and Georgia Taylor-Brown emerged victorious in the mixed relay final, finishing well ahead of second-placed Wales.
---
The victory resulted in Alex Yee's second gold medal of the games, after he claimed the win in the individual event.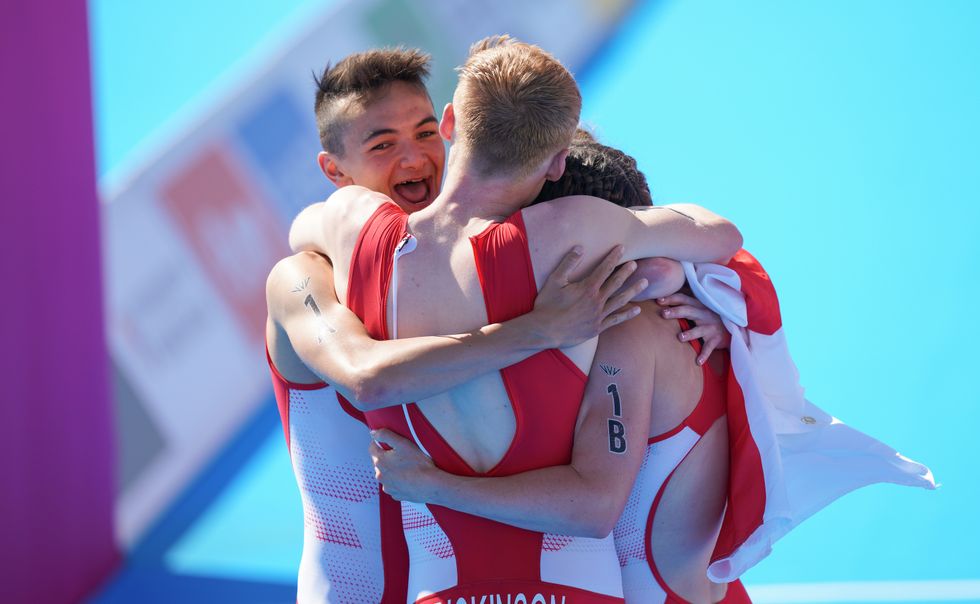 The England team celebrate gold in the triathlon mixed relay.
David Davies
In the women's and men's Para-triathlon PTVI events, Katie Crowhurst and David Ellis won their respective events, making it a clean sweep of triathlon golds on day three for England.
Another gold medal was claimed on day three by Jake Jarman, who vaulted to his second of the Commonwealth Games in Birmingham after eclipsing his England team-mate James Hall in a dramatic conclusion to the men's all-around gymnastics competition.
The 20-year-old rising star delivered a towering score of 15.3 on his favourite apparatus to seize the initiative before Hall, stricken by a foot injury, just failed to do enough to snatch the title on his concluding high bar routine.
In the weightlifting, Jessica Gordon-Brown reflected fondly on the "happy accident" that led to her pursuing weightlifting after claiming Commonwealth Games silver in the women's 59kg final.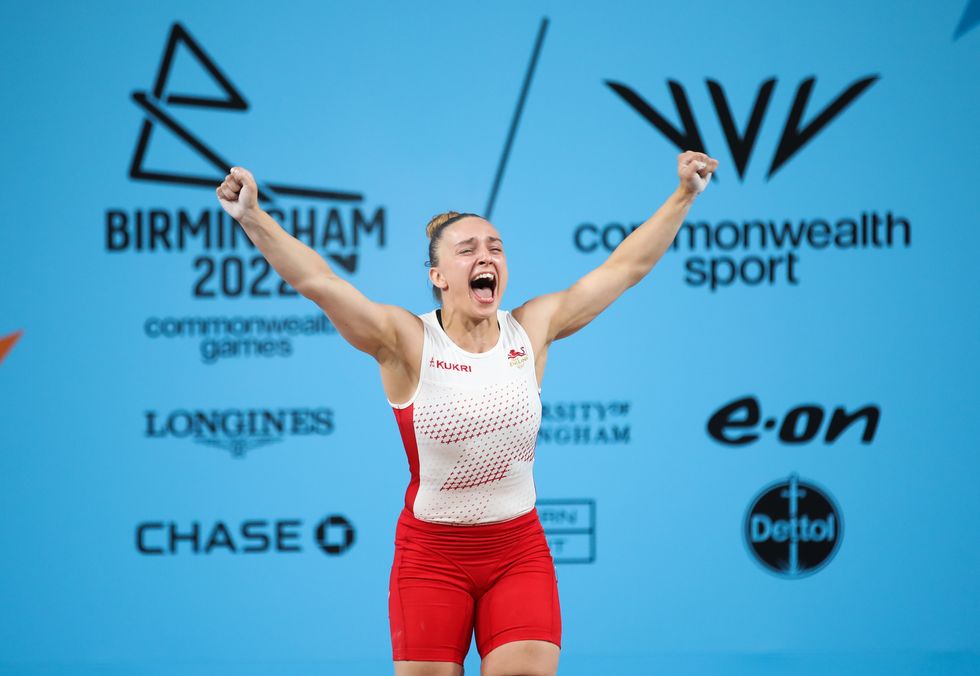 Jessica Gordon-Brown claimed the silver medal in the women's 59kg final.
Isaac Parkin
A once budding judoka as well as a national acrobatic gymnastics champion at one point, Gordon-Brown happened upon what would prove to be her true calling in her final year at Brighton University.
"I'm so glad that finally after doing three different sports I found the one for me," said the 26-year-old from Harefield.
"I think I'm built for it and I glad I stumbled into it. A happy accident."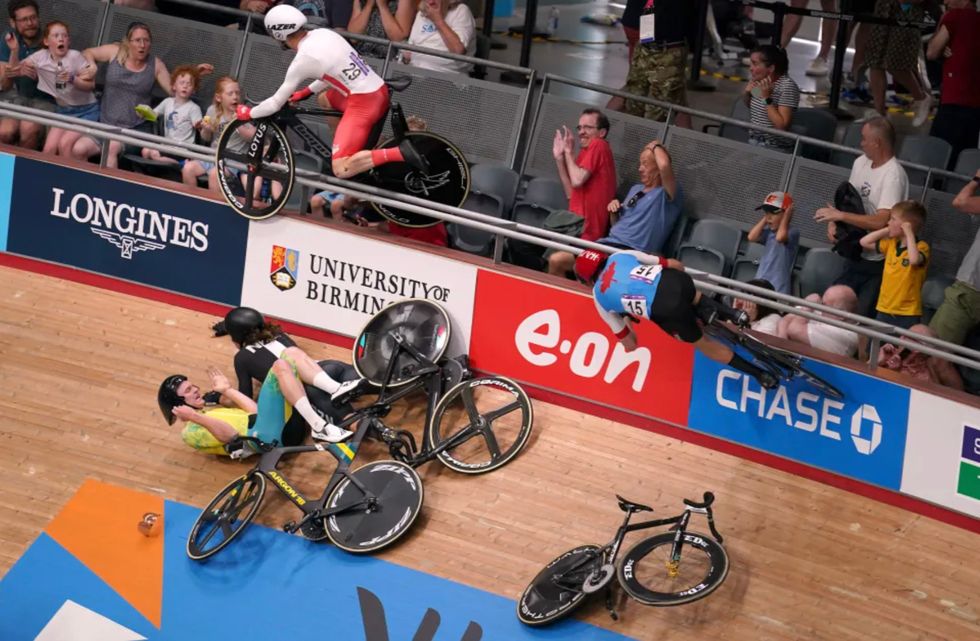 The track cycling event was marred by a crash.
PA
Gordon-Brown lifted 86kg in the snatch and then 111kg in the clean and jerk for a combined 197kg, enough for second place which she celebrated with a backflip at Birmingham's NEC Arena.
In the track cycling action, Sophie Unwin and Georgia Holt were back on the velodrome podium at the Commonwealth Games on Sunday and this time the medals were theirs.
Two days after the controversy of not being awarded bronze for finishing third in the women's tandem B sprint, they came back and won silver in the time trial to the delight of the London crowd.
Unwin had been left in tears on Friday when it was ruled they would not be given bronze because only four teams started the sprint – with one of the five who had registered unable to race due to injury.
Although their final had been billed as a bronze medal race and they appeared on official results as medallists, Unwin and her pilot Holt were denied medals, and were fined after trying to stand behind the podium ceremony holding an England flag.
But that all provided a little extra motivation on Sunday as they beat Scotland's Aileen McGlynn, piloted by Ellie Stone, to silver with Jessica Gallagher and Caitlin Ward taking gold for Australia.