Published: 16/09/2023
-
07:00
When Frank Gosch received a call supposedly from Lloyds' "fraud detection service" during rush hour recently, he knew he had to act to protect his hard-earned cash from being stolen by scammers.
However, it wasn't long before he realised that it was the caller purporting to be from his bank who he should be wary of.
---
The man on the phone seemed very professional, insisting he would never ask for his PIN or password.
The caller claimed there had been a "suspicious" online transaction of more than £1,300 on his debit card, and to back up their point, they cited the end of his debit card number perfectly.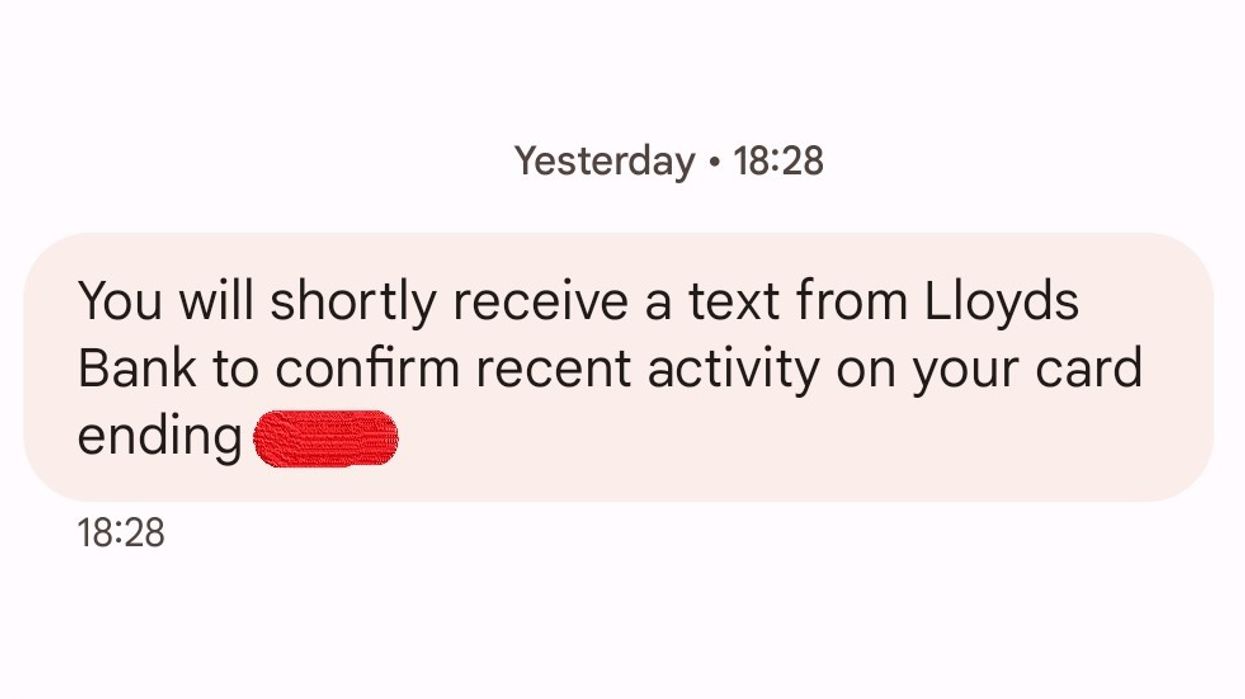 The sender ID for the first text message said 'Lloyds' but the man on the phone was in fact a scammer
GB NEWS
Mr Gosch was told that they'd called because the transaction was made in Aberdeen. The city is miles away from his home in London, and for a moment, it made sense.
"He would know I'm based in London based on the first few letters of my postcode," Mr Gosch told GB News.
The caller said the transaction had been declined, and claimed they wanted to get the supposed fraudster off his account and send him a new bank card.
"The first thing that made me suspicious was he was asking me, 'Do you use your card on your phone?' I said 'Yes', and he said, 'Don't worry, even if we cancel the card, it will automatically continue to work with the new card.' Knowing a little bit about it, it just didn't make sense, but I didn't say anything about it."
Mr Gosch was then told he would receive a text message to his phone, which would indicate he would receive another text message. The caller said he should then reply with the word, 'Yes'.
While still on the phone, Mr Gosch received the second text message stating the transaction, amount and the website where it was made.
It read: "This payment was declined. If this was you please reply YES, otherwise reply NO. There is no need to call us. Responding to this text is the quickest way to update your account."
It has been confirmed that both messages were genuinely from Lloyds, one which said it was from "Lloyds" and a second from a mobile number, but the caller was not.
Mr Gosch read the message and wondered why the caller was directing him to reply with 'Yes'.

The caller insisted it was "the process", but despite their best efforts to convince Mr Gosch, he decided he would hang up and call the bank back.
The caller refused to give a phone number, instead hanging up.
Mr Gosch said: "One of the things that surprised me the most was that I had a new phone number just recently and I have updated the phone number in very few places online."
Mr Gosch called Lloyds' Customer Service helpline via the banking app and explained what had happened.
He asked them to confirm whether there was a transaction attempt on his card and whether anybody from Lloyds Bank had called him.
The staff member confirmed there had been an attempted transaction, which was declined, but wouldn't be able to see if a call from the fraud team had been made.
The second person, from the fraud department, couldn't see the transaction attempt, but confirmed the bank hadn't called him.
He proceeded to request the card be cancelled.
The whole ordeal didn't stop there, though. About an hour later, Mr Gosch received an automated call claiming to be from Lloyds Bank on a 0333 number.
"It was basically saying, 'We have identified a potential fraud activity on your card. Here's a PIN. When you call us back, put in the PIN.'
"It sounded quite secure, and they were reading the transactions and said, 'If any of this doesn't sound right, then call us back'.
"The process then says to call them back and to give the PIN they gave you in the message when they called from the automated system, and that would verify that it's you."
Already aware he had been called by a scammer, Mr Gosch was suspicious about the communication, so went to check the automated call phone number.
"I went into my app, and in the app, you have an option to call about fraud. I didn't see that phone number there from Lloyds, and thought, 'That's weird'.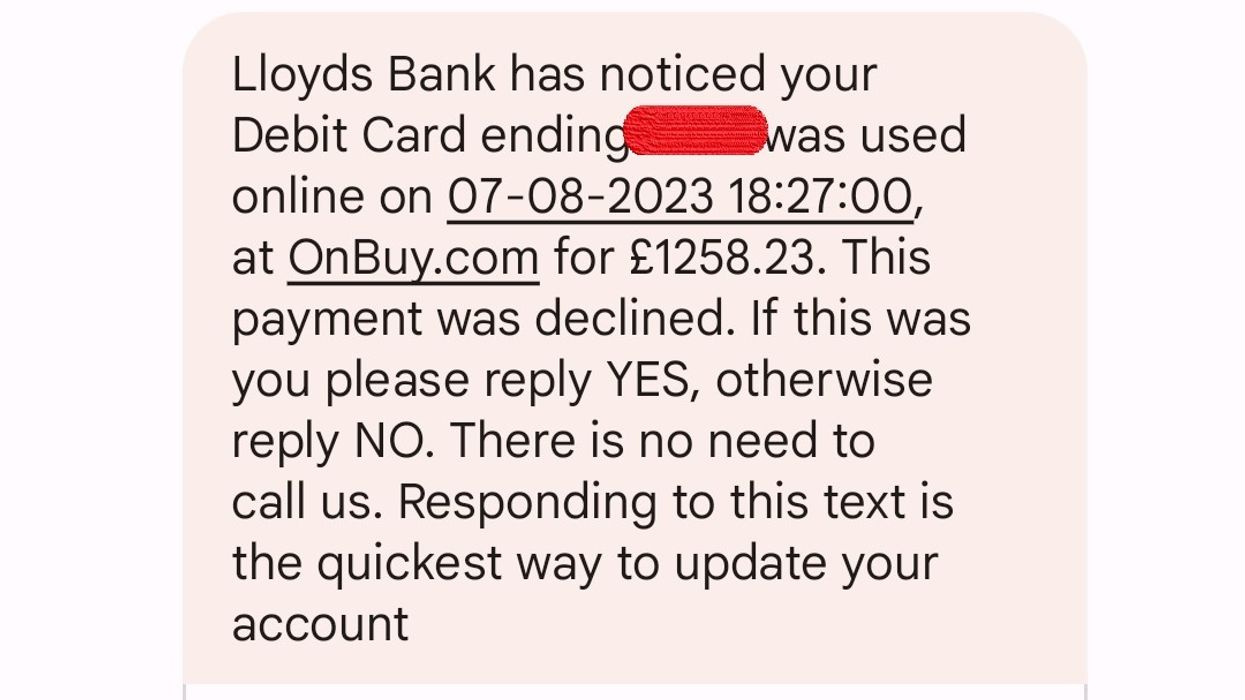 The second message came from a UK mobile number
GB NEWS
"I called the fraud centre out of the app with the number that's there, explaining he had received the automated call and needed the team to confirm if it's a Lloyds phone number."
The staff member confirmed it was from Lloyds, so Mr Gosch proceeded to call the number, and put in the details provided in the automated call.
"I talked to an agent, who identified the same fraud attempt of the online purchase."
But something was left unanswered. How had the scammer created the correlation between these three different data points – his debit card number, phone number and postcode, that are not in one source?
Mr Gosh said: "How would somebody be able to associate my new phone number with my card, with my name, and with my postcode? There are only a few places where this combination is accessible."
He told GB News: "The scary thing for me is, you get a call, somebody sends you a text message and then you get another text message which they tell you, while you're under pressure, to reply to with the word, 'Yes'.
"Then if I had typed, 'Yes' then this would have gone to Lloyds Bank to verify that 'Yes, I did this transaction'. Then it would have been approved and the money would have gone."
Thankfully, Mr Gosch didn't lose any money. It has left him very wary of unexpected calls, and if he receives any again, he plans to hang up and check the number immediately.
Mr Gosch said: "Next time, whenever I receive a call like that, before discussing anything, I would say, 'Alright give me a phone number, I will call back'.
"Then I would verify the phone number before I call it back to make sure it's legitimate, or I'd just directly call customer services."
The bank said Mr Gosch was right not to feel pressured into responding to the text message.
People should never say 'Yes', or feel pressured to say 'Yes', to texts from their bank asking if they have made a payment, unless they've made a genuine transaction, and a bank would never tell a customer how to respond to texts.
A Lloyds Bank spokesperson said: "We're pleased to have stopped scammers from taking any of Mr Gosch's money and are sorry we didn't explain things as clearly as we should have when he contacted us."