Published: 17/08/2023
-
20:07
Updated: 17/08/2023
-
21:58
The GB News Don't Kill Cash petition has surpassed 300,000 signatures as pressure mounts on the Government to introduce legislation to protect physical cash.
GB News presenters will deliver a letter to Chancellor Jeremy Hunt today on behalf of viewers and listeners who have joined the campaign.
---
GB News unveiled a huge inflatable piggy bank outside Parliament this morning, as the channel continues to urge the Government to protect the status of cash as legal tender and as a widely accepted means of payment in the UK until at least 2050.
Nigel Farage will be joined by fellow GB News stars Bev Turner, Michelle Dewberry, Patrick Christys, and Economics and Business Editor Liam Halligan to deliver the letter to Number 11 Downing Street this afternoon.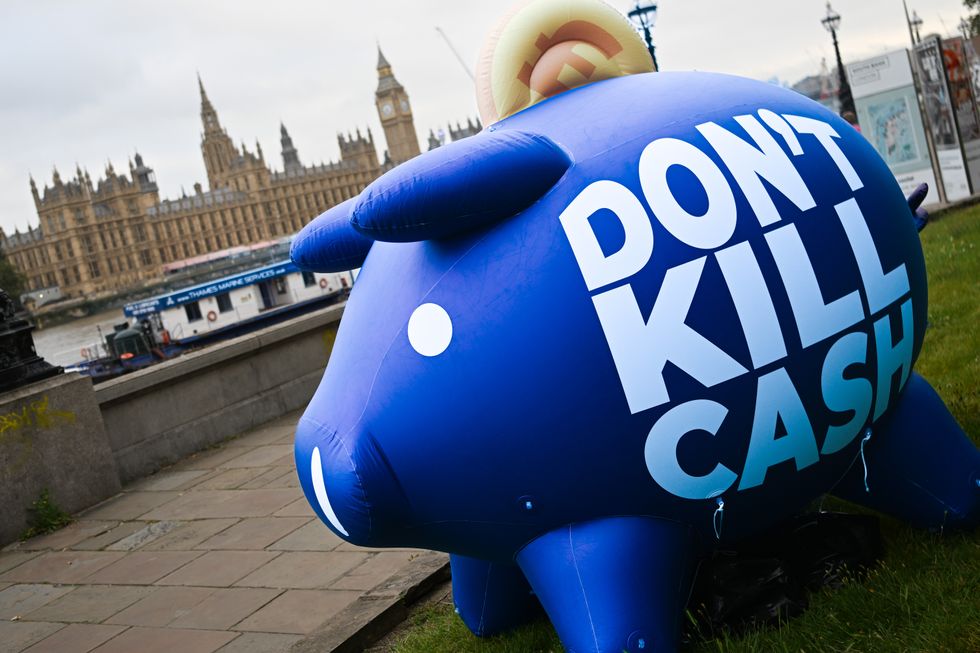 GB News unveiled a huge inflatable piggy bank outside Parliament this morning as the channel continues its Don't Kill Cash campaign
GB NEWS
More than five million adults still rely on cash in the UK, and it's used in six billion transactions each year.
The campaign comes amid concerns Britain is fast becoming a cashless society, with more and more shops, pubs and cafes choosing to only accept card payments.
GB News' Economics and Business Editor Liam Halligan said: "We know that over a million households in this country don't have a bank account, they don't have debit cards.
"We know that five million Brits rely on cash each day to fulfil their basic needs.
"We know that increasing numbers of shops don't want to take cash, they don't want the cash handling costs."
The campaign has received support from MPs across the political spectrum.
RMT union leader Mick Lynch is also supporting the campaign, telling GB News he was "absolutely" lending his support. He said: "We don't want cash to go out."

The general secretary of the National Union of Rail, Maritime and Transport Workers added: "It becomes more and more difficult for those on low budgets, for instance, who use cash as a means of controlling their weekly and monthly spend.
"Because if you take a fixed amount of money and budget to that it means you're in control, to some extent, of your life.
"And if you're just doing it on the card or some kind of tap method you can quickly run out of control of your life."
The Federation of Small Businesses and the Post Office are also among the supporters of the campaign.
Alan Soady, Federation of Small Businesses said: "Cash is a really important part of the payment mix and lots of small businesses still very much value taking cash - as this GB News campaign highlights.
"The problems that they face, though, include where to put it. At the end of the day, so many bank branches have closed.
"The scope for the post office may be to have a role to take over that, but in many cases, particularly in rural areas, they have to drive many miles to bank the cash. So that's a barrier.
"The risk if we end up with basically a cashless society on the High Street is that the card companies, the payment companies, will have quite a monopoly.
"They'll be able to raise their fees. Because there'll be no other way of paying and that's another reason why cash is an important alternative to card payments."
The Post Office Banking Director, Martin Kearsley told GB News: "With 5,500 bank branch closures since 2015, 500 more this year, and many more to come - quite often the post office is the last counter in town.
"We're the last face-to-face transaction that can be done in any village and increasingly small businesses are turning to the Post Office to bring us their cash, bank it safely and securely into their bank accounts."