Anne Diamond grimaces at guest's savage take on Lionesses glory - 'Not as great as the men's!'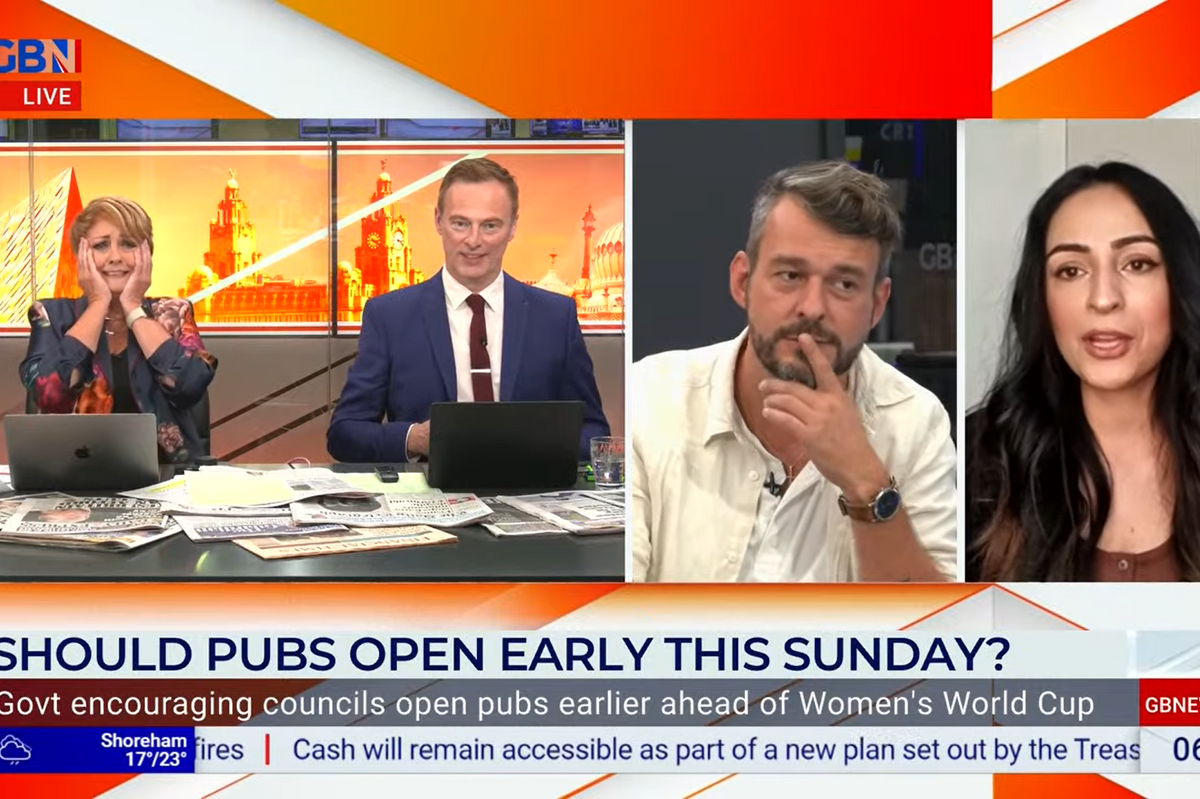 By Alex Davies
Published: 18/08/2023
-
09:10
Updated: 18/08/2023
-
09:42
With chants of "it's coming home" echoing in pubs and clubs up and down the country ahead of the Lionesses' World Cup final clash with Spain on Sunday, there have been calls for venues to open earlier in for fans to watch the action.
Kick-off is at 11am in the UK with the match taking place in Australia but many local licensing laws mean pubs and clubs can't serve alcohol before 11am or 12pm.

---
On Breakfast on Friday, Anne Diamond and Martin Daubney discussed whether a one-off loosening of licensing terms should be allowed so fans can enjoy a beer before and during the match.
Restaurateur Alex Wrethman joined the duo to argue the case in favour of allowing the adjustment while social commentator Bushra Shaikh was quoted by Diamond as saying: "Why would pubs want to open for something that isn't even a big deal?"
Wrethman kicked off the debate as he took aim at the UK's "complex licenses in this country" before drawing comparisons with Spain's licensing laws.
After explaining Spain's are more driven by market demand, he continued: "In this case, the issue is broadly most have a license to sell alcohol from 11am or 12pm, what we'd like to do is start earlier because there's a special event that people want to attend and want to have a drink at.
"And there's not enough time between the semi-final and the final to get a temporary notice in. So if they were to apply for that before they know if we're going to the final, it may be a wasted application."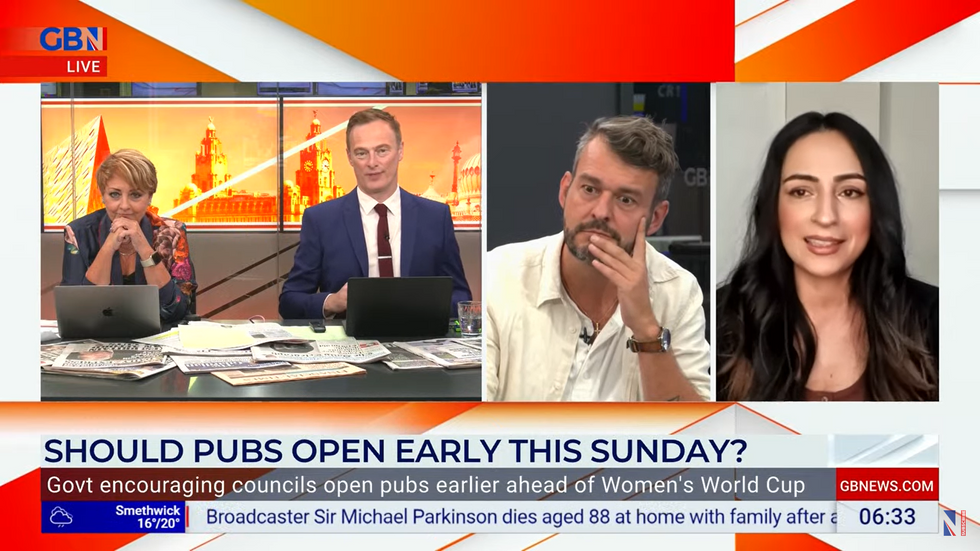 The GB News panel were divided over the possibility of extending alcohol serving times
GB NEWS
Daubney argued that it'd be a "good thing" for people to be able to get out earlier and "have a drink if they choose" as he pointed out "it's not compulsory to have booze".
Wrethman admitted he personally wouldn't necessarily feel the need to drink at 10am but argued people should have the choice ahead of the final.
He also remarked "the British are capable of getting drunk at any time of day and causing a problem, so I can't really see where the difference is here," which prompted chuckles from Diamond.
Wrethman added: "And in fact, I would contend that dealing with a few people having a drink at 10am is a lot less difficult than dealing with a packed pub at 11pm."
He concluded by emphasising the responsibility should lie with licensees and as such couldn't see a problem with the time adjustments.
Diamond and Daubney then welcomed Shaikh to the discussion and she began her case by stating: "I don't think that many Brits need to have a drink in the morning.

WATCH THE FULL DEBATE HERE: 
"It's a football match, it's a Sunday morning, we are also trying to reduce our alcohol consumption in the UK."
Shaikh argued the final could be a good opportunity to show football fans they don't need alcohol to enjoy the event and remarked the Home Office has more important matters to focus on.
Daubney then chipped in to raise a point on "gender equality" as he pointed out that during the 2002 World Cup in Japan, pubs were open for fans to watch the men's team play.
"Oh, okay, so we're going to make this about gender," Shaikh hit back. "I think maybe if they had thought this out before, they maybe would have more time to understand that this could happen."
Shaikh did say she wouldn't mind the pubs opening earlier but didn't see the need to serve alcohol.
She continued: "You know, give people an extra hour but I just don't see why... I mean can pubs not just open without serving alcohol? You could have some snacks and some other drinks, you know.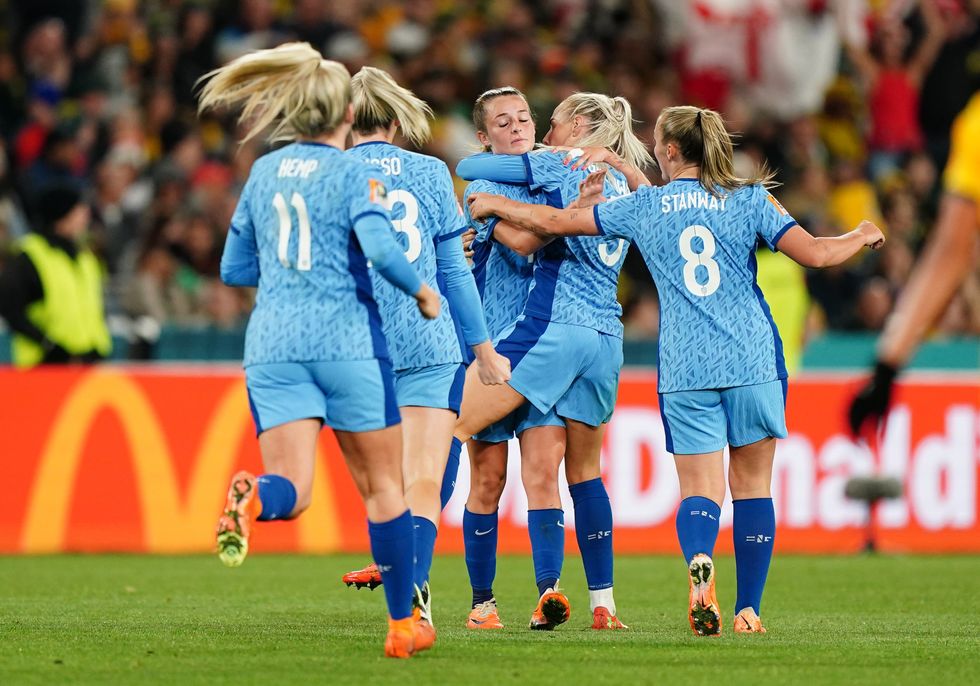 The Lionesses sailed into the final after beating Australia 3-1 in the semi-finals
PA
"There are lots of lovely drinks that are mocktails that aren't alcohol-based."
But Diamond interjected: "I just think on a special day when you're around other people and you're excited about something, there's nothing wrong with a beer at 11am on a Sunday morning."
"I think it's more culture," Shaikh replied. "I personally don't drink so I can enjoy myself without having alcohol.
"I think this is a good issue to talk about because in general alcohol consumption is on the rise, we are seeing that people are drinking more, and we are seeing anti-social behaviour.
"So these are kind of elements we do need to look across. I do get your point, it's a football match.
"Although personally, I don't think the women's football is as great as the men's football-" Shaikh continued before she was interrupted by the sound of Diamond wincing.
The GB News presenter held her hands to her head at Shaikh's remark but the commentator doubled down as she went on: "That's just my personal opinion!
"I don't think with women's football we're quite there yet. It's a masculine game and I'm used to seeing men play football and not women.
"But that's a whole different debate," Shaikh added while fellow guest Wrethman sat wide-eyed in response to her comments.
She got back on track by insisting "the government has better things to do than worrying about licenses".
Daubney pointed out, however, it was a "political thing" as Labour's Keir Starmer has suggested the nation gets a bank holiday on Monday if the Lionesses secure victory.
In the end, as Wrethman chipped in to take aim at the laws in place, Diamond had to interrupt to call time on the debate.