A towering 60-foot sea surge heading towards the US coast tonight will strike as a 100mph Hurricane Lee 'saturates' the region with a torrential deluge.
Up to half a foot of rain is forecast in parts while massive waves whipped up by storm-force winds could topple trees and rip down power lines sparking outages 'lasting for days'.
---
A National Hurricane Centre (NOAA) Hurricane Watch is in force in Maine and parts of Nova Scotia and New Brunswick as 'life-threatening' storm conditions threaten wider parts of New England.
Gusts could hit 100mph in high-risk regions as 'massive' Hurricane Lee launches its assault through the next 36 hours.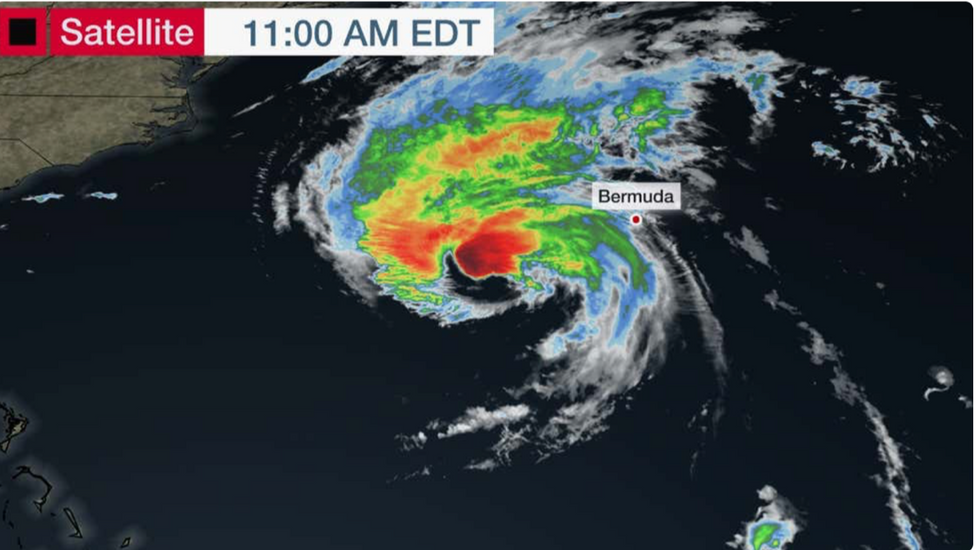 Hurricane Lee heading toward the US coast
The Weather Channel
Jim Dale, US weather correspondent and meteorologist for British Weather Services, said: "This is going to be huge, and we could be looking at a 60-foot surge, in the worst-hit area which is expected to be the Bay of Fundy which is between New Brunswick and Nova Scotia.
"The height of the surge will be a combination of the usual tide height of around 50 feet and the surge itself which could be up to 10 feet on top of that.
"We are also looking at flooding, and up to 10 inches of rain could fall in a short period."
Wind from the storm will stretch 300 miles across the Atlantic before reaching storm force as it makes landfall.
Domenica Davis, meteorologist for The Weather Channel (IBM) warned impact is inevitable with Saturday shaping up to be the worst day of the assault.
She said: "For the coast, because the storm is so massive and tropical storm-force winds extend out nearly 300 miles, you are going to have some wind impact and the main day is going to be Saturday.
"We are looking at tropical storm-force winds for Nantucket, Cape Cod, up through the Boston area, and all the way up through coastal Main.
"We could be looking at wind gusts at 40, 50 or even 60mph, which means the possibility of widespread power outages along the coast are still possible for Saturday."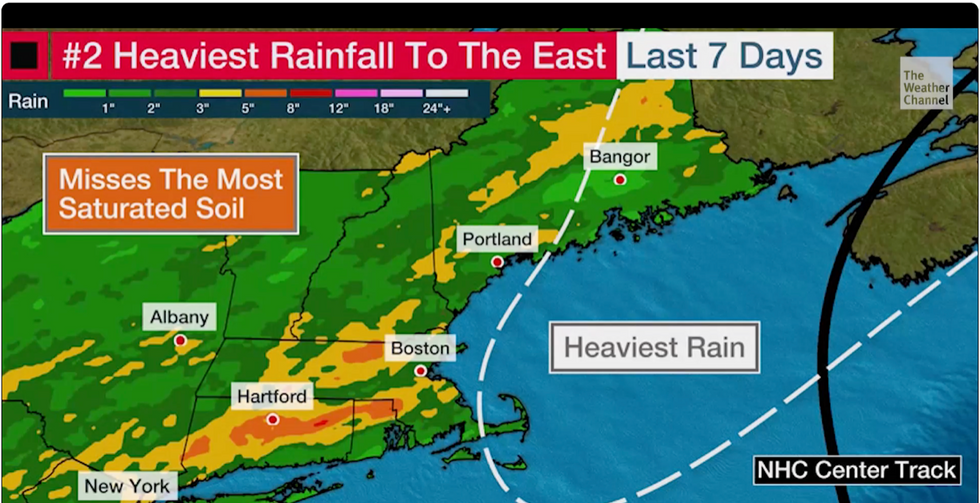 US regions in line for the heaviest rain
The Weather Channel
Although the surge risk runs a 500-mile stretch of the US coast, Maine and Cape Cod bay face the brunt of the assault, she warned.
She said: "We could see an additional one to two inches up through parts of the cape, and upwards of three to four inches through parts of coastal Main, an area where the ground is already saturated.
"We are expecting a storm surge along the coast, but where we are expecting the heaviest storm surge is in the Cape Cod bay.
"Winds from the northeast will help the water pile up and we could be looking at two to four-feet of storm surge on Saturday."
"The ground is saturated and can't absorb any additional heavy rainfall.
"It appears the heaviest rain will stay off the coast of New England. But, some bands of soaking rain could still impact coastal New England, especially from Cape Cod to eastern Maine.
"Prepare for the potential of power outages that could last for several hours or a few days."