By Holly Bishop
Published: 18/09/2023
-
11:48
Updated: 18/09/2023
-
14:17
The Met Office has issued a warning as Hurricane Lee, which wreaked havoc in the US and Canada, is set to move across Britain this week.
The UK can expect to feel the remnants of the storm from Tuesday until Thursday, according to the national weather serivce.
---
In the US the hurricane resulted in the death of a motorist in Maine, who was killed when a large tree fell on his car whilst he was driving down a highway.
Meanwhile in Canada, Storm Lee left thousands without power in Nova Scotia.
Met Office meteorologist Jonathan Vautrey said: "It is certainly worth keeping up to date with the forecast. It is worth checking those things immediately before you head out on your journey so that you are aware where the most severe thunderstorms are possible.
"Make sure you are taking care as the weather could change at very short lead times and just be prepared for those gusty winds and potentially large hailstorms."
By the time it hits the UK, it will no longer be a hurricane, according to Vautrey.
Britons can instead expect heavy showers in some areas with a risk of thunderstorms.
WEATHER LATEST:
"It could be quite an unsettled, autumnal week to come," he said.
It comes after the UK was hit by severe storms and flash floods over the weekend.
The heavy downpours caused Exeter Airport to close and cancel its remaining flights on Sunday.
A spokesperson for the airport said: "Following Sunday afternoon's flash flooding, which caused the closure of the airport, our teams are working through the night cleaning up and we expect to be open tomorrow morning, Monday.
"Passengers are advised to check with their airline for the very latest information about their flight, and please bear with us while we do our very best to return all airport operations to normal."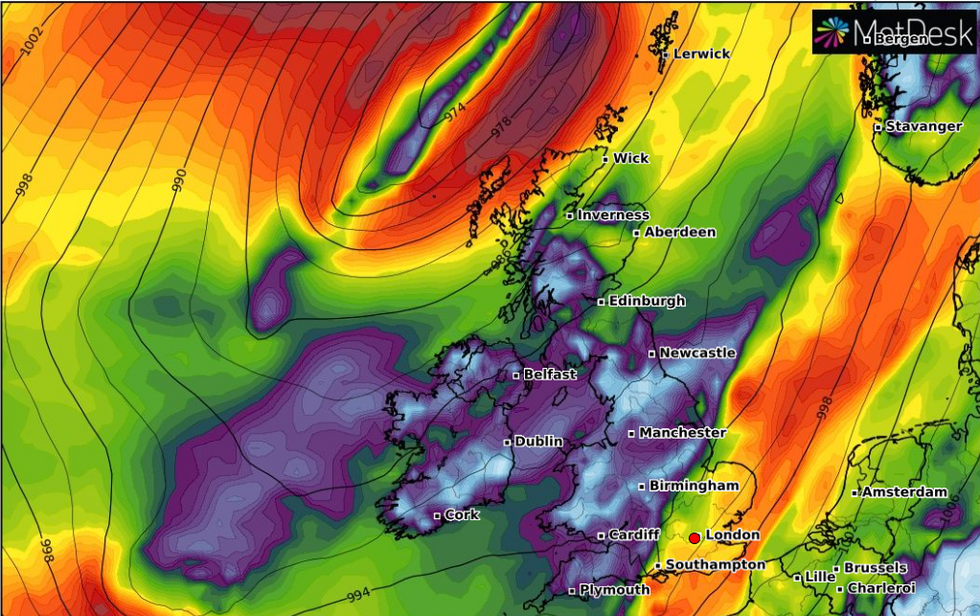 Wind gust for Wednesday
WXCharts
The heavy rain also caused flood elsewhere in Devon, where an amber weather warning was issued.
Torrential downpours caused many roads to close, public transport to be cancelled and even resulted in the closure of Paignton Zoo.
Close to a month's rainfall fell on Sunday at the Birds Hill rain gauge on the edge of Exmoor.
A yellow warning was issued for London, the south-east and east of England and the East Midlands. It remained in place until 6am on Monday.