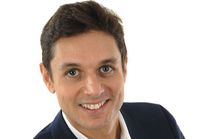 By Nathan Rao
Published: 18/05/2023
-
13:53
Updated: 19/05/2023
-
11:22
Blistering near-90F sunshine could be just days away as experts warn record-breaking heatwaves gripping Asia should sound 'alarm' bells Britain could be next.
Temperatures are forecast to soar through the next fortnight hitting 25C (77F) by the end of May and 30C (86F) or higher soon after.
---
The Met Office predicts an almost double-then-average chance of a hotter-than-average summer with 'heatwaves' possible.
Independent forecasters warn if 'the ingredients come together' Britain could be about to sizzle in another record-breaking summer.
Jim Dale, meteorologist for British Weather Services, said: "I would expect to see 25C by the end of this month, and 30C in June.
"It all depends on the right ingredients coming together at the right time, but if they do, we could end up with those sky-high temperatures.
"This is more likely to be later in summer, during July and August, as these months tend to deliver the very high temperatures."
Excruciatingly hot weather would require several drivers to align, including high pressure pulling warmth up from Africa and the Continent, warmer ocean temperatures and the influence of El Nino.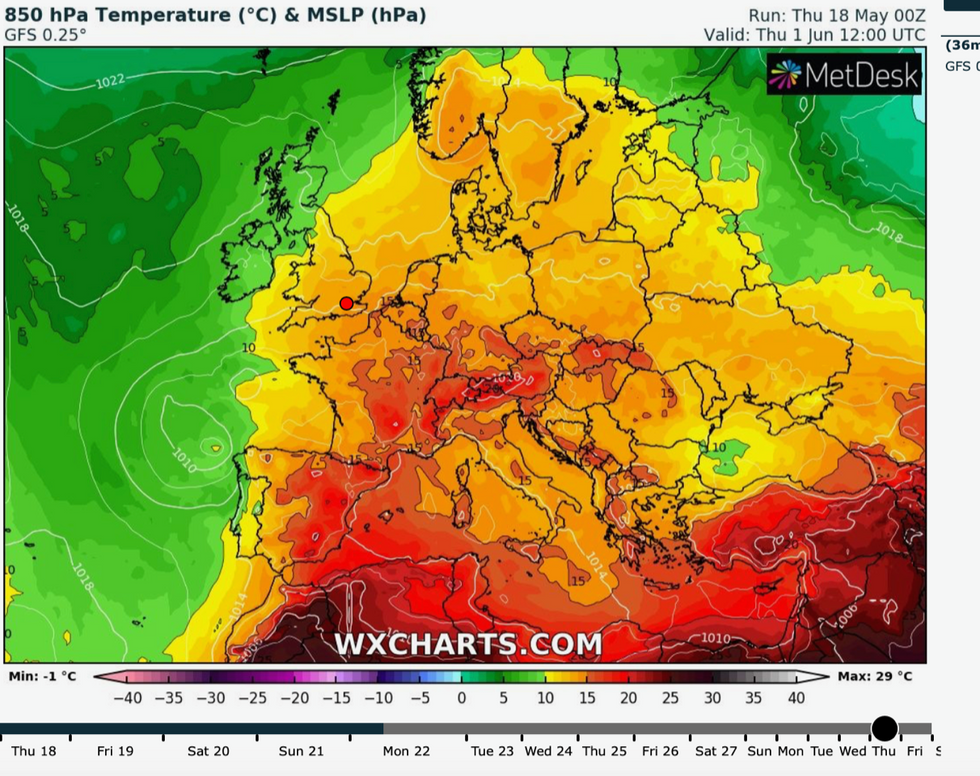 Warmth surges up from the south
WXCharts
El Nino, caused by warming sea waters off South America, is linked to global weather events including unusually high temperatures and heavy rainfall.
As experts watch for its onset, some meteorologists say it has already begun and could influence the UK summer this year.
Mr Dale, author of 'Weather Or Not?', said: "El Nino is an evolving phenomenon, and it is probable that it is already underway.
"The likelihood of another very hot summer in the UK is dependent on several factors coming together, one of which would be El Nino setting in over the coming months.
"Add the effects of climate change to this, which were a major influence of the hot weather last year, and warmer ocean temperatures, and we could well see another hot year."
He said 40C-plus temperatures hitting south-east Asia, boosted by similar meteorological drivers, should serve as a warning that another UK summer of extreme heat is possible.

Parts of Asia, including Thailand, Vietnam, Laos and China have this month been hit by some of the hottest weather ever seen in the region.
"Very hot weather this year has already started to have an impact in parts of the world, including south-east Asia and China, and they should serve as an alarm for the UK," he said.
"I think the odds of another 40C this year are about evens at the moment, but otherwise, climatically speaking, nothing has changed since last year."
Other long-range experts agree temperatures could be about to rocket with highs of 30C round the corner.
High pressure will build this week with much of the country expecting to see the mercury nudge 20C.
Thermometers will continue an upwards surge through the start of June, according to Exacta Weather's James Madden.
He said: "High pressure will influence our weather through much of the weekend and into the early part of next week with temperatures possibly hitting the mid-20Cs.
"After a cooler spell, we expect a transition back to much warmer weather from early June, and this could be more prolonged than we have seen so far.
"This could also result in some hot surges with well above-average temperatures which could arrive on a number of occasions through the month as a whole.
"It is within this period that we could see temperatures breaking the 30C barrier for the first time this year."
The Met-Office's three-month outlook suggests a 35-per cent chance of hotter than average weather into July – around 1.8 times that of a normal year.
This accompanies an increase in the risk of heatwaves, the report says, although this is not certain.
In the meantime, Britons are gearing up for what could be the warmest weekend of the year so far.
Temperatures are forecast to lift nationwide through the next few days, possibly nudging 21C for the first time this year.
Met Office meteorologist Aidan McGivern said: "We have not seen much sunshine, but it has not felt that warm because of the lack of sun and the rainfall.
"The jet stream is no longer south and is going to the north of the UK.
"Generally speaking, with the jet stream going to the north of the UK, high pressure will extend from the Azores, and during the next 10 days, we will see this extension of high pressure from the southwest.
"On the whole, it is going to be a lot quieter than the first couple of months of spring."
Bookmaker Ladbrokes has already slashed the odds on this month going down as the hottest May on record.
Spokesman Alex Apati said: "Things are about to get a whole lot hotter if the latest odds are anything to go by, with record-breaking temperatures potentially on the way."