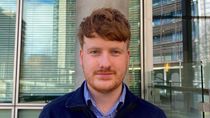 Published: 05/05/2023
-
14:43
GB News' Patrick Christys has shared his excitement at meeting King Charles on the week of the Coronation.

King Charles was joined by the Prince and Princess of Wales as they greeted crowds on the Mall this afternoon ahead of the big day.
The King smiled and shook hands with well-wishers that had lined up for their chance at a glimpse of the monarch.
As he spoke with members of the public, Patrick said good luck to the King and asked him "are you nervous for tomorrow?"
Charles laughed at the remark before continuing his conversations with other members of the public.
Reflecting on the interaction, Patrick said: "It was fabulous, he got out of his car, he was walking around, so many people spontaneously singing God Save the King.
"As luck would have it he came right past me and I thought 'I'll chance it!'"
Watch Patrick Christys' interaction with King Charles above.