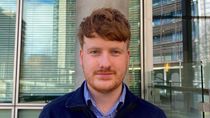 Published: 12/04/2023
-
11:29
Joe Biden's cousin has revealed what she will tell the US President upon his trip to Louth, Ireland.
The US President arrived in Northern Ireland last night on the 25th anniversary of the Good Friday Agreement.
He will visit family and trace his roots across the country as well as carrying out a number of official engagements.
Speaking to GB News' Eamonn Holmes and Isabel Webster, Biden's fifth cousin, Andrea McKevitt, revealed what she will tell the US President if she is able to meet him during his busy schedule.
She said: "I think I'll say thank you for coming home, Joe. Thanks for, you know, putting Louth on the map and like presenting us on this global stage today, which we never could have done, really.
"We've had great access to the whole world and everyone's going to see Louth and the Cooley Peninsula for the beautiful part of the world that we are living in."
Breakfast on GB News is live every day from 6am.