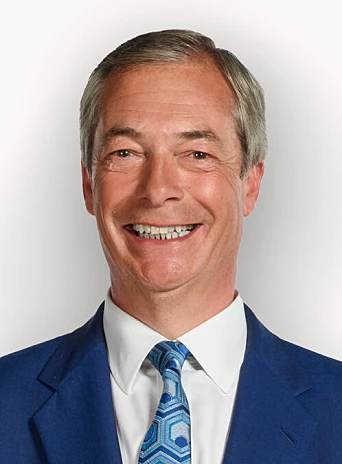 By Nigel Farage
Published: 25/07/2023
-
20:50
Updated: 25/07/2023
-
20:53
Good evening. Just over an hour ago a statement was issued by the board of NatWest Bank and leading the charge was Howard Davis, the Chairperson, as he describes himself of the NatWest Group. What did he say?
He said the Board has noted Alison Rose's statement on the circumstances of a conversation with Simon Jack and her further apology to Mr Farage.
---
As she recognises she should not have spoken in the way she did, this was a regrettable error of judgment on her part. The events will be taken into account in decisions on remuneration at the appropriate time.
However, after careful reflection, the Board has concluded it retains full confidence in Miss Rose as CEO of the Bank. She has proved over the last four years to be an outstanding leader of the institution, as demonstrated by our results.
The Board therefore believes it is clearly in the interest of the bank shareholders and customers that she continues in the post.
The Board is clear that the overall handling of the circumstances surrounding Mr Farage's accounts has been unsatisfactory, with serious consequences for the bank.
The Board will Commission an independent review into the account closure arrangement of Coutts and lessons to be learned from this. The findings of that review will be made public on completion. The terms of reference and lead firm will be announced shortly
And Allison Rose adds to that statement. Alison Rose, CEO, NatWest Group I recognise that in my conversations with Simon Jack of the BBC I made a serious error of judgment in discussing Mr Farage's relationship with the bank. Given the consequences of this, I want to address the questions that have been raised and set out the substance of the conversations that took place.
Believing it was public knowledge, I confirmed that Mr Farage was a Coutts customer and that he'd been offered a NatWest Bank account.
Alongside this, I repeated what Mr Farage had already stated, that the Bank saw this as a commercial decision. I would like to emphasise that in responding to Mr Jack's questions, I did not reveal any personal financial information about Mr Farage.
In response to a general question about eligibility criteria required to bank with Coutts and NatWest, I said the guidance on both was publicly available on their websites. In doing so, I recognised I left Mr Jack with the impression the decision to close Mr. Farage's accounts was solely a commercial one.
I was not part of the decision making process to exit Mr Farage. The decision was made by Coutts and I was informed in April that this was for commercial reasons. By the time of my conversation with Mr Jack, I was not in receipt of the contents of the Coutts Wealth Reputational Risk Committee materials subsequently released by Mr Farage.
I have apologised to Mr Farage for the deeply inappropriate language contained in those papers and the Borders Commission to full independent review into the decision and process to ensure this cannot happen again. But simply I was wrong to respond to any question raised by the BBC about this case.

I want to extend my sincere apologies to Mr Farage for the personal hurt this has caused him and I've written to him today. Well, what do we make of all of that? Well, the silence had been deafening.
And given that Nat West, half year figures, are out at 7:00 AM this Friday and that Alison Rose has to make an investor statement at 9:30 on Friday, clearly they had to say something. What have we learnt?
Well, we've learned that she is the source. I mean, it was perhaps the worst kept secret in British journalism this week, but it's been confirmed that she is the source. She's also written me a personal letter, only difference with it than it is. She gives me personally her unreserved apology.
She makes it clear that it was Coutts' decision to exit me, not the most pleasant word I've ever heard used. And that of course points to the CEO of Coutts, one Peter Flavel, a man that I've now written to three times.
I've not even had an acknowledgement of the receipt of the letters, though I know he's received them because he's got other people to ring me as a result of the letters.
I did tell him in the last letter that if I couldn't find another bank account, I will be turning up in a few weeks time at Coutts with a secure core van to collect the balance of my account in cash. Still nothing from him at all.
As for Howard Davis, will he of course, as chairperson of the NatWest Board and group, he is responsible for governance and this is a serious breach. I haven't said to anybody that the bank I was having trouble with. No, I kept them on the matter. She chose to put it into the public domain with Simon Jack, she broke an essential confidence.
Now she argues here that Mr Jack clearly must be under some misapprehension. But what's interesting is if we if we go to the BBC letter yesterday that I got from Deborah Turness, the CEO of BBC News and Current Affairs, she says.
In this letter the source said your accounts had been closed for commercial reasons. We felt this was a story of significant public interest and went back to the source to check they were happy to publish the information they said they were.
So Mr Jack is making it absolutely clear the BBC's business correspondent that he was told that the balance in my account had fell below the minimum and therefore the decision was at to exit, was made on a commercial decision. Jack also said there was no politics involved in this at all.
It could be at that moment, it could be that Alison Rose did not know just how political that decision had been. But there is no way. There is absolutely no way, if the BBC went back for a second time to confirm the story, that they would not have checked that it was the balance of my account that had led to that commercial decision. Someone is lying here. Of that I have no doubt at all. And let's just take a look, shall we, at the FCA rule book, because I think this is really very, very important.
The conduct rules set minimum standards of individual behaviour in financial services. See how they apply to your firm. Number one, you must act with integrity number 2, you must act with due skill, care and diligence number 4, you must pay due regard to the interests of customers and treat them fairly.
I think on all of those counts, I have to say on all of those counts, I think there has been complete failure in this regard.
I think they're doing their best to prop up Alison Rose. Her remuneration will be hit. She might not get the £5.25 million she got last year.
Gosh, my heart bleeds. I'm sure yours does too. But it is perfectly clear to me that Peter Flavel, the CEO of Coutts, has not done his job in any way at all.
Perfectly clear to me that Alison Rose is unfit to be the CEO of a big group and that Howard Davis, who was supposed to be in charge of governance, has failed as well.
Given that we have a 39 per cent stake in this we, the great British public, I think at that investor statement on Friday morning, the Government ought to say we have no confidence in this management.
Frankly, I think they should all go and that is my conclusion from what we've learned this afternoon.