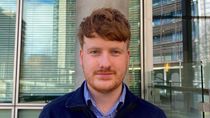 Published: 06/06/2023
-
14:51
Updated: 06/06/2023
-
14:53
Ukraine has declared a state of emergency after a dam explosion in the south of the country.
Drone footage shared by President Volodymyr Zelensky on Twitter showed the extent of the damage, with water pouring out of the plant.
Zelensky wrote: "Russian terrorists. The destruction of the Kakhovka hydroelectric power plant dam only confirms for the whole world that they must be expelled from every corner of Ukrainian land.
"Not a single meter should be left to them, because they use every meter for terror. It's only Ukraine's victory that will return security. And this victory will come.
"The terrorists will not be able to stop Ukraine with water, missiles or anything else. All services are working. I have convened the National Security and Defence Council. Please spread official and verified information only."
He continued: "Now Russia is guilty of brutal ecocide. Any comments are superfluous. The world must react. Russia is at war against life, against nature, against civilisation. Russia must leave the Ukrainian land and must be held fully accountable for its terror."