Published: 07/02/2022
-
18:00
Updated: 07/02/2022
-
18:35
The UK Freedom Convoy rallied at Westminster on Monday to protest mandatory Covid vaccinations and restrictions.
Speaking exclusively outside Scotland Yard to GB News, Piers Corbyn called for the Canadian Prime Minister Justin Trudeau to "resign and reverse Covid restrictions."
---
Corbyn said that the protesters were standing in solidarity with the movement in Canada, saying "we support the truckers."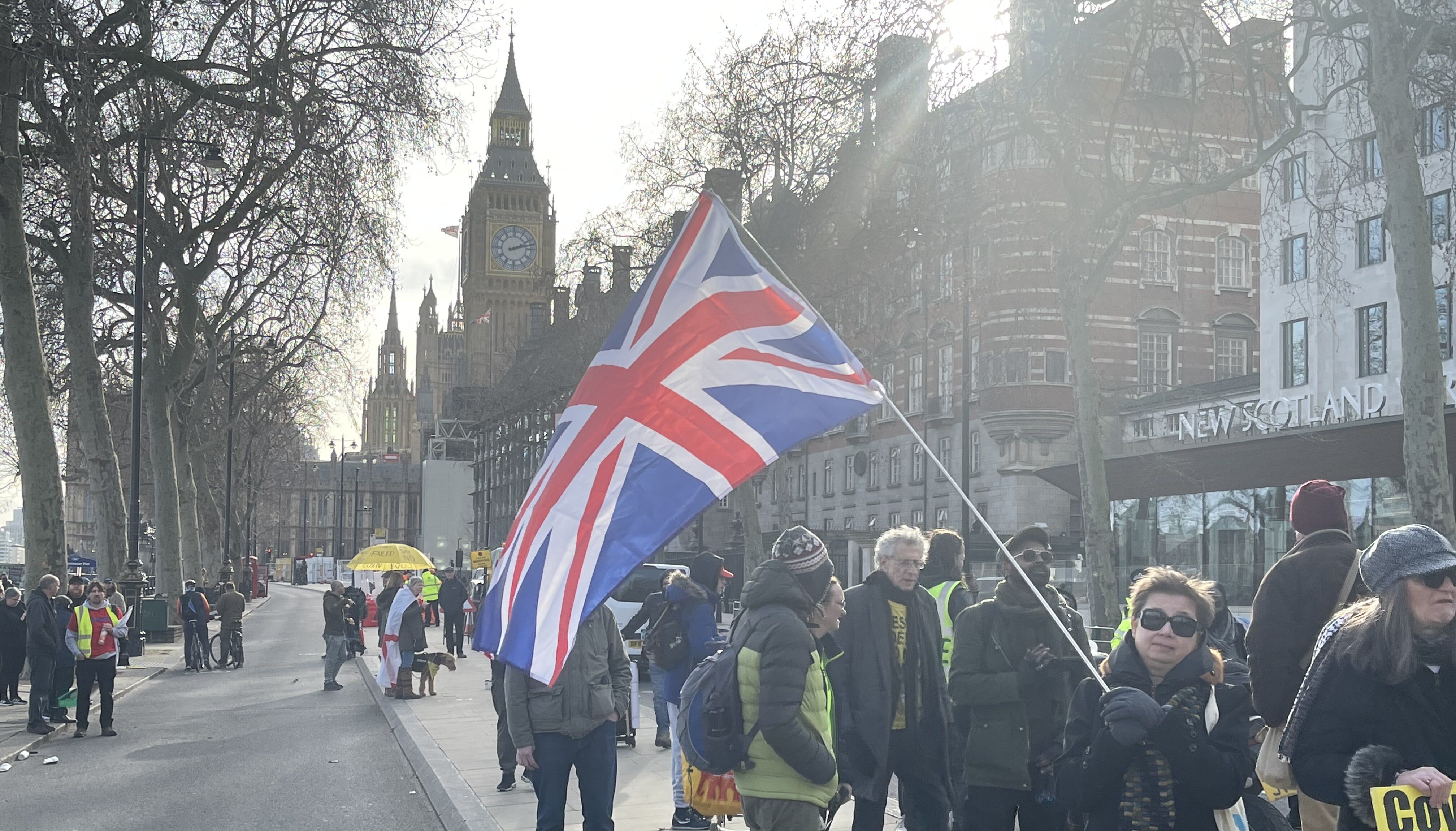 Piers Corbyn joined UK Freedom Convoy protesters
Connor Davidson
Thousands of protesters gathered in Ottawa on Saturday to protest vaccine mandates, masks and lockdowns.
Some travelled in truck convoys and parked on the streets around Parliament Hill, blocking traffic.
Mr Trudeau has said Canadians are not represented by this "very troubling, small but very vocal minority of Canadians who are lashing out at science, at government, at society, at mandates and public health advice".
Mr Corbyn also spoke out against Boris Johnson's coronavirus measures in England and demanded that the Prime Minister resigned.
Wearing a campaign T-shirt branded with the words "resist, defy and don't comply", the activists repeated this message against mandatory Covid restrictions and called for "an accountable future."
One Freedom Convoy protester, called Val, told GB News: "we are not living in a free country, and we do not have free choice."
The mental health worker said: "The tyranny has got to stop. I am concerned about my grandchildren."
Another protester, Joe Ward, told GB News their motivation behind attending the rally: "We want the freedom of choice."
"We are not extreme people. We are not far-right and we are not asking everybody to march on Downing Street."
The entertainer said "I want my daughter to grow up in a world where she's free to talk about different opinions."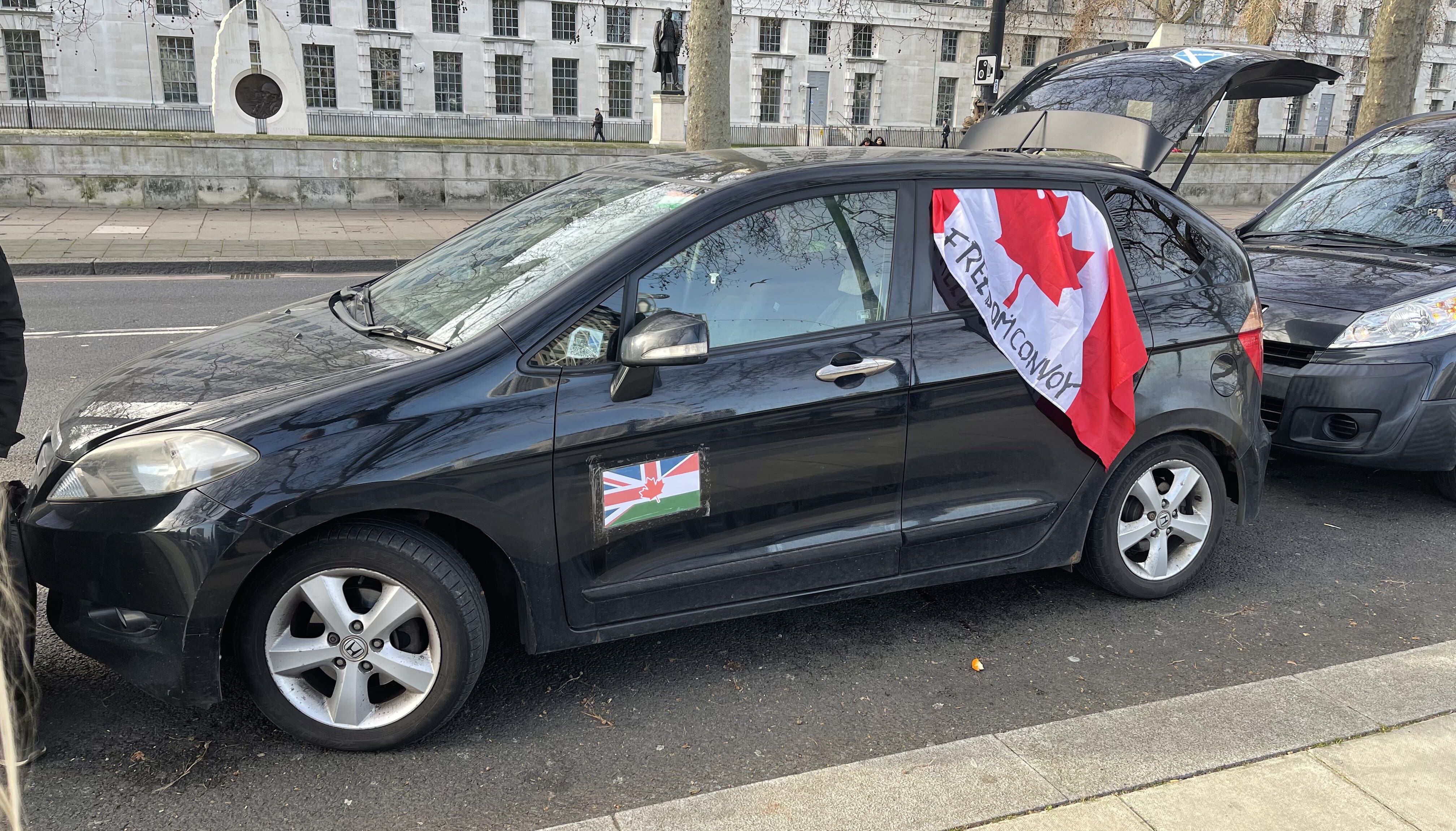 Vehicles belonging to the protestors lined Embankment
Connor Davidson
The UK Freedom Convoy activity comes after protesters opposed to vaccine mandates and Covid-19 restrictions held rallies in cities across Canada in a show of solidarity with a week-long demonstration in Ottawa.
"Under no circumstances should any group in the USA fund disruptive activities in Canada. Period. Full stop," Bruce Heyman, a former US ambassador under President Barack Obama tweeted.
After crowdfunding site GoFundMe said it would refund or redirect to charities the vast majority of millions raised by demonstrators protesting Covid-19 measures in the Canadian capital prominent US Republicans like Florida Governor Ron DeSantis complained.
"It is a fraud for @gofundme to commandeer $9M in donations sent to support truckers and give it to causes of their own choosing," DeSantis tweeted.
He added he would investigate these practices and donors should be given a refund. But GoFundMe had already changed its mind and said it would be issuing refunds to all.
GoFundMe said it cut off funding for the organisers because it had determined the effort violated the site's terms of service due to unlawful activity.
Ontario Premier Doug Ford called the protests an occupation.
The Metropolitan Police told GB News: "We are aware of a protest opposite New Scotland Yard. Officers are in attendance and speaking to those present.
"No arrests have been made."
Covid-19 guidance from the World Health Organisation