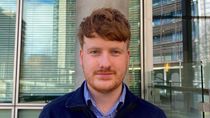 Published: 20/04/2023
-
09:46
Updated: 25/04/2023
-
06:41
Lee Anderson has said he is living "rent free" in the heads of those who disagree with his politics.
The Tory deputy chairman reacted to a song written about him by singer-songwriter Maria Tucker called "30p Lee".
The Nottingham musician describes herself as a "potty mouth rude lady musician and jewellery designer escaping the asylum".
One of the lines in the song says: "30P Lee, what you're having for tea Who can't stand footballers taking the knee? 30P Lee, what you're having for tea? Is the taxpaying funded?"
All funds from the sale of the track go to a local foodbank.
Reacting to the song, Anderson said: "It's in my head. I've been humming it and hopefully we can we can sing along together!"
He continued: "I'll tell you what it's very catchy. It's great ad work for me. Some of the lines in there, good policies by the way. So I think I might use that for the next general election, hope we get elected.
"Thank you Maria Tucker, they are helping me out massively. Look if they're writing songs about me like I said before Dan on this show, I am living rent free in their heads."
Dan Wootton Tonight is live, Monday to Thursday from 9pm, only on GB News.