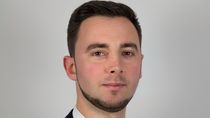 This is the moment a frustrated motorist pushed over a Just Stop Oil protester blocking the road - before being detained by police.
Forty-five Just Stop Oil activists blocked the roads on Blackfriars, London and Tower bridges on Tuesday morning by walking slowly in the road.
One man fed up of being unable to get to work left his vehicle to confront the protesters, pushing one of them to the ground before attempting to move a second person out of the way.
Police who stood by while Just Stop Oil blocked the road, then handcuffed the annoyed motorist.
He was detained on suspicion of common assault but not arrested, the Metropolitan Police said.
Just Stop Oil posted footage of the Blackfriars Bridge confrontation on Twitter, saying: "This is an impossible situation.
"That's where our government has left us. More and more people are realising taking action is the right thing to do.
"Do we disrupt other ordinary people, like this man, arrested for lashing out today, or just sit back and watch everything burn?"

Watch the full video above.