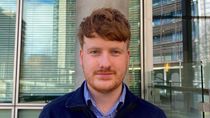 Published: 13/04/2023
-
15:27
Joe Biden has been upstaged during his trip to Ireland in a hilarious moment caught on camera.
The US President met with Irish President Michael D Higgins at his official residence in Dublin.
The pair walked through the grounds together, accompanied by Higgins' wife, Sabina Coyne.
But the interaction was interrupted when Higgins' Bernese dog, Misneach, which means courage in Irish, started barking at Biden.
Higgins briefly stopped his conversation with the US President to pet his dog, before shooing it away.
Biden seemed disinterested as he put on his sunglasses and turned to speak with Coyne.
Watch the clip in full above.