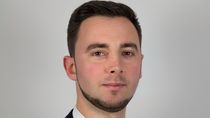 This is the moment a cowboy on horseback chased after a run away cow on a busy US motorway.
Police have released dash cam footage shows the extraordinary scene on the I-75 motorway in Michigan.
The cow escaped onto the interstate road, with a wrangler forced to rely on a lasso to recover the animal.
After making its way down the motorway, the cow hoped over the traffic divider onto the other side of the road before being caught.
Police say the animal was unharmed and is now back in its pasture.
The cowboy said the reaction to the video of his motorway chase had been "crazy", adding: "It's been pretty entertaining."
Watch how the unusual incident unfolded above.