Published: 05/04/2022
-
20:12
Holidaymakers could be left unable to board flights due to confusing post-Brexit passport rules.
Previously, Brits were able to travel with in-date passports, but now they are required to have a few months left before they expire.
---
However, airlines and the government website have conflicting advice leaving many Brits confused by the Brexit-related rules.
The government website states Brits need to have at least three months left on their passport to be able to travel to an EU country.
While on easyjet it says: ""For UK passport holders travelling to the EU, Iceland, Liechtenstein, Norway and Switzerland, please note that on your day of travel you'll need your passport to have at least 6 months left on it."
The Ryanair website says it must be valid for "at least six months from the date of arrival" with at least "three months" left when leaving the country.
Joy Rooney expressed her concerns on social media, she said in a Tweet: "Anyone flown recently on Ryanair or easyJet with 5 and 1/2 months left on passport? Heading to EU and rules state 3 months. But both airlines ask for 6. Contacted customer services and they said they only follow rules of the country."
One Twitter user @bethpowe_ expressed similar worries: "Travelling to Italy on an easyJet flight. Gov.uk says for entry to Italy passport must be valid for at least 3 months on your return date and issued within the last 10 years. Your website states 6 months. Can you confirm which is correct?"
This comes as many travellers trying to get away for Easter have been hit by flight cancellations and Eurotunnel delays.


Beth expressed her concerns on social media
Twitter
Airlines are suffering from staff shortages related to coronavirus sickness, leading to flights being grounded.
Eurotunnel warned its vehicle-carrying Le Shuttle rail services from Folkestone, Kent to Calais, France were delayed by three hours due to "a train stopped temporarily in the tunnel".
The travel disruption is affecting many families heading abroad for the Easter school holiday, which is the first since the UK's coronavirus restrictions for international travellers were dropped.
EasyJet cancelled 62 flights scheduled for Monday, after axing at least 222 flights across Saturday and Sunday.
Some holidaymakers reported being stuck abroad with no explanation or alternative route home offered by the airline.
A spokesman for the airline said: "As a result of the current high rates of Covid infections across Europe, like all businesses easyJet is experiencing higher than usual levels of employee sickness."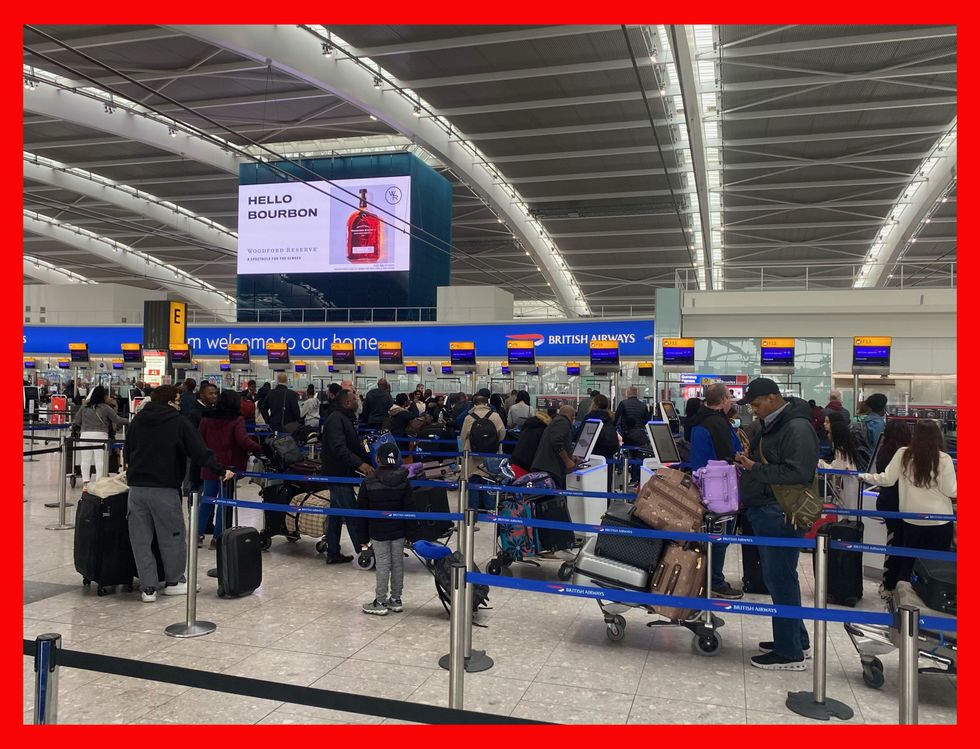 People queuing to check-in at Heathrow Terminal 5 as travellers embarking on overseas trips on Monday faced chaos as flights were cancelled and cross-Channel rail services were hit by major delays.
Steve Parsons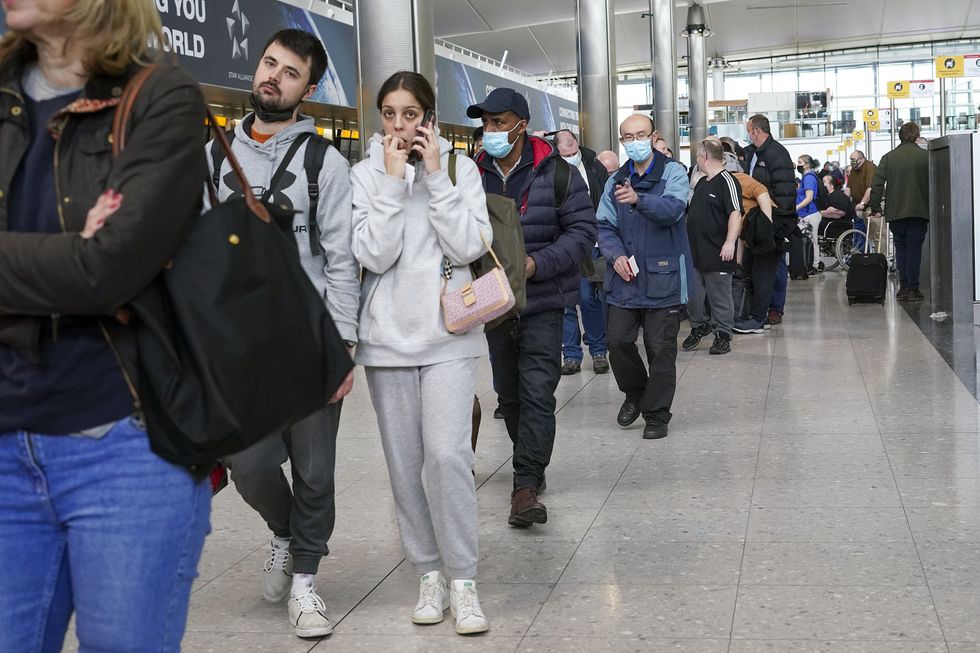 People queuing to check-in at Heathrow Terminal 5 as travellers embarking on overseas trips on Monday faced chaos as flights were cancelled and cross-Channel rail services were hit by major delays.
Steve Parsons