By Anna Fox
Published: 13/06/2022
-
22:26
Updated: 13/06/2022
-
22:28
Journalist Benjamin Butterworth claimed "there's no such thing as lefty lawyers" in a heated debate on the deportation of migrants to Rwanda.
The Dan Wootton Tonight panel, hosted by GB News Presenter Patrick Christys, notably clashed on the subject.
---
Panelist, Carole Malone, expressed her frustration at the condemning of the policy, emphasising that it is one of the most popular among the British public, who want controlled immigration.
Ms Malone continued, expanding upon her frustration at "lefty lawyers" who in her opinion are making an extensive profit out of legal aid in aiming to stop the deportation of migrants.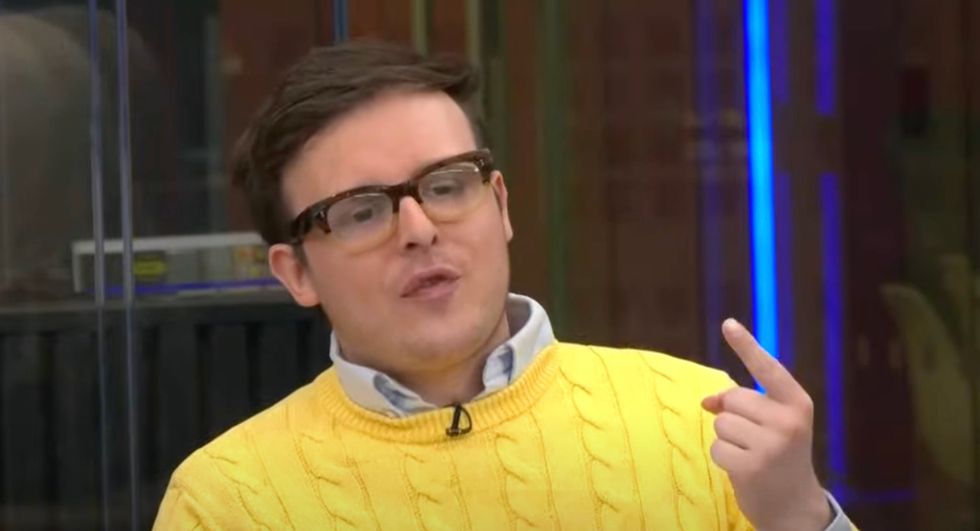 Mr Butterworth said there are "no lefty lawyers"
GB NEWS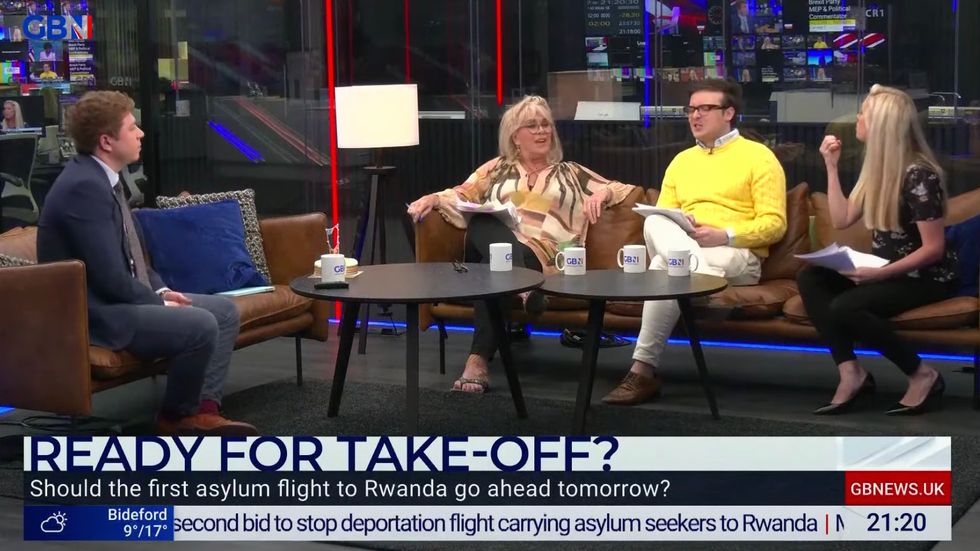 The panel erupted into a heated debate on the topic of the Government's Rwanda policy
GB NEWS
Likening journalist Benjamin Butterworth's facial expression during Ms Malone's statement to a "rotten onion", Patrick probed Mr Butterworth on his thoughts regarding the policy.
He retaliated stating it was "hideous hateful tripe".
Condemning Ms Malone's comments, Mr Butterworth continued adding: "There's no such thing as lefty lawyers, there are just lawyers."
Patrick interjected over Mr Butterworth, asserting his viewpoint stating: "That's not true, I did a law degree."
The panel progressed their conversation onto the gender and sexuality of migrants, with Mr Butterworth outlining how many of the migrants fled countries "because they could be killed and abused because of their sexuality".
Belinda de Lucy, former Brexit Party MEP and political commentator, joined the conversation.

She added: "You're suggesting the city the size of Newcastle can come over every year because without any documents they can be gay, Christian, persecuted with no proof."
The discussion follows an announcement from Court of Appeal judges who have rejected a last-ditch legal bid to block a flight due to relocate asylum seekers to Rwanda on Tuesday.
The Prime Minister said the Government anticipated "a lot of teething problems" with the policy, but said the move is necessary to stop illegal people-smuggling rackets on either side of the Channel.
The Public and Commercial Services union (PCS), which represents more than 80 percent of Border Force staff, and charities Care4Calais and Detention Action have gone to the Court of Appeal after the High Court's ruling on Friday that the first flight to the east African country can go ahead.
Lawyers for the three groups and one person due to be removed are asking for an interim block on removing the now-11 people due on Tuesday's flight until the full hearing of whether the policy is lawful next month.
Raza Husain QC told the court: "The justice of the situation indicates that a general order should be made."