By Alex Davies
Published: 01/09/2023
-
09:58
Updated: 01/09/2023
-
10:19
This week has been quite the week for GB News host Stephen Dixon who's been adjusting to life with a new pet.
Stephen and his family have welcomed a new addition to their home in the form of a Ridgeback puppy, Rex.
---
On Friday's Breakfast with Stephen and Anne, the pair opened the show by discussing the adorable new arrival and how Stephen is adjusting to life as a new dog dad.
"So the dog has arrived - Rex," Stephen said at the top of Friday's show as Anne replied: "He's been telling me it's even weird to talk about your dog."
Photos of Rex then began to pop up on-screen as Stephen commented: "There he is, look. He's a gorgeous Ridgeback."
"He's got a lovely face," Anne complimented as a proud Stephen explained: "And he's really settled in very nicely.
"Crucially, him and the cat... I wouldn't say getting on but they're not fighting, they're not arguing... They're just a little bit wary of each other."
"That's good!" Anne exclaimed. "And in several of the pictures you sent me, the cat has seated himself up high.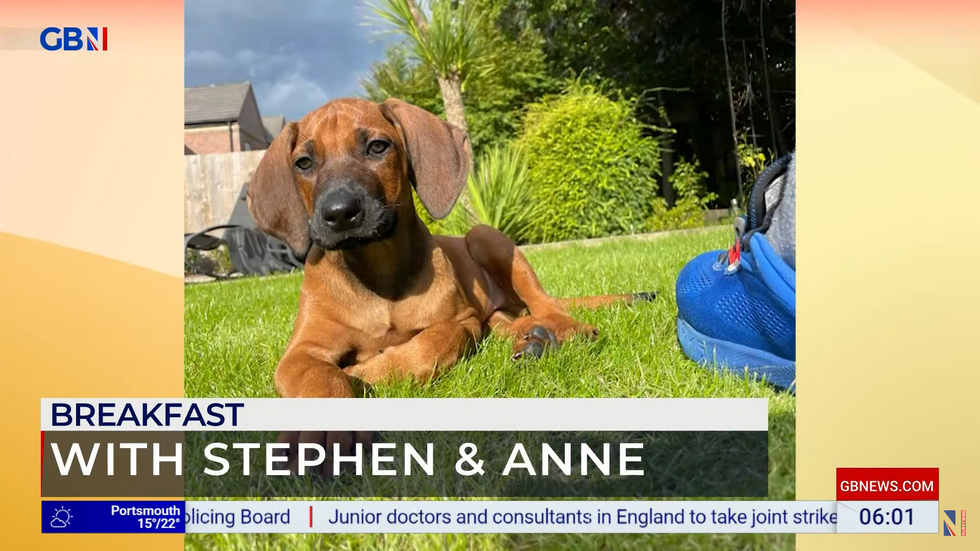 Stephen Dixon's dog Rex made a special appearance on the show
GB NEWS
"On top of the sofa looking down or on the table looking down. Cats will tend to do that while they suss things out."
Stephen revealed: "Timmy had a good sniff of him while he was asleep last night so that was quite good. He's had a bit of a hiss at him but it's fine."
Anne then asked how Stephen was coping in the evenings with a new pet, describing the experience as similar to that of a new parent and a baby.
"I had no idea it was going to be like it is," Stephen admitted. "I feel really sorry for new parents now in a way I never felt before."
Stephen went on to label the first evening with his new pooch as "terrible" after Rex was left "yowling" through the night.
"But actually after that, the last two or three nights have been fine," Stephen added.
He did go on to point out, however: "He does wake us up in the night when he wants to go out - so it's fine! It's all good, but it's exhausting."
Stephen left Anne giggling as he commented: "I'm exhausted, I come to work for a break!"
Anne weighed in: "It is a bit like being the new parent of a baby, especially a toddler.
"Because the thing you treasure most is being able to get through the night straight, and he will do that, he'll be able to hold it in.
"And then it's the having to make sure you don't leave any food for instance, and he's going to grow big fast!"
Stephen then revealed Rex has already grown to quite a size in just eight weeks as he now weighs in at 7.5 kilograms.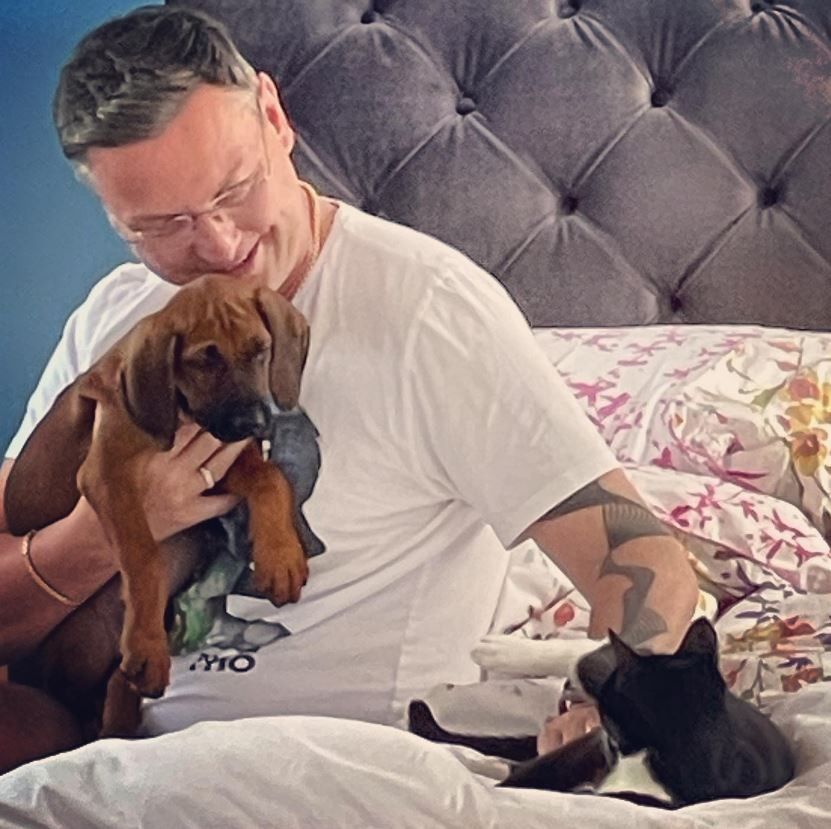 Stephen Dixon posted the first snap of Rex and his cat on his Instagram page
INSTAGRAM/STEPHEN DIXON
The GB News shared the first snap of Rex and his pet cat Timmy on Instagram earlier this week.
Stephen can be seen holding his new pet dog while stroking his cat and simply captioned the post: "Happy days."
A number of the GB News host's fans were quick to rush to the comments of the post, including co-star Ellie Costello.
Like so many other, Ellie gushed over the adorable snap as she remarked: "Awwwwwwwwww Rex and Timmy together," followed by love-heart-eyed emojis.