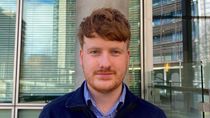 Published: 29/03/2023
-
12:55
Updated: 30/03/2023
-
11:13
Pete Price has paid a touching tribute to his friend and legendary TV presenter, Paul O'Grady.
O'Grady has died at the age of 67, his partner Andre Portasio announced earlier today.
He surged to fame in the 1990s playing the iconic drag queen, Lily Savage, and presenting game show Blankety Blank among other entertainment programmes.
Appearing on GB News' Breakfast with Eamonn and Isabel, radio presenter Pete Price shared a fond memory with O'Grady from when he was meant to be staying with him.
Breaking down in tears he said: "He was one of the gang, he was just… I was actually going to stay with him once a few years ago and I bumped into a friend of mine in Harrods.
"He went, 'Did you know that Paul O'Grady's been rushed to hospital with a heart attack?'
"I had no idea, and I was just going to get him a present to take to stay with him."
Pete joked: "You know what? He was determined for me not to stay and he goes and has a heart attack just to keep me out of the house!"
Eamonn added: "He was a star, TV don't make them like that anymore and maybe can't handle them like that anymore."
Tune in to Breakfast with Eamonn and Isabel, Monday to Thursday from 6am.