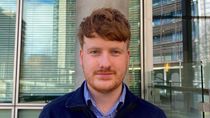 Published: 20/04/2023
-
14:23
Paul O'Grady has been praised by his local community for the work he did in the village and the positive change that he made.
The 67-year-old died last month from sudden cardiac arrhythmia, caused by heart disease.
Today, the late star's funeral took place today in Aldington, Kent.
Ahead of the service, GB News' National Reporter Theo Chikomba spoke with locals in the village about the impact he had on the community.
Local Post Office owner, Muttukumarasamy Skandakumar, spoke of his sadness.
He said: "He deserves everything, he was such a nice man and he was a very friendly, very caring person and it's going to be a great loss for this village especially.
"He has done quite a lot for the school and the community and everybody else and he's going to be missed really.
"He was a wonderful person, if you asked him anything about his work, he would always have time, and would explain where he had been and what he'd been doing.
"Even a week before he sadly passed away, he came here to use the post office and he said he was going to go to Scotland for some work and that's the last time we saw him, it's so sad to miss such a nice man."