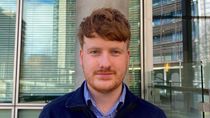 Published: 04/04/2023
-
08:28
Updated: 05/04/2023
-
11:24
Jacob Rees-Mogg was mimicked on live television after an impersonator performed his impression of the Somerset MP.
Impressionist and radio host Mike Osman joined Nigel Farage on Talking Pints to reflect on his career and the changing landscape for impressionists.
But Farage had a surprise for Osman towards the end of the interview when he asked him to do his best Jacob Rees-Mogg impression, in front of the Somerset MP.
Farage said: "Mike, you said a moment ago that you're an admirer of Jacob Rees-Mogg, he's actually standing about six feet behind you.
"So what I'm going to ask is that you, as Jacob Rees-Mogg, please welcome Jacob Rees-Mogg."
Osman proceeded to deliver his spectacular impression of Rees-Mogg to his face, joking after "he is the most polite man in the world, that's what I love about him".
Tune in to Farage, Monday to Thursday from 7pm, only on GB News.