Lewis Hamilton has backed George Russell to bounce back following his crash at the Singapore Grand Prix this weekend.
The 25-year-old was forced out of the race on the final lap after Mercedes had tweaked their tactics.
---
Russell was second at one point, with Hamilton in fourth, leading to the Silver Arrows to go for a first victory of the season.
That eventually didn't happen, with Russell then crashing on the final lap before Carlos Sainz Jr reigned supreme.
Russell was chasing down Lando Norris and, after clipping the barrier on the entry into Turn 10, ended up driving into a wall.
Hamilton has now backed his young team-mate to learn from the experience, however.
And he's strongly defended his team-mate, insisting it was 'unfortunate' that the incident happened.
"Well, we're all trying to be millimetre-perfect out there and it's very, very easy to make mistakes," he stated.
"It's very easy too for any of us to have been in the position that George was in.
"He's been driving phenomenally all weekend, so it was really unfortunate for him [on the] last lap to finish that way... but I know he'll bounce back.
"He continues to grow, he's continuing to improve, so I know that he's going to keep getting stronger and faster, and if there's any way I can help, I will be a part of that, naturally, in the next couple of years.
"But yeah, I have a lot of experience. I've been here a long time so putting together a race is… not that it's easy, but the race is where I'm most comfortable on track and yeah, I think it's just keeping your head down.
"If you look at last year for example, I made a mistake in Turn 7 and went off and crashed into the wall.
"So it can happen to any one of us and it's just one of those things."
Mercedes chief Toto Wolff was delighted to see Hamilton finish the race in third.
But the Austrian also feels Russell deserved a place on the podium as well and has labelled his crash as 'unfortunate'.
"Yeah, super that Lewis is on the podium. He had a brilliant race, also at the end he had pace," he stated.
"[It's] just a shame for George because he worked hard for that.
"It could have been a good third and fourth, lots of points, but now we've lost 22 against Ferrari.
"It was just an unfortunate moment; he clipped the wall and it's a split second of a tiny mistake, and it ends a great race.
"It's a shame because he would have deserved [a podium]."
And Wolff, when quizzed on whether he'd put an arm around Russell, added: "Absolutely. As a driver you are devastated in such a moment, so that's exactly what I'm going to do."
As for Russell himself, the Brit had to fight back tears as he spoke out after the race - while also hailing Sainz for the way he performed on the grid.
"No words to be honest. Such a long, physical race. Difficult to keep concentration," he said.
LATEST DEVELOPMENTS: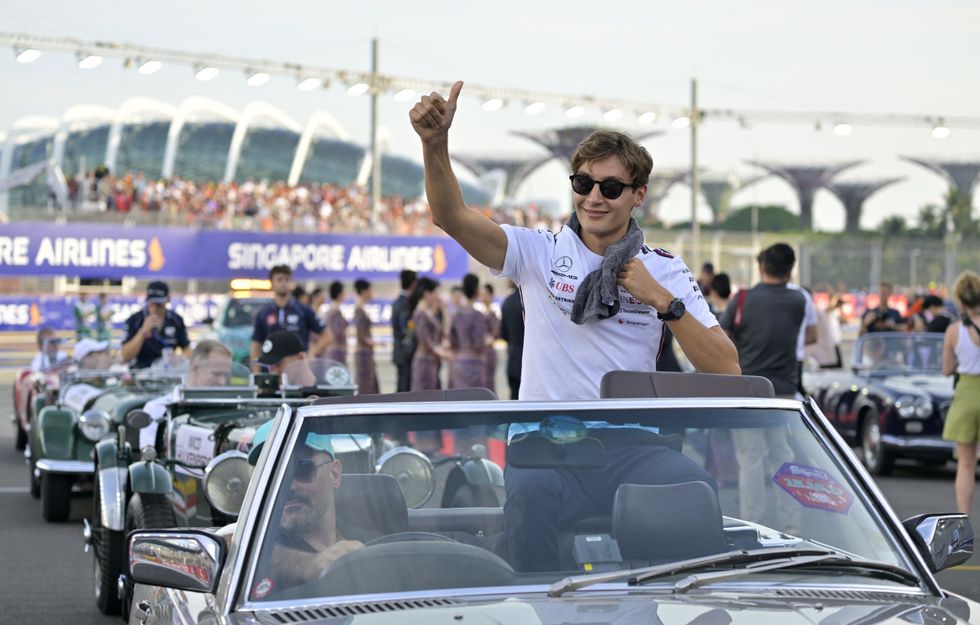 F1: George Russell was left emotional after his crash at the Singapore Grand Prix
PA
"Carlos did a great job backing the pack up, not allowing us to do the alternative strategy.
"I think we were half a car's length from winning the race had I got past Lando when I had the opportunity, I think we would have been able to get past Carlos.
"Then just the last lap, a millimetre lapse of concentration and game over. So just sorry to the whole team.
"It was a really challenging race, the tyres were dropping off and you are pushing the limits. That's how racing should be, you make a small mistake and you are bitten for it.
"It's heartbreaking after such a great weekend - the car has felt great, qualifying was great, the race was great, we were bold with the strategy. I feel like I let myself and the team down. It's tough but we will come back."