By Anna Fox
Published: 10/06/2022
-
12:15
Updated: 14/02/2023
-
11:04
A new mum has defended herself following her decision to pierce her newborn daughter's ears when she was just two-days-old.
The mother and social media star, who goes under the name @Laraticoffical, went viral after sharing a video showcasing how her baby had changed after four months.
---
In the clip, the infant can be seen sporting a silver floral earring while being wrapped in a hospital blanket.
The mum, who originates from Colombia, says neonatologists in the hospital, "pierced Lara's ears", saying, "when they are two-three-days-old, they don't feel pain like a year or two!"
She added how Lara "didn't even react" to the piercing as babies' lobes are "softer" when they're very young.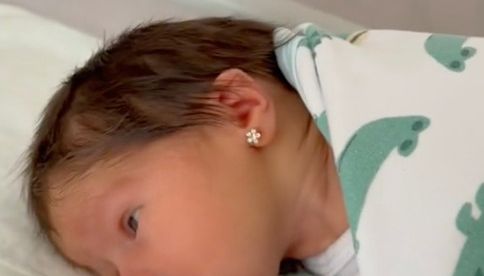 Baby Lara's ears were pierced shortly after her birth
laraticaofficial/Tiktok
Piercing the ears of infants is a highly contested topic in the UK, despite being common practice in many countries across the globe.
One comment from a TikTok used said: "In Romania, they pierce kids' ears in the hospital..."
The video sparked a hot debate on piercing babies' ears, sparking retaliation against the idea, with many deeming it as "body modification without consent".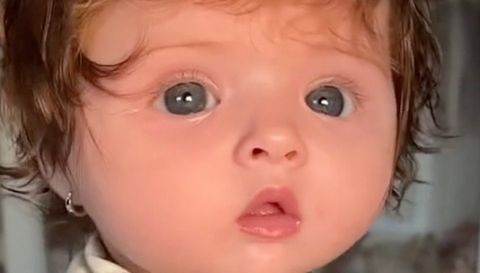 The video which has accumulated over one million views has received extensive backlash
laraticaofficial/Tiktok
Many mothers condemned the move with user Amy adding: "I'd be so afraid she'll pull them off and choke on them. My daughter was seven and my son eight when they got their's done".
The mother spoke to Newsweek, saying: "There are a lot of mischievous comments. 'Why did I pierce my little girl's ears so young?'"
Answering her own question, she added: "Well the answer is, because I wanted to, and that it is possible in our country.
"I think a few days after birth is much more non-traumatic for a child to pierce their ears than when they are one or two.
"Lara had no reaction when the doctors gave her the holes."
Baby Lara was born in January and her mom has amassed over 747,000 followers on TikTok sharing sweet clips of her newborn.