Published: 12/04/2022
-
12:49
EastEnders star Melanie Clark Pullen, who played Mary Flaherty, has died of cancer aged 46.
The mum of three was diagnosed with breast cancer in January 2019.
---
After undergoing chemotherapy, she temporarily became cancer-free, but announced last June that the disease had returned and that she'd also been diagnosed with a brain tumour.
At the time, she wrote on her website: "I was only given the all clear from cancer 18 months ago and it's a cruel blow to think that I will now be starting into some kind of treatment again and that this time it will be long term and a permanent fixture of my life."
Melanie was very open about her cancer treatment on social media. She last posted a picture on 14 March which saw her smiling amongst family.
She died on 29 March 2022, just a few days before the death of co-star June Brown.
EastEnders actor Andrew Lynford, who played Tiffany Mitchell's brother, Simon Raymond, took to Twitter to leave a tribute for his co-star.
He wrote: "How sad to hear we have lost one of the gang. RIP dear Melanie."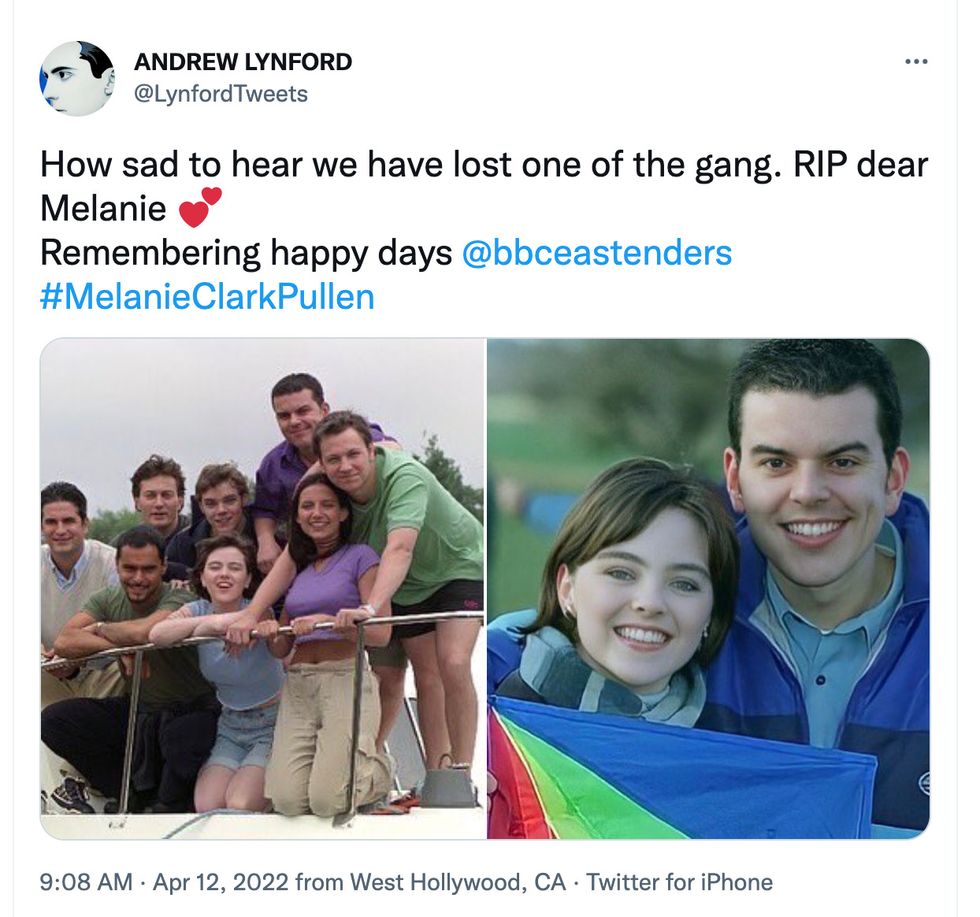 EastEnders star Andrew Lynford posted a tribute to Melanie on social media
@LynfordTweets / Twitter
On the soap opera, Mary Flaherty was the long-lost great-niece of Pauline Fowler, played by Wendy Richard, and she featured on the show between 1997 and 1999.
Her character was introduced to the series when the Fowlers went to visit family in Ireland.
She was first presented as a troubled teenager that doesn't get on with her father Conor and is having an affair with an older man, Gerry McCrae.
After moving to Watford, she comes between couples such as Joe Wicks, played by Paul Nicholls, and Sarah Hills, acted by Daniela Denby-Ashe, but is well liked by aunt Pauline, who says she reminds her of a younger version of her mother.
Mary ultimately came back to live in Walford and was close to Pauline and her cousin Mark.
Mary's character exited the show in 1999 after moving to Scotland with her father and his pregnant girlfriend, Ruth Fowler (Caroline Paterson).
Melanie also starred in several period dramas such as Catherine Cookson's A Dinner Full of Herbs on ITV.
She also featured in the film Ordinary Love, which starred Liam Neeson and Lesley Manville, where she played a doctor.