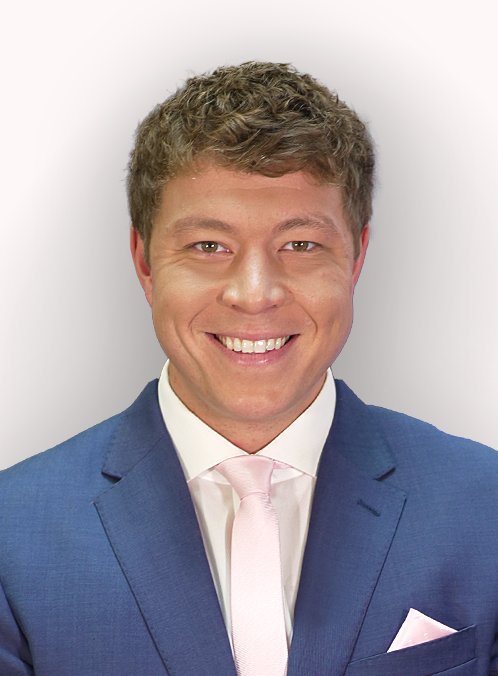 Published: 11/04/2022
-
10:03
Updated: 11/04/2022
-
10:09
Boris Johnson went to a warzone while Keir Starmer struggles to define what a woman is. I'm not sure he knows what a man is either.
Boris showed true leadership, courage and nouse on the international stage by going on a walkaround with Zelenskyy in Kiev.
---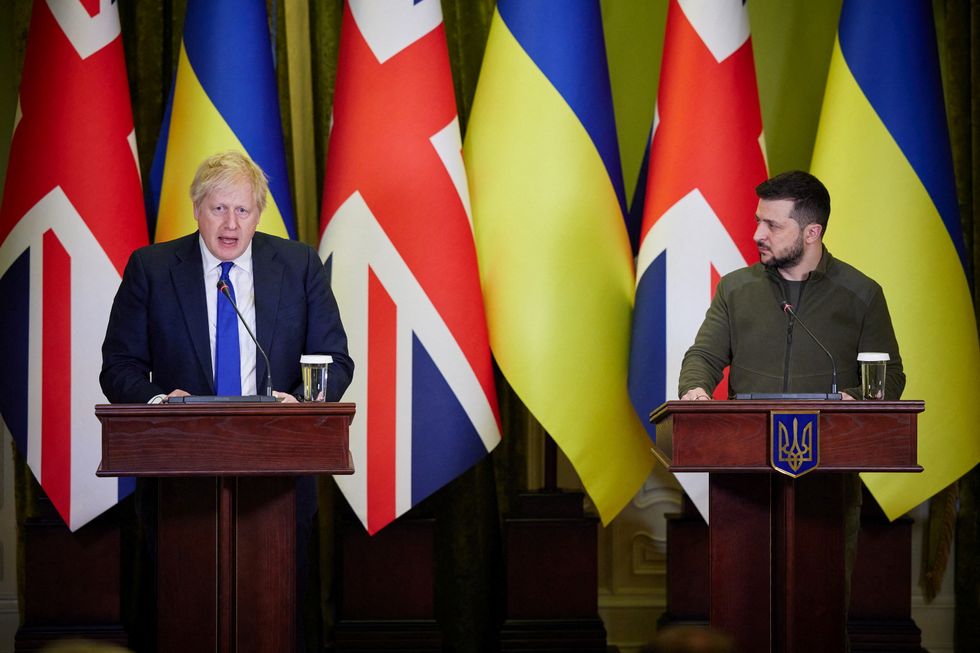 Ukraine's President Volodymyr Zelenskiy and British Prime Minister Boris Johnson attend a news briefing, as Russia's attack on Ukraine continues, in Kyiv.
UKRAINIAN PRESIDENTIAL PRESS SER
He pledged a further £100million worth of UK military assistance, vowed to send Ukraine 120 armoured vehicles and new anti-ship missile systems.
On top of that Johnson also confirmed further economic support, guaranteeing an additional £385million in World Bank lending to Ukraine, taking total UK loan guarantees to £770million.
That's proper action.
There have been some absolutely terrible takes on this. The usual media types – 'oh, it's just a PR stunt!' Erm, yeah, it is a bit of a PR stunt both at home and abroad, it's a PR stunt for us and Ukraine…but one with real purpose. To bolster Ukrainian spirits, bolster Ukrainian defences and bolster Britain's standing on the world stage. So it's a good thing.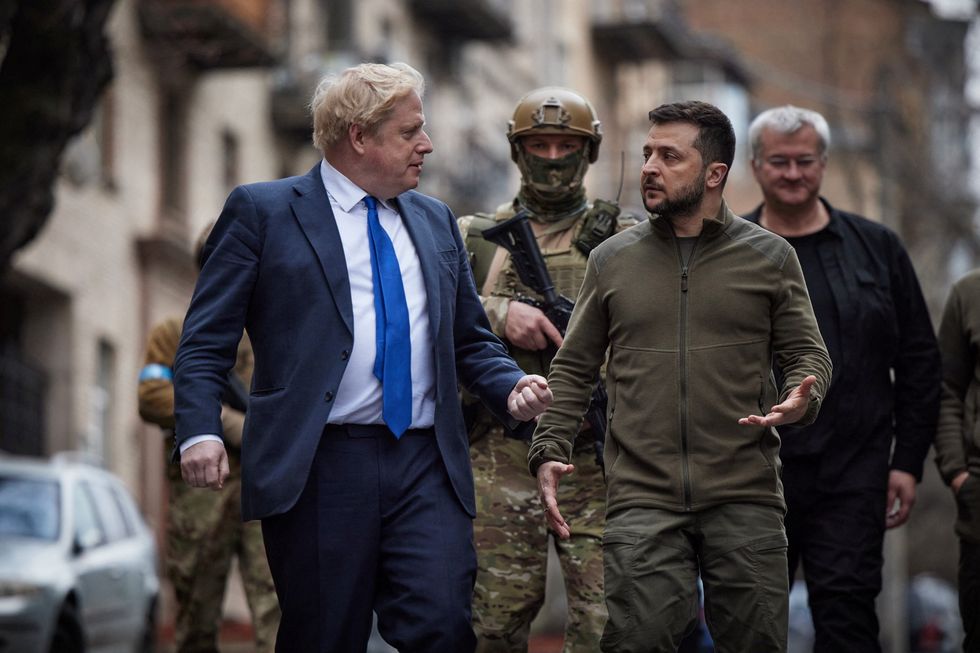 Ukraine's President Volodymyr Zelenskiy and British Prime Minister Boris Johnson speak as they walk along a street after a meeting, as Russia's attacks on Ukraine continue.
UKRAINIAN PRESIDENTIAL PRESS SER
What Boris Johnson's trip to Ukraine has highlighted even further is just how many people hate Britain…it doesn't matter what we do, or what our leaders do, they just hate Britain.
Zelenskyy issues a quote that didn't even mention Boris. He said: "The other democratic countries of the West should follow the example of the United Kingdom."
Cue mass FBPE hysteria. One person on Twitter said: "He praises every country and leader who helps him. But of course Britain needs to make even this into a competition - you guys are obsessed with world leading, world beating, best in the world blah blah."
More like 'wah wah wah' from the pro-Remain brigade.
I wonder what her Twitter bio looks like?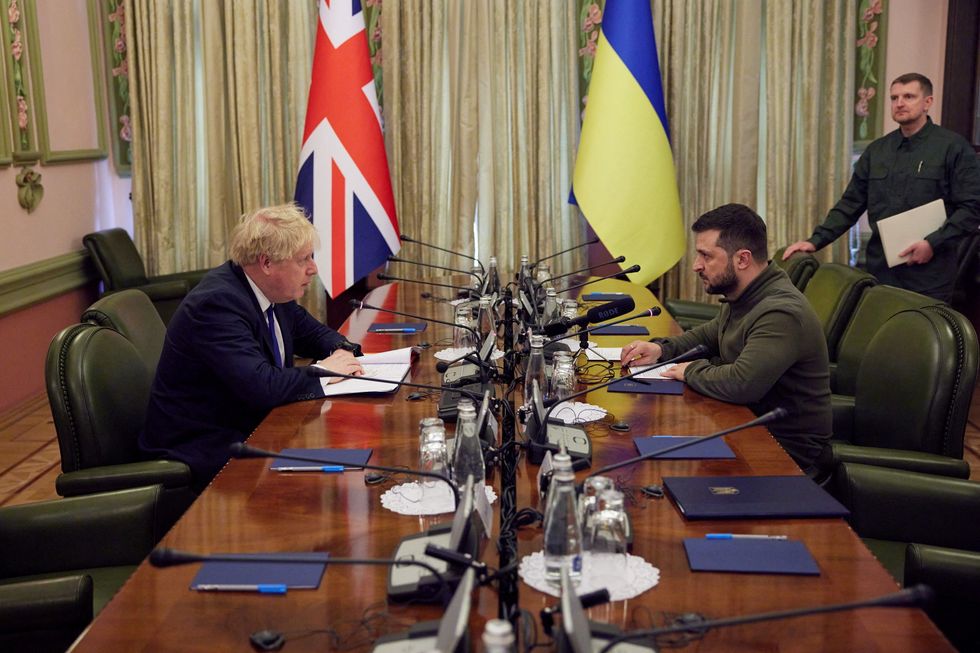 Ukraine's President Volodymyr Zelenskiy and British Prime Minister Boris Johnson attend a meeting, as Russia's assault on Ukraine goes on.
UKRAINIAN PRESIDENTIAL PRESS SER
'EU citizen stranded on a tiny rock' – you're not stranded, I mean, people manage to leave the country every single day…
And then there's this hot take: "Zelenskyy doesn't really like Johnson much but he's smart enough to flatter him in order to keep the military hardware flowing into Ukraine."
That tweet came from a man called Pete Josephs whose Twitter bio states: "Retired computer computer programmer. Proudly woke. Love the EU."
Gosh, it's incredible that a retired computer engineer would have a direct line to the President of Ukraine. Forget the political correspondents, Pete the laptop fixer has got the inside scoop.
But how has their beloved EU behaved during this crisis? Pretty ineffectively. Their approach has focussed strongly on financial sanctions and the humanitarian crisis. They set up an investigation team to look into war crimes. But nothing really to actually prevent those war crimes taking place or stop the humanitarian crisis.
And in reality it's their political idiocy that has indirectly caused this crisis – Germany's reliance on Russian gas, for example. They sent 5,000 helmets to Ukraine. That's big of them.
My point here is that if it was left up to the EU, Ukraine would just fall to Russia and then Brussels would attempt to help those fleeing that war.
What the UK is doing, what Boris is doing, is actively trying to prevent Ukraine falling to Russia. Actively trying to mitigate the humanitarian crisis as much as possible. Actively trying to prevent war crimes. And there's a big difference there.
I've been very critical of Boris at times, I don't think he's necessarily the best leader we could ever have hoped for, but the sight of him being called over by a Ukrainian man in the street who thanked him for his response made me feel proud to be British. It's upsetting that so many people seem to devote their time to finding ways to feel ashamed. I just feel sorry for them.