By Max Parry
Published: 01/12/2021
-
19:16
Updated: 14/02/2023
-
12:00
On January 6th 2021, six people, including one police officer, died as protesters attending a Trump rally in Washington descended on the Capitol building, outraged at the result of the 2020 Presidential election.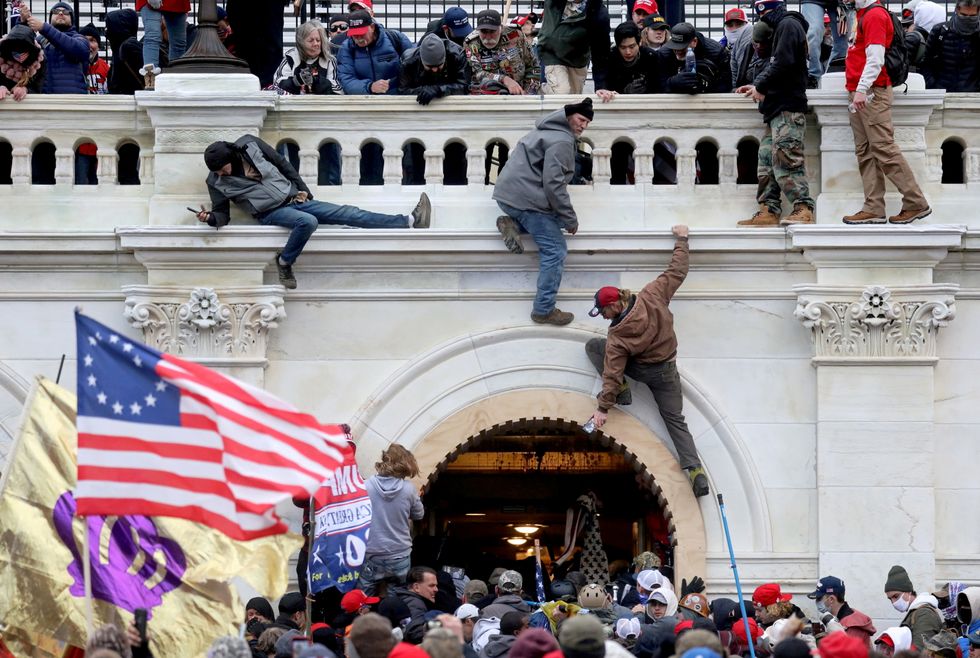 Supporters of U.S. President Donald Trump fight with members of law enforcement at a door they broke open as they storm the U.S. Capitol Building in Washington.
Leah Millis
---
They believed that President Donald Trump's defeat by Joe Biden was not legitimate, after Mr Trump alleged fraudulent voting had taken place in a number of key states.
In the rally Mr Trump said: 'I know that everyone here will soon be marching over to the Capitol building to peacefully and patriotically make your voices heard.
'We will never give up, we will never concede, it doesn't happen. You don't concede when there's theft involved.
Former President Donald Trump
The insurrection took place on November 3rd, that was Election day
Asked by GB News presenter Nigel Farage whether it was 'a mistake to have that rally on that day', Mr Trump said: 'The insurrection took place on November 3rd, that was Election day, and before and after, that was to me the insurrection and the January 6th was a protest.'
The 45th President went on: 'I have spoken to very big crowds. I have never spoken in front of a crowd that size, nobody ever talks about that.
'And then unfortunately some bad things happened, but also the other side had some very bad things happen.
'And add this, I offered 10,000 and suggested 10,000 national guardsmen… or even the military, because I knew the crowd was going to be massive, because I knew the anger that took place over the election being rigged and I understood that, I understood it better than anybody.'
'And Pelosi and these people turned it down. We would have had tremendous security but they turned it down.
In July of this year The Associated Press reported that Nancy Pelosi's spokesperson had contacted them to dispute the claim that Ms Pelosi had refused additional security on the day of the Capitol riots.
Her spokesperson Drew Hammill said, 'On January 6th, the Speaker, a target of an assassination attempt that day, was no more in charge of Capitol security than Mitch McConnell was. This is a clear attempt to whitewash what happened on January 6th and divert blame.'