Published: 30/03/2022
-
13:38
Trans athlete Emily Bridges is still listed as "male" on the British Cycling website, despite being set to compete in the National Omnium Championships women's event on Saturday.
Ms Bridges, 21, came out as transgender in October 2020 and after beginning hormone therapy last year, has now become eligible to compete in women's events.
---
British Cycling's regulation, which were updated in January this year, now require riders to have had testosterone levels below five nanomoles per litre for a 12-month period prior to competition.
A young healthy male level of testosterone will range from 20 to 30, compared with a female's range of 0.7 and 2.8, according to the NHS.
During therapy, Ms Bridges continued to compete in men's races.
It was just last month she won the men's points race at the British Universities' championships in Glasgow.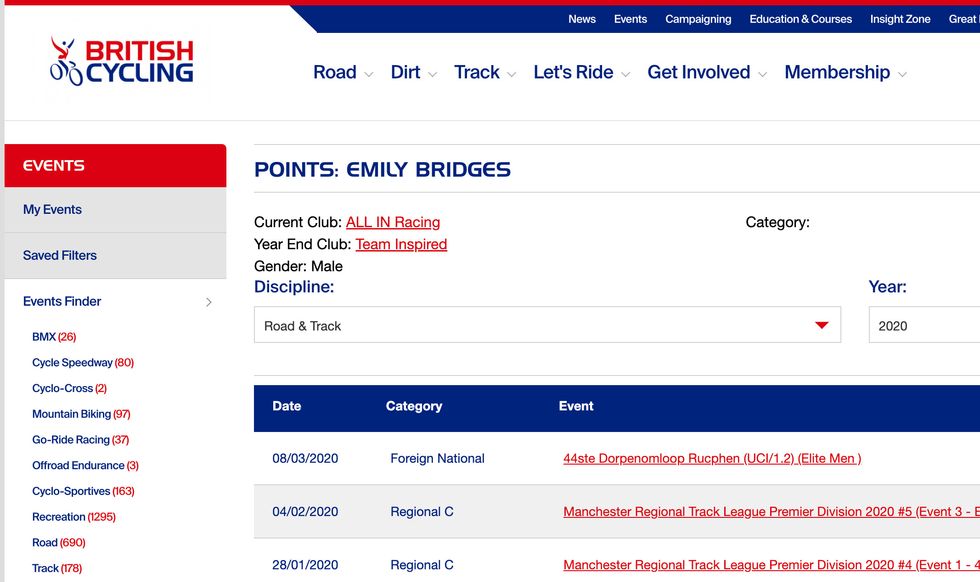 Emily Bridges profile on British Cycling's website where she is listed as "male"
British Cycling Website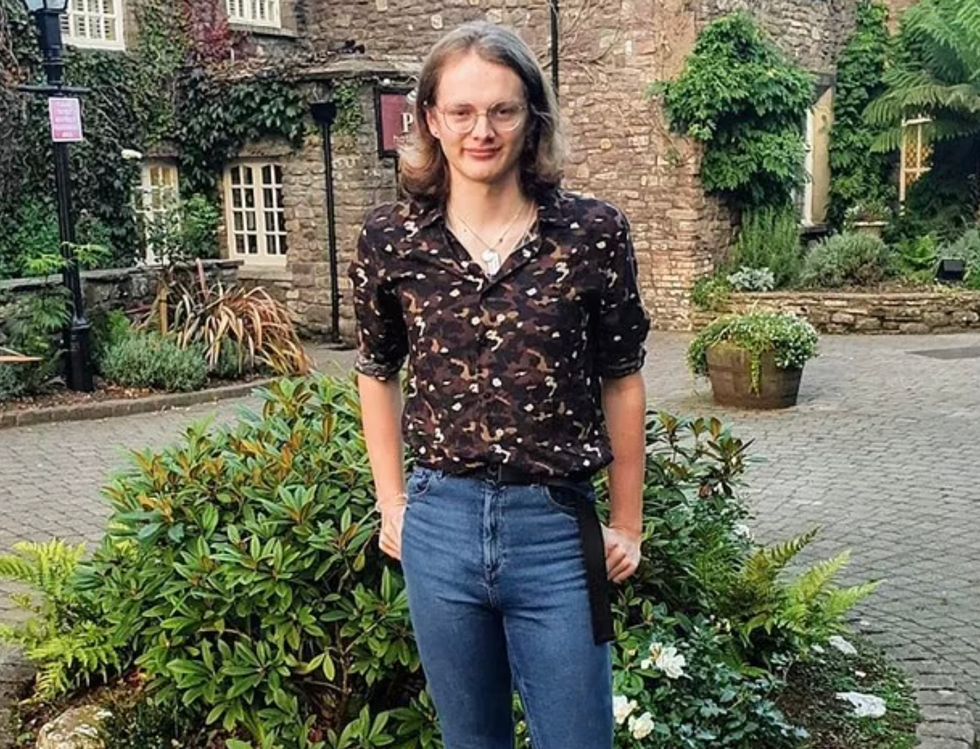 Emily Bridges
@EmilyBridges45_/Instagram
She will compete on Saturday against five-time Olympic champion Dame Laura Kenny, in Derby and could now compete for Wales at the Commonwealth Games in Birmingham this Summer.
She could also be in the running to be selected for Team GB at the Olympics in Paris 2024.
Despite the policy and decision allowing her to race, Ms Bridges continues to have her gender as "male" on the British Cycling website.
She told Cycling Weekly in an interview last month: "After starting hormone therapy I didn't want to race in the male category any more than I had to - obviously, it sucks, getting dropped, racing as a man when you're not one. It was quickly apparent that was the wrong category for me.
"By the summer of 2020 I'd fallen out of love with the sport. I couldn't live like that any more - I couldn't be my true self."
The inclusion of Ms Bridges in the women's event has already been sparked backlash.
Former Olympic swimmer Sharron Davies told the Telegraph: "British Cycling ought to be ashamed of themselves.
"I have had quite a few of the girls very distressed on the phone. They are frustrated and disappointed.
"They are all for inclusion but not at the loss of fairness and opportunities for biological females.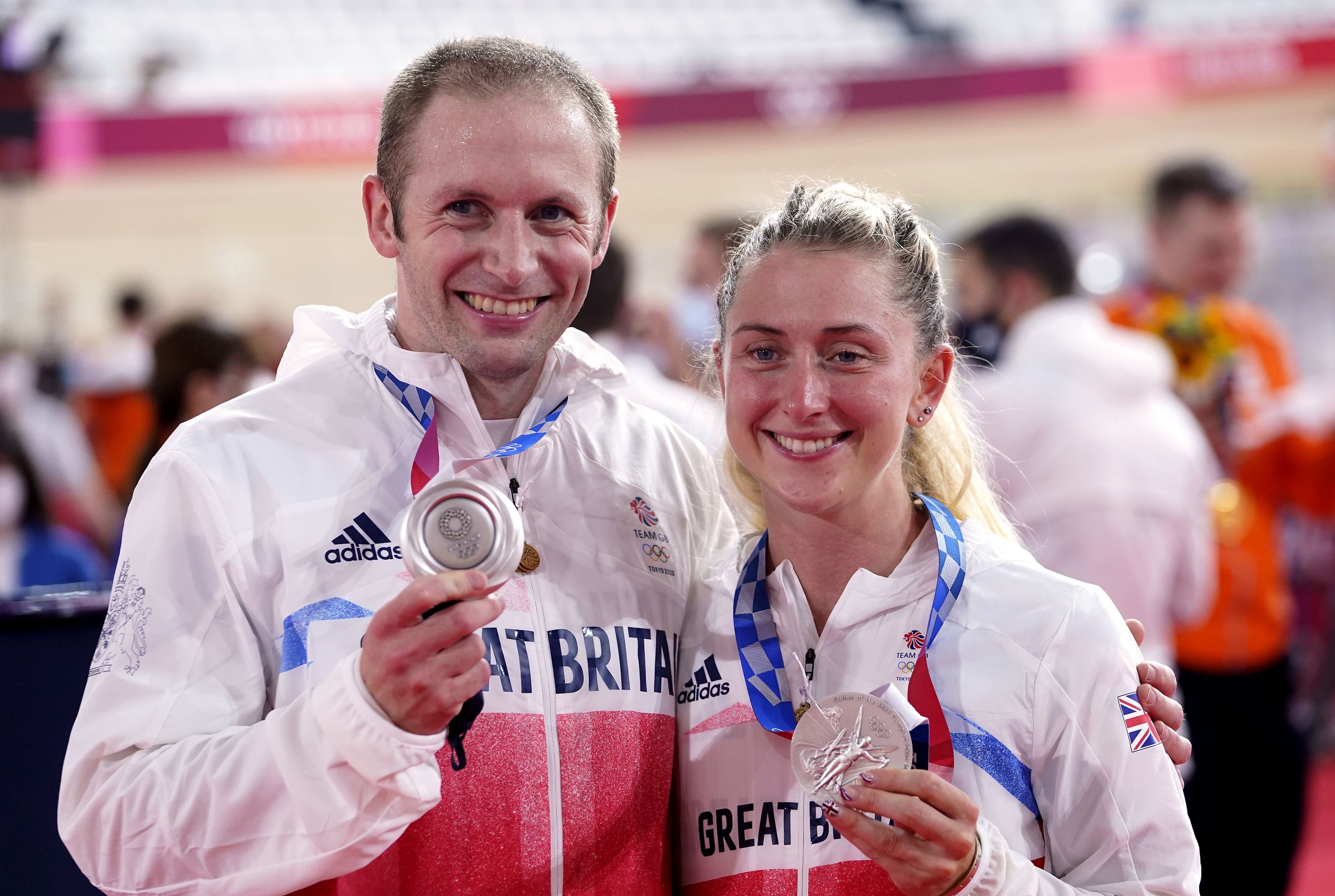 Jason and Laura Kenny with silver medals at the Tokyo Games
PA Features Archive/Press Association Images
"I can't see how this isn't sexual discrimination in the tallest order. Reducing testosterone does not mitigate male puberty advantage.
"Emily retains an unfair advantage. She competed with the men's team very successfully last year whilst reducing testosterone.
"This is wrong and people must start calling it out or lose sport for future generations of young girls."
A British Cycling spokesperson said: "We believe that the updated policy reflects the current evidence available to us, however we acknowledge that more research into this area is required.
"For this reason we have committed to reviewing our policy annually, or more frequently as evolving circumstances dictate, and we would encourage people to share any thoughts or comments with us by emailing policies@britishcycling.org.uk."
The decision to allow Ms Bridges to compete with females, comes amid widespread controversy after US college transgender swimmer Lia Thomas won an NCAA swimming women's title.
It sparked debate over whether transgender women should be able to compete in naturally born women's sports.
The most recent IOC guidance, updated in November 2021 after the Tokyo Olympics, said there should be no assumption that a transgender athlete automatically has an unfair advantage in female events.
It recommended that individual sports under the Olympic umbrella, such as athletics, weightlifting, gymnastics and swimming, make their own rules surrounding transgender athletes.