By Anna Fox
Published: 25/05/2022
-
14:46
Updated: 14/02/2023
-
11:17
Boris Johnson faced fresh calls from his own side to quit, as a Conservative MP warned they are on course to lose the next general election.
Tobias Ellwood questioned those who continued to support Mr Johnson in PMQs, following the release of the Sue Gray report.
---
In his address to the Prime Minister, Mr Ellwood said: "I've made my point and my position very clear to the Prime Minister: he does not have my support.
"But a question I humbly put to my colleagues is 'are you willing day in and day out to defend this behaviour publicly?"
Mr Ellwood said that the Sue Gray report into lockdown parties in No 10 was a "damning report about the absence of leadership, focus and discipline in No 10 – the one place where you expect to find those attributes in abundance".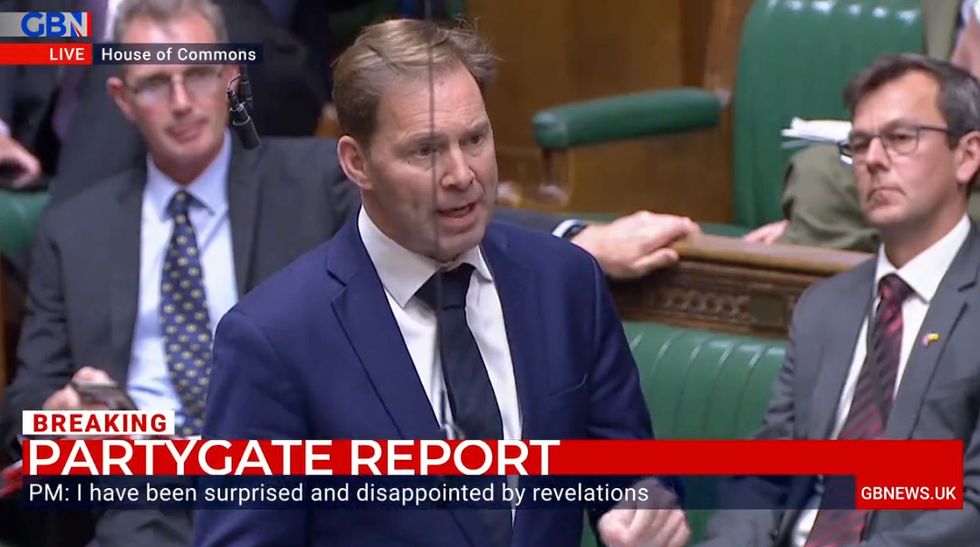 Mr Ellwood addressed the Prime Minister and members of the Conservative party during PMQs
GB News
During his speech to the Commons, Mr Ellwood faced jeering and heckling from members of his party.
Addressing the Speaker of the House, Sir Lindsay Hoyle, Mr Ellwood exclaimed: "Mr Speaker I am being heckled by my own people."
Following his comments, Mr Ellwood questioned the leadership of his fellow party members, adding: "If we cannot work out what we're going to do, then the broad church of the Conservative Party will lose the next general election.
"But my question to the Prime Minister is very clear, on the question of leadership: can he think of any other prime minister who'd have allowed such a culture of indiscipline to take place under their watch and if it did would they not have resigned?"
Mr Johnson focused his answer on his prospects of winning the next election.
He said: "I think the answer is overwhelmingly and emphatically yes, we are going to go on and win the next general election because we're going to get on with the job."