By Tom Evans
Published: 19/09/2022
-
13:40
Updated: 14/02/2023
-
10:39
With the National Anthem playing, and the military parade giving a royal salute, Queen Elizabeth II's state hearse made its way from central London.
King Charles III, Queen Consort Camilla and members of the Royal Family will follow suit, driving to Windsor by car.
---
This afternoon, the state hearse will approach Shaw Farm Gate on Albert Road, Windsor, and join the procession, which will have been formed up and in position.
King Charles will be joined by members of the Royal Family on foot, as the procession makes its way towards the quadrangle on the north side as it passes into Engine Court.
The procession will halt at the bottom of the West Steps of St George's Chapel in Horseshoe Cloister, before the bearer party will lift the coffin from the state hearse, from where it will be carried in procession up the West Steps.
At 4pm, the committal service will begin – the length of which is not yet known.
When it does end, the Royal Family will depart from the Galilee Porch for Windsor Castle.
It will mark the end of public ceremonial arrangements.
It comes after the King and his siblings walked behind the coffin as it left Westminster Abbey following the state funeral, while other royals are travelling by car.
During the service, the monarch was visibly moved and looked close to tears as the National Anthem was sung in the Abbey.
Prince George was also comforted by his mother, the Princess of Wales, during the service.
In a personal touch, the wreath adorning Queen Elizabeth II's coffin had a handwritten note, which was penned by the King.
The message said: "In loving and devoted memory."
Queen Elizabeth II's final resting place will be the King George VI memorial chapel, an annex to the main chapel where her mother and father were buried, along with the ashes of her sister, Princess Margaret.
Prince Philip's coffin will move from the royal vault to the memorial chapel to join the Queen's.
Monday marks the climax of what is being regarded as the biggest security operation the UK has ever seen.

It surpasses the operation for the Platinum Jubilee weekend and the London 2012 Olympics, which saw up to 10,000 police officers on duty per day.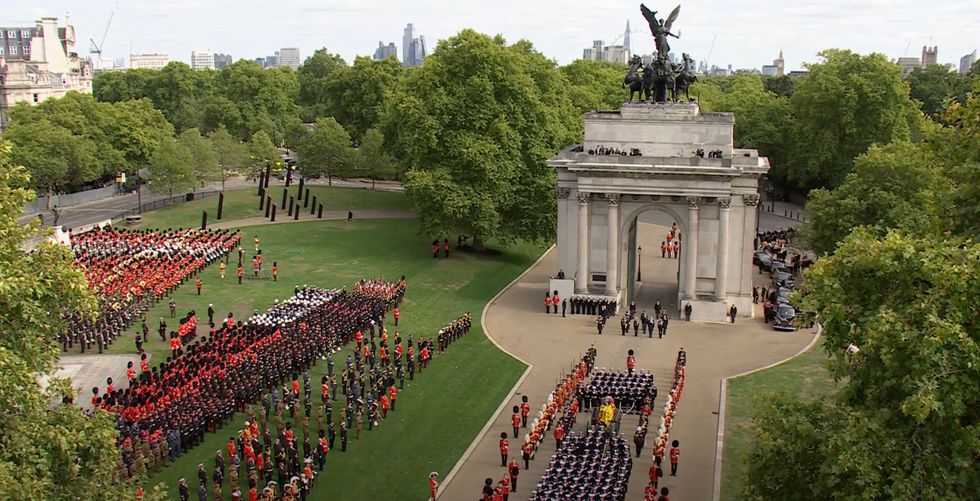 Queen Elizabeth II's coffin arriving at Wellington Arch
POOL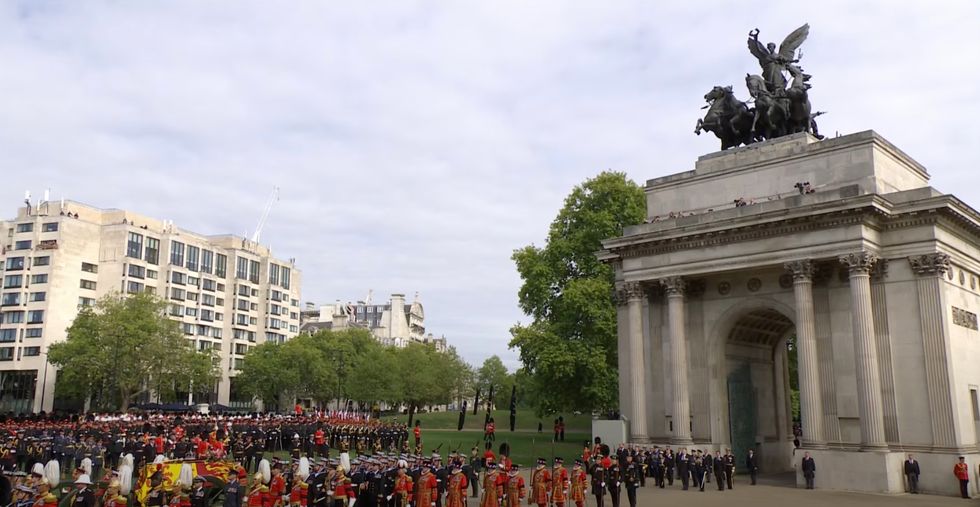 Wellington Arch
POOL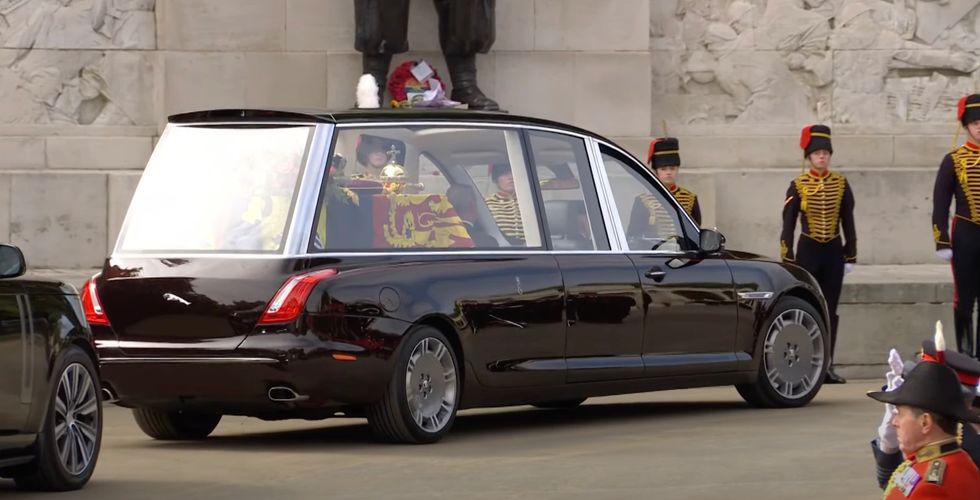 Queen Elizabeth II's coffin in its state hearse
POOL