Published: 13/07/2022
-
12:07
Updated: 13/07/2022
-
13:27
Sir Lindsay Hoyle has lost his voice after ordering Alba MPs Kenny MacAskill and Neale Hanvey to leave the House of Commons for launching a protest at the start of Prime Minister's Questions (PMQs).
Mr MacAskill could be heard trying to raise a point of order and appeared to say "we need a referendum in the Prime Minister" before he was drowned out by other MPs.
---
He refused to sit down and continued to speak, prompting Sir Lindsay to act.
Sir Lindsay quickly intervened by shouting: "Order, i will not tolerate such behaviour, if you want to go out, go out now, but if you stand up again i will order you out make your mind up, either shut up or get out."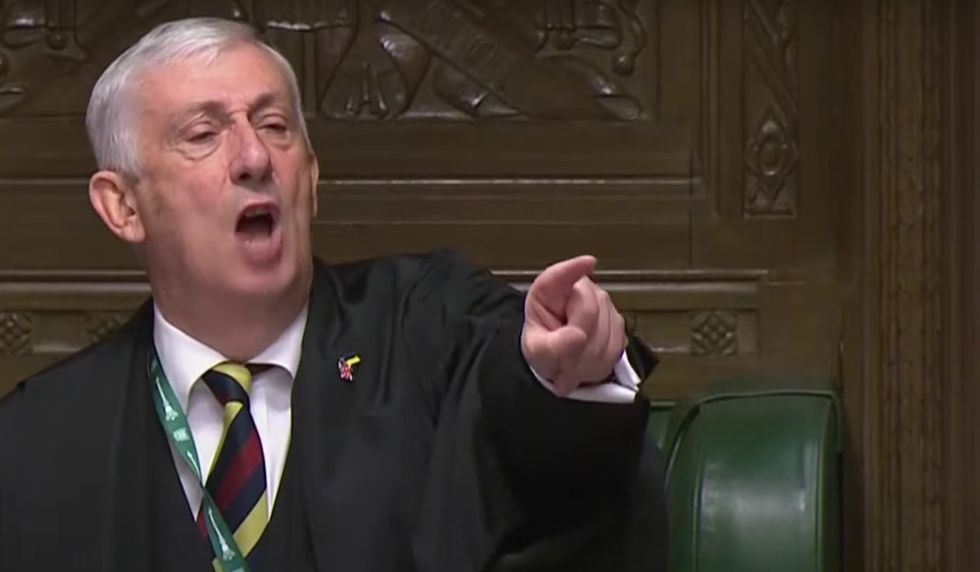 Sir Lindsay Hoyle
GB News
Mr Hanvey then rose to his feet and could not be heard over the heckling from Tory MPs.
Sir Lindsay then added: "I now warn the honourable members that if they persist in refusing to comply with my order to withdraw i shall be compelled to name both of them which may lead to them being suspended to the house."
As the pair continued to stand up, Sir Lindsay added: "Neale Hanvey i am now naming you and Kenny MacAskill to leave this chamber, Serjeant deal with them.
"Out now, Serjeant at arms at arms escort them out."
This came before Boris Johnson and Sir Keir Starmer faced off during the first PMQs since Mr Johnson resigned as Conservative Party leader last week.
Yesterday, Labour tabled a no confidence motion in Mr Johnson's Government, with the view to have a vote on Wednesday.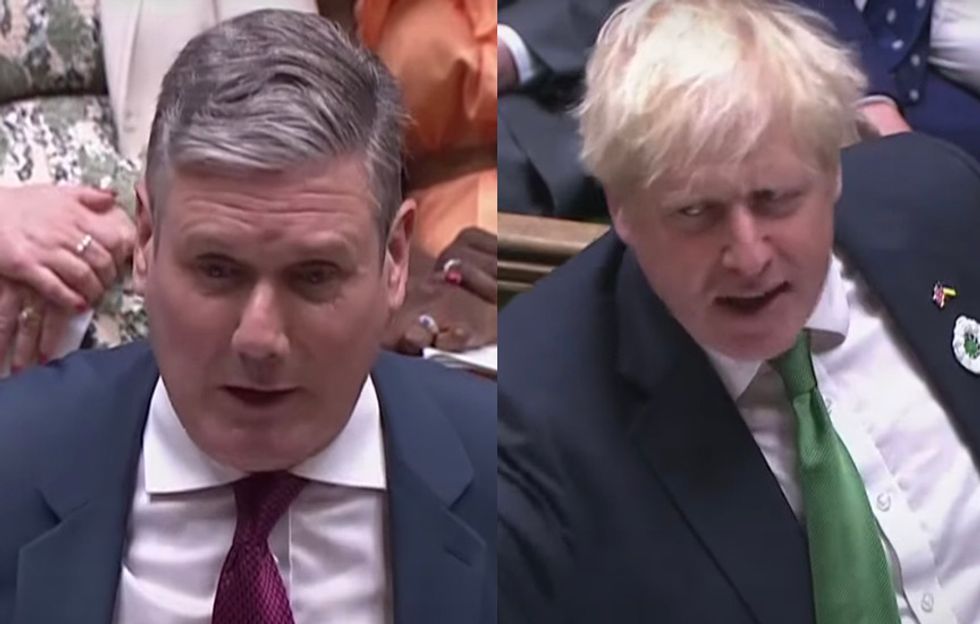 Sir Keir Starmer and Boris Johnson faced off during PMQs
GB News
But after the Government refused to allow time for a Commons vote, Labour accused them of "running scared".
A party spokesman said it was "unprecedented" for a Government not to make parliamentary time available for a debate and a vote to take place.
"This clapped-out Government is running scared and refusing to allow time to debate Labour's vote of no confidence motion. Yet again the Tories are changing the rules to protect their own dodgy mates," a spokesperson said.
But a Government spokesman said Labour were "playing politics" by tabling a motion of no confidence in the the Government and the Prime Minister when Boris Johnson had already resigned.
"As the Prime Minister has already resigned and a leadership process is under way we do not feel this is a valuable use of parliamentary time," the spokesman said.
"Should Labour amend their motion appropriately, they can have the next business day for it to be debated."
Tory MPs will have the chance to vote for the eight contenders vying to replace Mr Johnson, as balloting begins to find his successor.
Rishi Sunak, Liz Truss, Tom Tugendhat, Kemi Badenoch, Penny Mordaunt, Jeremy Hunt, Nadhim Zahawi and Suella Braverman will all be on the ballot on Wednesday, after all secured the 20 nominations from fellow MPs needed to enter the contest.