By Anna Fox
Published: 04/06/2022
-
14:35
A London restaurateur was subject to violent vandalism at one of his eateries, after defending author JK Rowling in an online argument with transgender activists.
The Harry Potter author and journalist Suzanne Moore, both of whom share gender-critical opinions, held an event at Pino's Italian restaurant in Kensington for Ukrainian children's charity Lumos.
---

J.K. Rowling hosted a fundraiser at the Italian restaurant Il Portico earlier this week
Yui Mok
Owner of Pino's and nearby Il Portico, James Chiavarini, tweeted his thanks to the author and journalist following the event at his restaurant.
Following his tweet of appreciation, Mr Chiavarini was subject to a barrage of one-star web reviews.
Yesterday morning, upon arriving at Il Portico, Mr Chiavarini discovered smashed glass from one of the restaurants window covering the floor.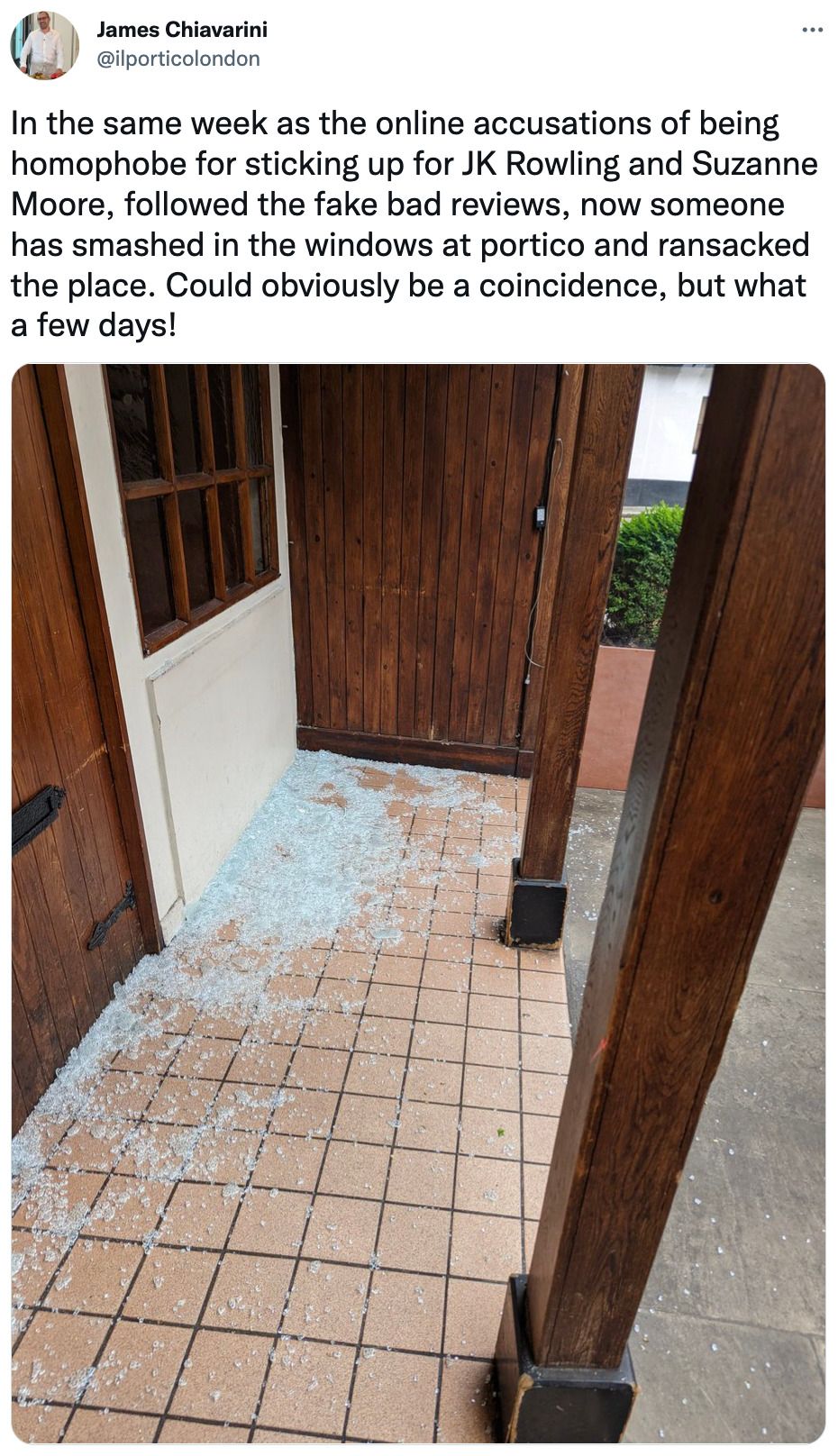 Glass from Il Portico's smashed windows cover the floor outside the venue
Twitter
In his tweet, the Restauranteur said: "In the same week as online accusations of being homophobe for sticking up for JK Rowling and Suzanne Moore, followed the fake bad reviews, now someone has smashed in the windows at portico and ransacked the place.
"Could obviously be a coincidence, but what a few days!"
In a tweet following the image, Mr Chiavarini clarified that the glass was tempered and smashed from the outside.
Mr Chiavarini added: "The organised pile on from extremist TRAs [trans right activists] is real for everyone to see. They have slandered by business and my character with false accusations in an attempt at vengeance because I (proudly) stand with Suzanne Moore and JK Rowling, both of whom I admire and respect greatly.
"The ransacking of my business happened the same week as the pile on. As things stand, it is impossible to prove that the two are related.
"I suspect that I will never know for sure. For now, there is no hard evidence, only a coincidence."
Feminist Author, Hadley Freeman condemned the attack on Twitter, replying: "Oh my God, James, this is horrific! I'm so sorry you're having to deal with this!"
Rowling declined to comment on the incident but has promised to match the fundraising for Lumos, which is around the £1million mark.