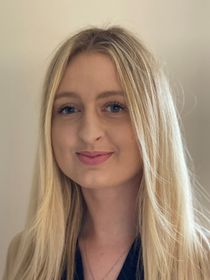 Published: 15/04/2023
-
10:24
Updated: 15/04/2023
-
17:48
The start of the Grand National has been delayed after protesters made it on to the track at Aintree Racecourse and tried to attach themselves to a fence.
Climate and animal rights group Animal Rising had threatened to disrupt the four-and-a-quarter-mile race and were protesting from early on Saturday morning outside the track.
---
The group planned have 300 protesters storm the track in an attempt to stop the race.
As the National runners were in the parade ring, a number of protesters breached security fences around the Liverpool venue and ran on to the course.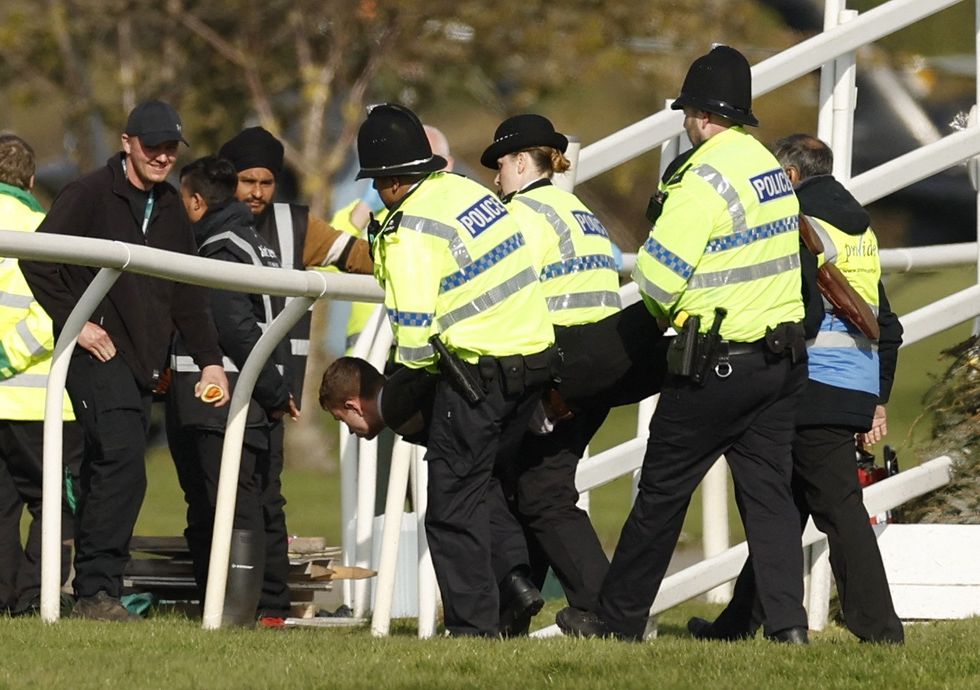 Three people had been arrested on suspicion of conspiracy to cause a public nuisance
PA
It is 30 years since the National was abandoned in its 184-year history when a small group of protesters removed from the track caused serious flaws in the starting and recall procedures.
Merseyside Police said nine people have been arrested after a large number of protesters attempted to gain entry to the track.
Ahead of the event, Alex Lockwood from Animal Rising told GB News: "Tomorrow we're going to be there from 9.30 in the morning. We're going to ask everyone who cares about animals and wants to stop harm to come and join us down there.
"And we're going to protest outside the front perfectly legally and peacefully. Then, from there, we're going to see if we can disrupt the race because we really want to stop the harm."
When asked if this ran the risk of causing distress to the animals, he added: "No, not at all. Because if we're going to do anything, we're going to do it before the race gets started.
"That's our plan. We believe that people in this country are rightly worried right now about the natural world and our treatment of it.
"That includes animals and the fact we are pumping sewage into our rivers. We are also failing to support farmers in transition to more sustainable methods. But this is about treating wonderful animals like horses, not as if they're money making machines.
"There is going to be harm. We are saying to people to bear in mind that when you're putting a bet on the Grand National, there are horses in that race that have got a better chance of dying than of winning."
Two horses has already died at the Grand National Festival - Envoye Special and Dark Rave.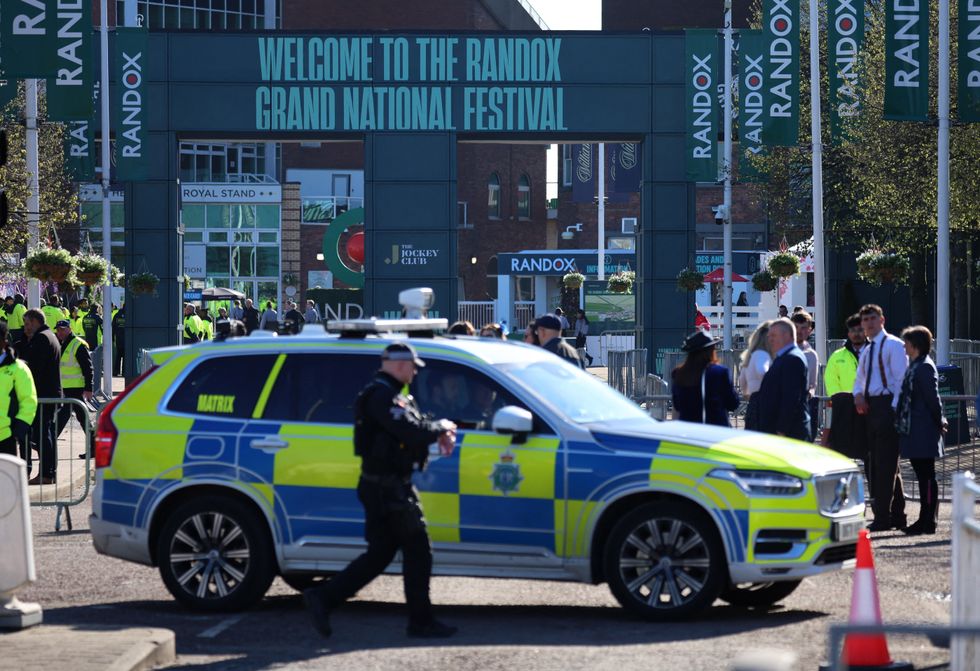 The group planned to have 300 protesters storm the track in an attempt to stop the race
​Reuters 
Animal Rising, which changed its name from Animal Rebellion on Monday to avoid confusion with Extinction Rebellion, wants to use the event to highlight the "broken relationship" between humans and animals.

A spokesperson for Merseyside Police said: "Merseyside Police has a robust policing plan in place for Aintree, as it does for any major public event, to ensure the safety and wellbeing of everyone involved.
"We have been working with our partners, including The Jockey Club, for a number of months in the build-up to this year's festival to ensure that any necessary plans and processes are in place to deal with any incidents that may arise and to prevent any significant or ongoing disruption to racegoers and local residents and businesses.
"We respect the right to peaceful protest and expression of views, but public order or criminal offences will not be tolerated and will be dealt with robustly."