Published: 17/08/2022
-
22:17
Updated: 17/08/2022
-
23:22
A cycling activist has slammed transport secretary Grant Shapps after he suggested bike licences and insurance for cyclists.
Mr Shapps has said he wants to curb certain behaviour on the roads including speeding.
---
This has seen a number of high profile cyclists including Jeremy Vine mock the plan.
Appearing on Dan Wootton Tonight, Dave Sherry, described as "Britain's most hated cyclist", has hit out Mr Shapps' plans, saying car drivers are whinging.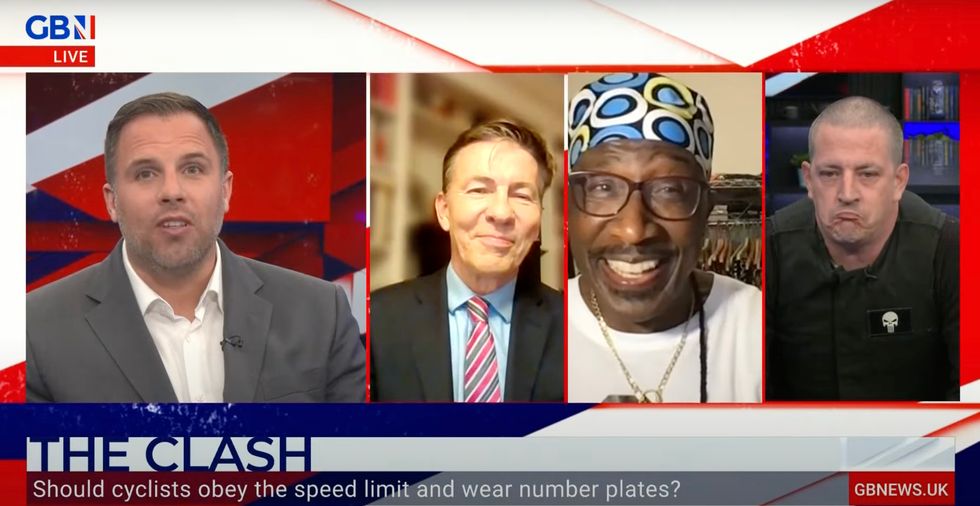 Dave Sherry appeared with Andrew Pierce and Mr Motivator on Dan Wootton Tonight
GB News
He told GB News: "All manner of vehicles kill, cyclists do kill, single figures though.
"What we need to understand is the biggest killer out on the road at the moment are car drivers.
"The Highway Code was adapted to change for the vulnerable road users.
"You had too much of a good time, you whinged then and you are whinging now."
Mr Sherry added that Mr Shapps' plans were irrelevant as he believed he would be out of the Cabinet in the next reshuffle.
Daily Mail political journalist Andrew Pierce argued that there has been an explosion in the number of cyclists on the road, with an 80% increase in riders in London.
He also accused Mr Sherry of burying his head in the sand over some cyclists' behaviour.
He told Dan Wootton Tonight: "I'm surprised Dave won't be a bit more realistic.
"The majority of cyclists are reckless and they're not just endangering themselves, theyre endangering pedestrians, other cyclists and any motorists who try to avoid them."