Published: 06/07/2022
-
09:56
Updated: 06/07/2022
-
10:08
Boris Johnson is under growing pressure to resign as Prime Minister following a string of high-profile resignations.
On Tuesday night, former Health Secretary Sajid Javid and ex-Chancellor of the Exchequer Rishi Sunak resigned from their roles within Government following the Chris Pincher row.
---
Laura Trott announced she had stepped down as Parliamentary Private Secretary to the Secretary of State for Transport on Wednesday morning, shortly followed by Minister for Children Will Quince and Schools Minister Robin Walker.
Mr Pincher quit as Deputy Chief Whip last week following claims that he groped two men at a private members' club, with questions raised over how Mr Johnson handled the situation.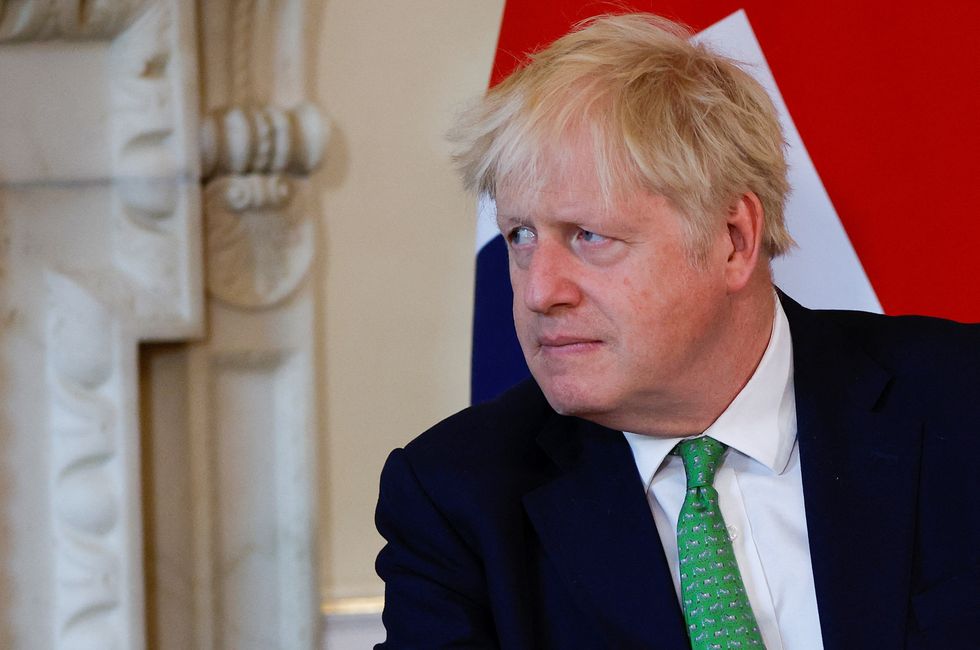 Prime Minister Boris Johnson
John Sibley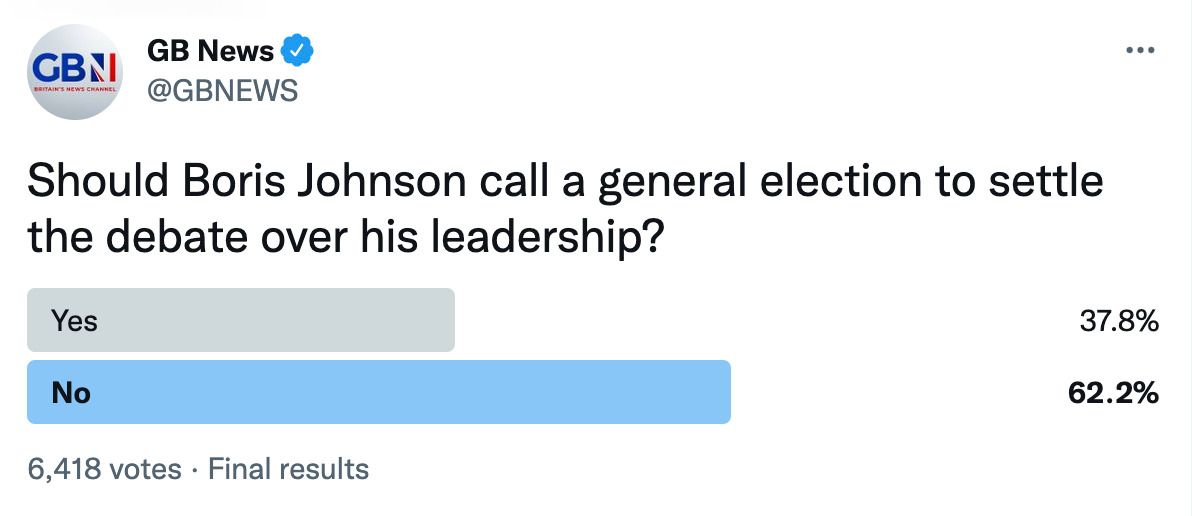 Results of the GB News poll on whether the PM should call a general election
Twitter
Labour leader Sir Keir Starmer is expected to grill Mr Johnson during Prime Minister's Questions, with the latest resignations expected to be high up on the agenda.
But as pressure grows on the PM, GB News viewers believe that the Prime Minister should not call a general election to settle the leadership debate.
The People's Channel published a poll on Twitter on Wednesday, with the question: "Should Boris Johnson call a general election to settle the debate over his leadership?"
Of the 6,418 respondents, 62.2 percent voted "no" while 37.8 percent voted "yes".
It comes after Associate Editor of The Sun, Trevor Kavanagh said on GB News that the PM could "threaten a general election".
Speaking on GB News' Dan Wootton Tonight, Mr Kavanagh said: "There is a suggestion that he might threaten a general election.
"I simply cannot see why the Queen would allow one for a PM who is halfway through his term with a majority of 80."
Responding to today's events, Mike Owens, UK Sales Trader at Saxo Markets, said: "The resignations of senior members of Boris Johnson's cabinet yesterday evening, including Chancellor Rishi Sunak, throw even more uncertainty towards the Government and how it plans to deal with a growing list of economic problems.
"The pound continued its decline and traded at a two-year low against the dollar and has even underperformed the euro over the past three months, while the Eurozone copes with its own problems thrown up by the Ukraine war and the energy price crisis.
"Sterling has failed to pick up so far this year – falling 11 percent year-to-date against the dollar as the UK faces one of its worst threats to the economy in decades, this is just adding to rising inflation through the price of food, petrol and imported goods affecting millions.
"The Chancellor's resignation also came on the same day as the Bank of England's latest financial stability report, which warned that the economic outlook for the UK and globally has deteriorated with concerns UK households and businesses will struggle to pay outstanding debts."