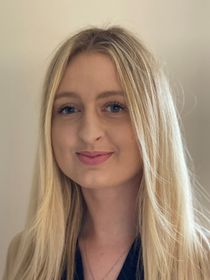 Published: 08/03/2023
-
10:54
Updated: 08/03/2023
-
12:50
The Met Office has extended its yellow weather warning again with heavy snow expected to hit an area further north.
Forecasters predict sub-zero conditions will spread across the UK as an Artic blast causes havoc.
---
Heavy snow is set to fall across almost all of the UK as the weather warning extends to parts of the Scottish Highlands, Scotland and northern England.
Police have issued a warning against travel in some parts of the south England, while Hampshire, Wiltshire, Dorset and Surrey are hit by snowfalls.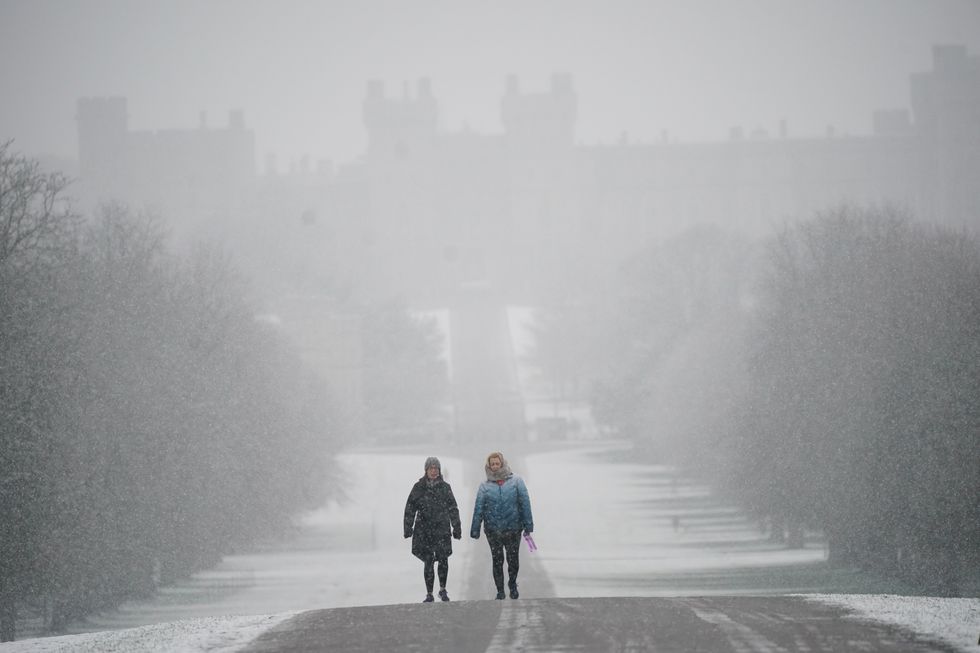 Snow has already hit parts of southern England
PA
Tuesday was recorded as the coldest night of the year so far in the UK as temperatures plummeted to -15.4C at Kinbrace in the Scottish Highlands.
Northern regions saw snow overnight and there have already been road closures and vehicles left stranded.
The snow and ice warning has also been issued for Wales for the next three days as Arctic winds bring a sharp change in conditions.

According to experts, the cold spell is due to a change in wind direction with northerly winds bringing cold air down from the Arctic.
The Met Office has said snow is more likely to settle when it moves across much of northern England, Northern Ireland and much of Scotland on Thursday.
The yellow weather warning will remain in place until Friday and advises Brits that there could be disruption to national travel and power cuts.
From midnight until around 10am tomorrow morning, most of Scotland, apart from some areas around Glasgow in the south-west of the country, is covered by the warning that stretches into the north east of England.
A second snow and ice warning covers all of southern England and Wales, stretching towards the midlands, which is in place until 7am tomorrow.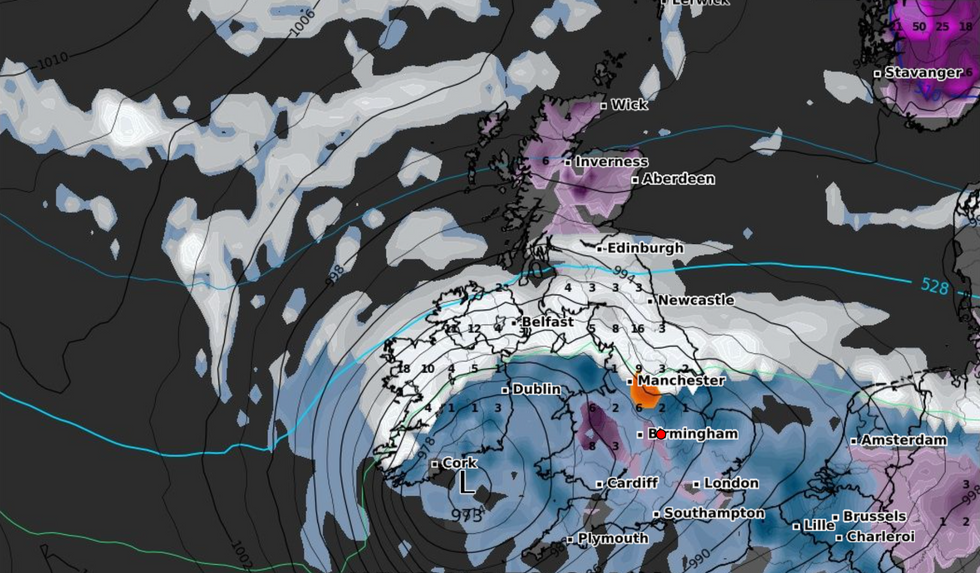 An Arctic blast has started to travel across Britain
WXCHARTS
Met Office Deputy Chief Meteorologist Helen Caughey said: "The impactful weather will continue through the latter part of the week as mild air pushing in from the southwest meets colder air in situ with further snow and ice for many areas.
"Through Thursday and Friday the snow risk spreads, to central and northern areas of the UK, with the potential of some significant accumulations even to low levels, which have the potential to cause impacts.
"Parts of Northern Ireland, Wales and northern England are expected to see the worst of the conditions develop from early on Thursday, with parts of Scotland and northern England then seeing snow arrive through Thursday afternoon.
"Snow across the northern half of the UK will persist through much of Friday, while further south, any snow will turn back to rain through Thursday afternoon and evening.
"Strong winds are also expected to develop through Thursday and Friday which may create drifting snow and blizzard conditions in places."