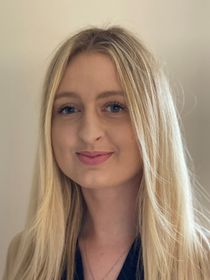 Published: 12/03/2023
-
14:00
Updated: 13/03/2023
-
07:46
Brits are being urged to brace for 18 inches of snow as temperatures plummet to -16C when a polar blitz hits the UK.
Following milder temperatures on Sunday, a 1,500-mile wide storm from Norway threatens a white Easter.
---
Forecasters predict heavy snow with washouts and stormy winds of up to 70mph in the worst affected areas.
A Met Office yellow weather warning for snow and ice ended at 9am today, but the UK Health Security Agency's Level 3 Cold Weather Alert for the whole of England is expected to remain in place until 9am on Monday.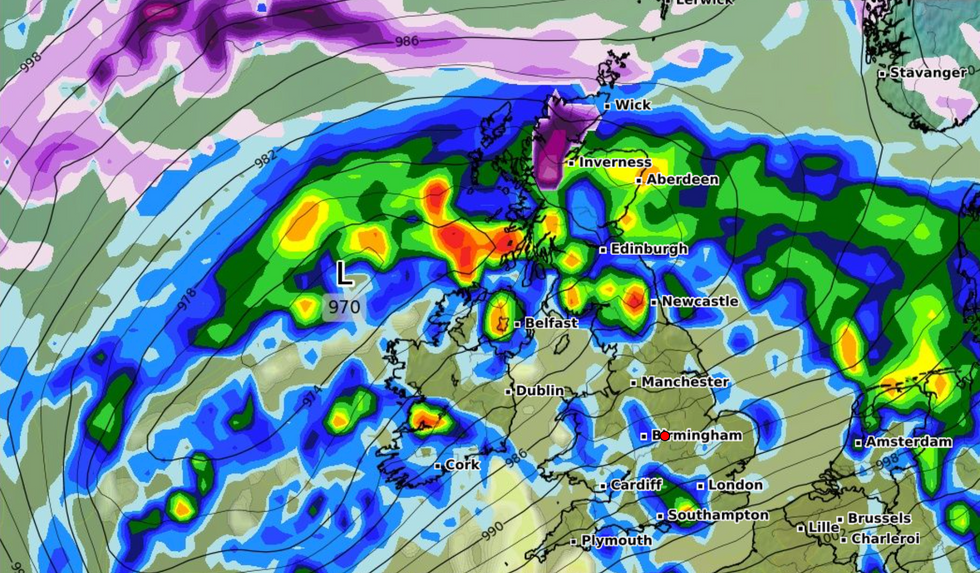 Strong winds of up to 70mph are expected to batter the UK
WXCHARTS
Over the next week, around eight inches of snow could fall in parts of northern England and Scotland while the south and midlands are at lower risk.
The UK has seen colder nights than Moscow's -11C with -15C recorded in Scotland yesterday morning, following -16C before the weekend.
Met Office experts predict that Artic temperatures will grow more mild into next week but warns that winds will strengthen.
After a dry start to Sunday, it is expected that rain will spread across most parts of the UK.
A yellow weather warning was put in place on Saturday for snow and ice in northern England and Scotland.
Temperatures plunged to 15.7C in Altnaharra, northern Scotland on Saturday while the highest temperature was recorded at St Marys Airport on the Isles of Scilly, south west of Cornwall.
Earlier this week Storm Larisa battered parts of the UK with 50mph gales and blizzards.

Cold air from Norway is set to send daytime temperatures plunging again to between 3C and 6C for most of the UK by Wednesday.
In the north, stormy gusts could reach 70mph later in the week while the south see heavy downpours.
The Environment Agency issued 56 flood alerts and two warnings as a month's worth of rain in two days threatens floods in some areas from today.
The Environment Agency said: "River and surface water flooding is possible from late Sunday into Monday for mainly high ground in the North and parts of the South West and South East. There may be travel disruption."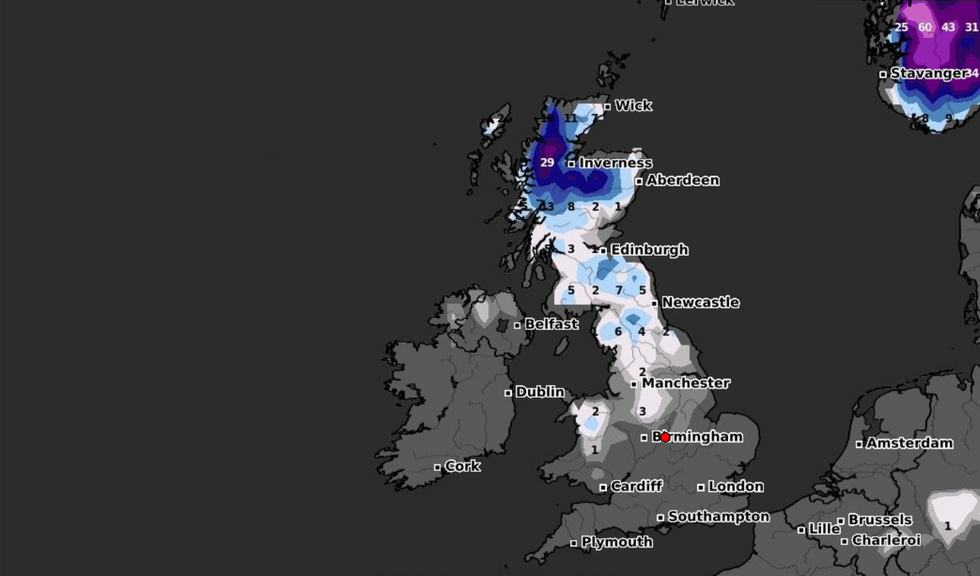 Heavy snow is expected to hit the north of England
WXCHARTS
Met Office deputy chief forecaster Daniel Rudman said: "There is an increasingly strong signal for colder air to once again feed into the north of the UK during Monday.

"This flow is likely to extend southwards with much of the UK likely to be under the influence of colder conditions overnight into Tuesday.
"Tuesday is set to remain a cold day, but it is not expected to be as cold as conditions have been this week, and there will be brighter periods for most.
"There are likely to be some showers too, although any snow fall is expected be over higher elevations."
The fresh Arctic blast on Monday night threatens a white easter, with potential snow flurries stretching into April's school holidays.
Met Office records show that the last white Easter was in 2008 when snow fell across the UK.