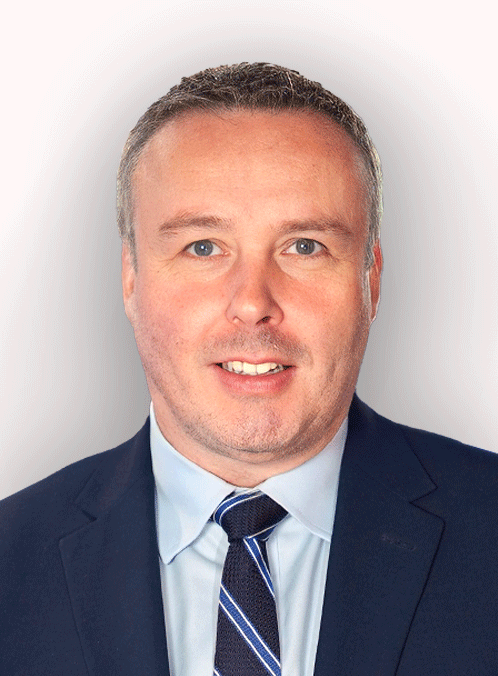 By Mark White
Published: 27/05/2023
-
11:15
Updated: 27/05/2023
-
19:46
Airports are in chaos across Britain after the UK's electronic border control system crashed.
The Home Office has said it is "working to resolve" a nationwide problem which has led to horrendous queues in arrival halls across the country.
---
It comes on the busiest weekend for airport travel in four years, with a national Bank Holiday on Monday and schools across the country breaking up for half-term.

A Home Office spokesman confirmed that a technical fault is currently affecting the national e-gate system, causing major problems at passport control points at a number of UK airports including Heathrow, Manchester and Gatwick, leading to long queues.
MORE TOP STORIES...
MASSIVE QUEUES AT DOVER AS FRENCH PASSPORT SYSTEM CRASHES
UK POPULATION TO OVERTAKE FRANCE FOR 1ST TIME
WATCH: TERROR AS MAN OPENS PLANE DOOR IN MID-AIR
100,000 MOTORISTS COULD LOSE DRIVING LICENCE
The fault caused electronic gates to stop working late on Friday night. In the meantime, all passengers are having to be manually checked at passport control desks.
The system is supposed to speed up passport control by allowing travellers to scan their own passports using facial recognition technology.
But passengers have regularly complained that it can take longer to get through the gates than an old-fashioned border check manned by people.
One passenger arriving at Gatwick today said the delays were an "utter joke".
Chris O'Hara, who arrived this morning into Gatwick North Terminal, said: "Unbelievable. Welcome to modern Britain. And of course the air conditioning is shut down so it's stiflingly hot."
Chris Lord added: "Embarrassing, was stuck in that for over an hour, after a two hour delay, then couldn't get out of the car park.
"We are a joke, the Europeans in the queue were laughing at us. And the welcome you get from the people behind the desk is a disgrace. I would turn around and go home."
Lucy Morton, from the Immigration Services Union, told the BBC's Radio 4 that between 60-80% of incoming passengers now go through e-gates, depending on the airport, but that the solution to the outage will be to put "all the passengers through physically-manned officer desks,"
"There's no impact on national security," she said, explaining that all arrivals will still be fully checked.

All British passengers over the age of 12 can use the e-gates, along with EU citizens and travellers from Australia, Canada, the US, Japan and New Zealand.
But the over-reliance on the system - and the lack of traditional control desks - has led to fears that outages could cause chaos.
A Home Office spokesperson said they were aware of a "nationwide border system issue affecting arrivals into the UK".
It added: "We are working to resolve the issue as soon as possible and are liaising with port operators and airlines to minimise disruption for travellers."
Travellers leaving the UK via Dover have also faced long delays after the French passport system failed earlier this morning.
Yesterday holiday plans for thousands of families were thrown into disarray after British Airways' flight cancellations due to an IT failure reached 175. Most of the affected flights were on short-haul routes to and from Heathrow.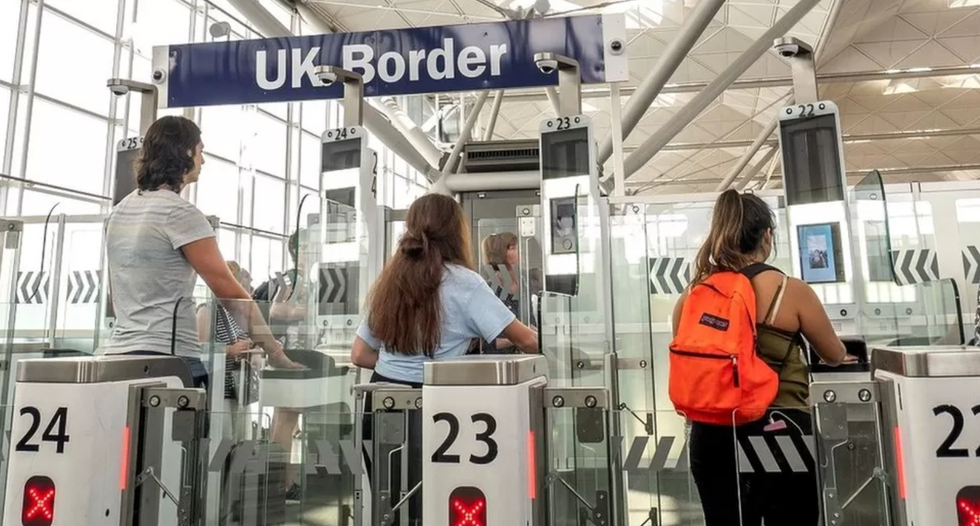 Passport control e-gates have failed across Britain leading to huge queues at airports
PA
British Airways said the "technical issue" was resolved on Thursday night, but disruption continued into the weekend because of aircraft and crew being out of position.
There were more departures from UK airports yesterday than any time since December 20 2019, with more than 3,000 flights taking off.
Security officers are also on strike at Heathrow, as members of the Unite union walk out for three days over pay.
The dispute at Heathrow has escalated after around 600 more security officers voted to strike.
Members of Unite employed as security officers by Heathrow Airport Ltd (HAL) at Terminal 3 voted overwhelmingly in favour of industrial action.
Around 1,400 Unite members employed as security officers at Terminal 5 and Campus Security have staged a series of strikes in recent weeks.
They are on their third and final day of the latest walkout.
Unite general secretary Sharon Graham said: "Escalating strike action will inevitably cause disruption, delays and cancellations across Heathrow.
"This widening dispute is a direct result of Heathrow airport's dismissive attitude to its workers. They have seriously misjudged the anger of the workers.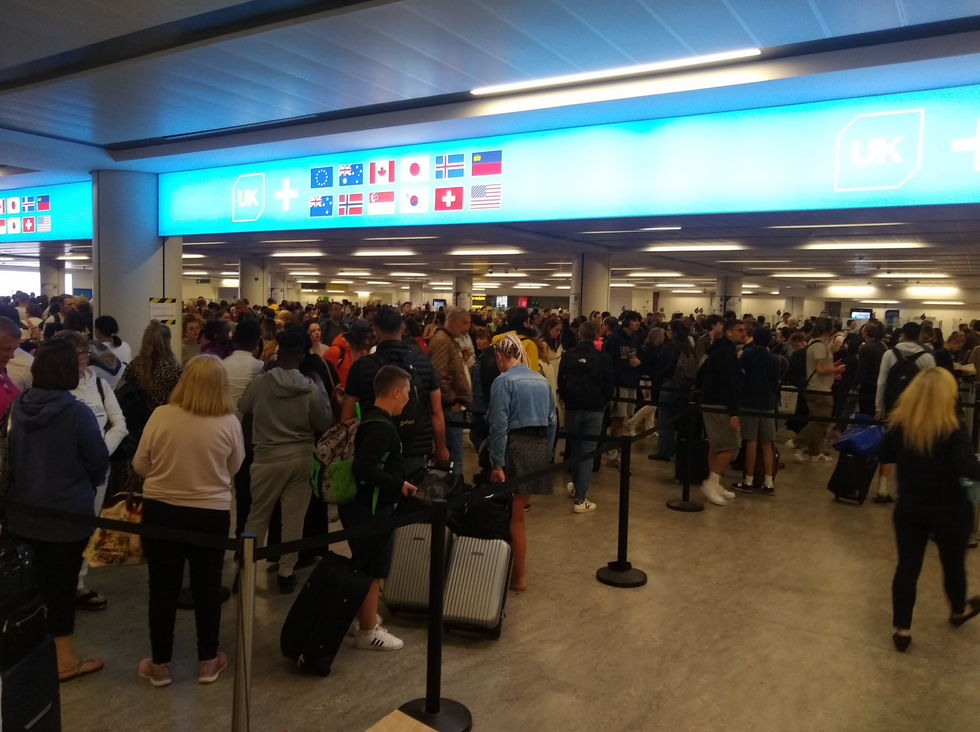 Passengers at Gatwick Airport passport control are facing huge queues
Twitter/Chris O'Hara
"They have had every opportunity to make our members a fair pay offer but have chosen not to. It is now time for them to come back to the negotiating table and deal with this issue before further escalation occurs
"Strike action is now set to escalate throughout the summer and Unite will leave no stone unturned in support for our members involved in the dispute."
How to use eGates
A Heathrow spokesperson said: "Our focus is on giving passengers the excellent service they expect at Heathrow and our colleagues the hard-earned pay rise they deserve.
"We have kept the airport operating over the last 17 days of strike action, and passengers can have confidence that we will continue to protect their journeys over the summer.
"Over the coming days, we will be updating our plans and activating a reserve pool of colleagues to provide additional security capacity.
"The summer getaway is one of the best times of the year at Heathrow and no one should be worried about the threat of unnecessary strikes rumbling on in the background.
"There is an inflation-beating deal on the table for this year and next and Unite should let colleagues vote on it. Our door remains open to discuss resolving this issue."