Published: 20/05/2023
-
12:46
Updated: 20/05/2023
-
12:50
Tory MP Adam Afriyie has said he decided against joining Labour because he believed the party wrongly treated black people as "victims".
In a rare interview Afriyie, the first black person to be elected as a Tory MP told GB News he refused to be defined by the colour of his skin.
---
Speaking exclusively to Gloria De Piero, he said: "I think there is a tendency, particularly for political gain sometimes, to basically say you have one attribute, whether it's your skin colour, your culture, your sex or your gender and that is the totality of you.
"Therefore, it's very easy to be pigeonholed. In fact, I will let you into a secret, that's the reason I didn't join the Labour Party.
"I thought about it in 1987 when I was making my decision about which party to join.
"I said what do I really, honestly, in my heart believe in? Which party do I go into? And there was about 70 per cent match with Labour, about 80 per cent match with Liberals at the time but then with the Conservative Party about an 85 per cent to 90 per cent match.
"When I looked at the Labour Party, I was just angry. I was really angry.
"Not about necessarily even the policy areas, I was angry because it's like if you're black, you have to be a certain way, you've got to be a victim in some way, you got to have all the cultural attributes that I don't know that they deemed to be the appropriate ones for black people. You need special help. You've got to be able to be underprivileged. I mean, it was just awful.
"And I thought, you know what? That is not my view of people generally.
"And it seems to me that just because you have a different skin colour, you're still a human being.
"You'll still have the same needs, desires, wants, attributes and abilities.
"So I think that was largely what drove me to the Conservatives of the world, at least they're not going to treat me like some kind of token, you know.
"If people were encouraged and are encouraged by the colour of my skin I'd be delighted. But it's not something I was setting out to do."
Afriyie also opened up about the racist abuse he and his family had experienced growing up in London.
He said: "I sometimes smile today when people say, oh, that's racist when somebody says something about food or something. But actually back in the day, it was physical violence, especially in southeast London.
"People would chase you, people would be knifed. There'd be fights. When you got on the bus, people would spit and sit in a different seat.
"My mother was being sworn at. She was called a 'race traitor' out on the street. It was pretty harsh stuff.
"People would openly trip you up on the bus. You'd sit down in a particular seat and you see people move away to another seat.
"I think when you're young you don't really realise all the sensitivities around it, now looking back, I think blimey that was brutal, the idea of being that brutal to someone who's just a child and to their mother in front of the children, it's a pretty extreme thing. So maybe that's what makes us who we are. A decision I made, which I'll stick with today, is, do you know what, I'm just going to work really hard."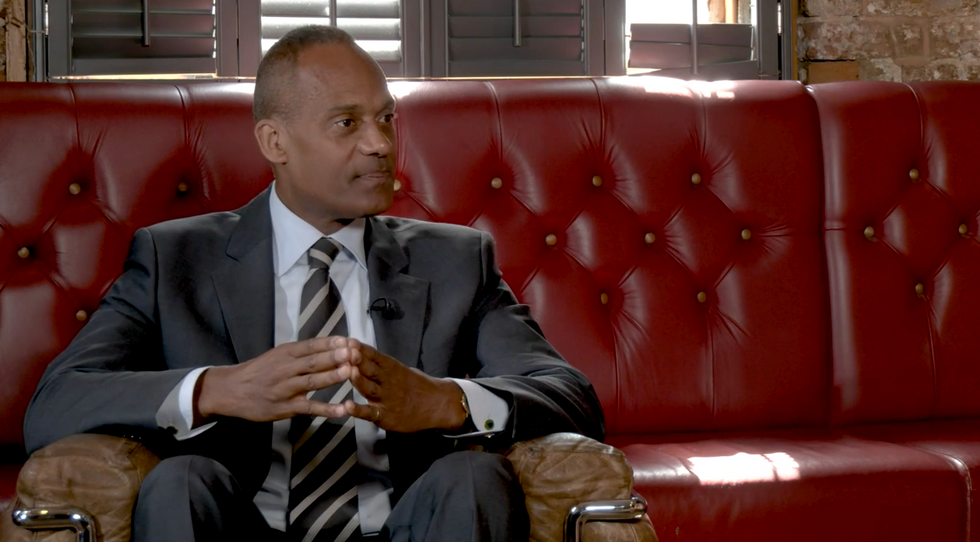 Afriyie also opened up about the racist abuse he and his family had experienced growing up in London.
GB News
Afriyie, who will stand down at the next election - said he now intends to focus on rebuilding his business empire. Last December was declared bankrupt with debts of £1.7m.
"I think it's very hard to marry politics and business together," he admitted. "But equally, if you're an entrepreneur, you take risks and quite frankly I must have paid 20 or 30 million pounds in tax over my lifetime through the businesses with around a thousand staff. So that's good for the country. But equally, you take the risk and therefore you take the hit if it goes wrong, even if you can't control it.
"So that's the nature of being an entrepreneur. But that's what makes the economy work. That's what creates employment, that's where it creates cheaper goods and services for other people.
"So I'm actually quite looking forward to getting back to the world of technology and business after politics to try and rebuild our family fortunes."
Watch the full interview on Gloria Meets this Sunday from 6pm, only on GB News.