By Millie Cooke
Published: 18/09/2023
-
11:55
Updated: 18/09/2023
-
12:58
Extinction Rebellion protesters have released toxic smoke using grenades, as part of an attempt to get Labour Leader Keir Starmer to commit to banning fossil fuel.
They held up banners saying, "Cut the ties to toxic fossil fuels" as part of their protest outside the Labour Party's Blackfriars Road office.
---
As well as pouring fake oil over the office front steps, the protesters set off smoke grenades containing toxic arsenic, potassium, chlorine, and copper.
Two protesters climbed onto the roof of the building to set off the canisters.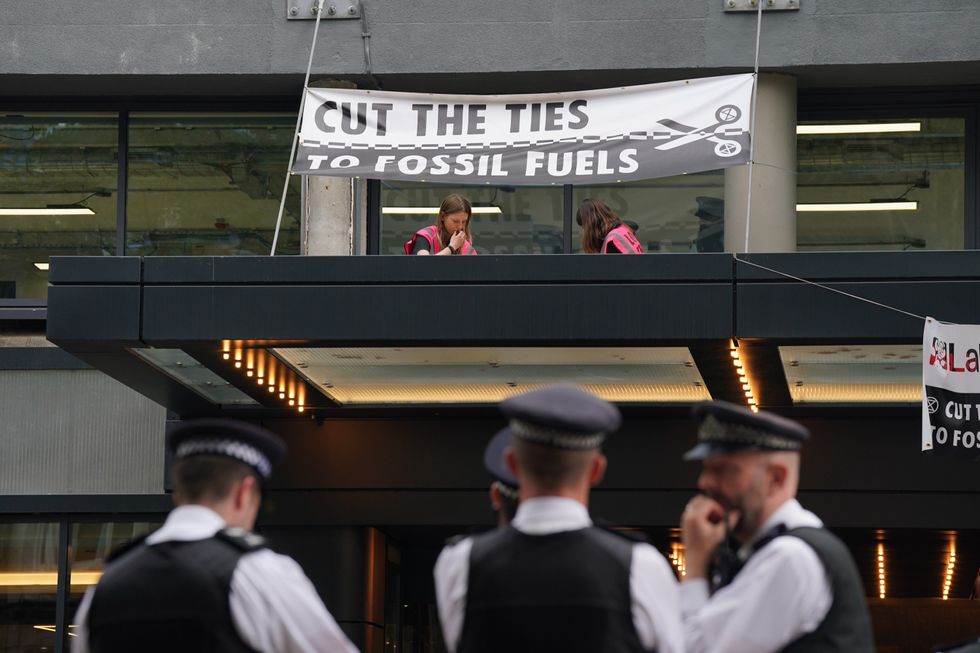 Two protesters climbed onto the roof of the building to set off the canisters
PA
Meanwhile, another protester chained himself to a handrail outside the party's offices.
The South East branch of Extinction Rebellion tweeted: "Banners declaring 'Labour: Cut The Ties to Fossil Fuels' are being held by activists who climbed onto the building's canopy.
"Campaigners are demanding a manifesto commitment to make the transition to renewables an urgent priority of a Labour Government."
An earlier tweet said: "Activists pour fake oil and scale Labour Party headquarters demanding future Labour Government takes urgent action to cancel new fossil fuel licenses, fund the transition to renewables and end Drax sponsorship."
Over the weekend, the campaign group held a protest in Parliament Square which included one protester wearing a Keir Starmer mask while dressed as Margaret Thatcher.
XR describes itself as an "international movement that uses non-violent civil disobedience in an attempt to halt mass extinction and minimise the risk of social collapse."
In a statement on its website, the group says: "Our world is in crisis. Life itself is under threat.
"Yet every crisis contains the possibility of transformation. Across the world, heralded by the young, people are waking up and coming together."
It says it aims to push back against "ecocide, oppression and patriarchy", adding: "Together, our rebellion is the gift this world needs. We are XR and you are us."
LATEST DEVELOPMENTS: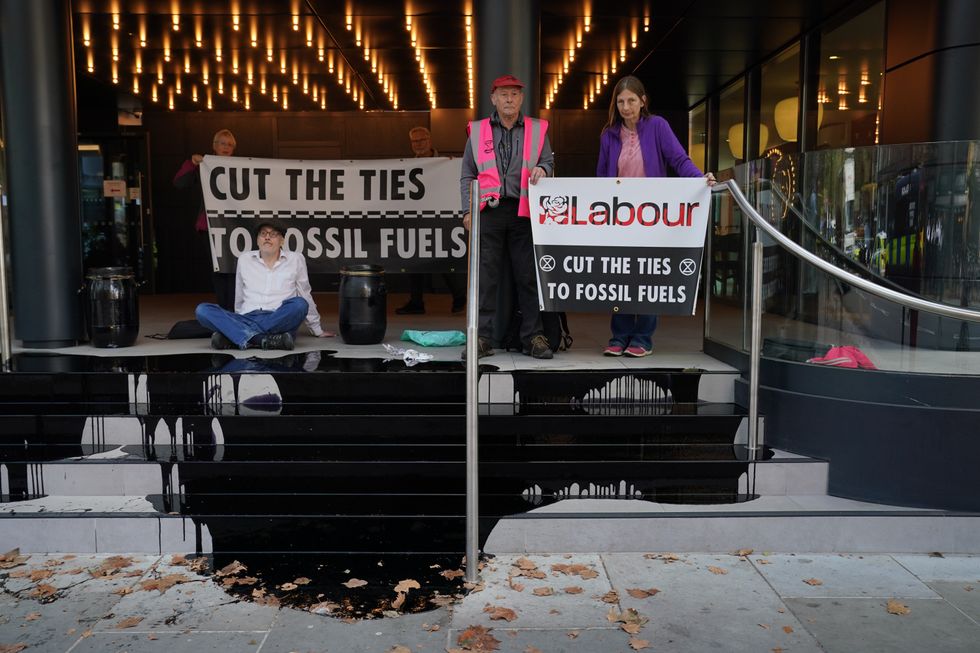 The protest took place outside the Labour Party's headquarters on Blackfriars Road
PA
The group aims to force change through nonviolent civil disobedience.
It says: "We are promoting mass 'above the ground' civil disobedience – in full public view.
"This means economic disruption to shake the current political system and civil disruption to raise awareness. We are deeply sorry for any inconvenience that this causes."