Published: 10/07/2023
-
15:37
President of Turkey Recep Tayyip Erdogan has backed Ukraine's Nato accession, and gone against his word to release Ukrainian prisoners of war in a move that has infuriated the Kremlin.
Commanders of the Ukrainian Azov Regiment, famous for defending Mariupol against an 80-day Russian siege, were handed over at an airport in Turkey and flown back to Ukraine on Saturday.
---
Kremlin spokesperson Dmitry Peskov has since called for "significant" consequences amid suspicion that Turkey were sending "a message" of intent over emboldened support for Ukraine.

Peskov is quoted by state-run RIA news agency as saying: "No one informed Russia about the transfer.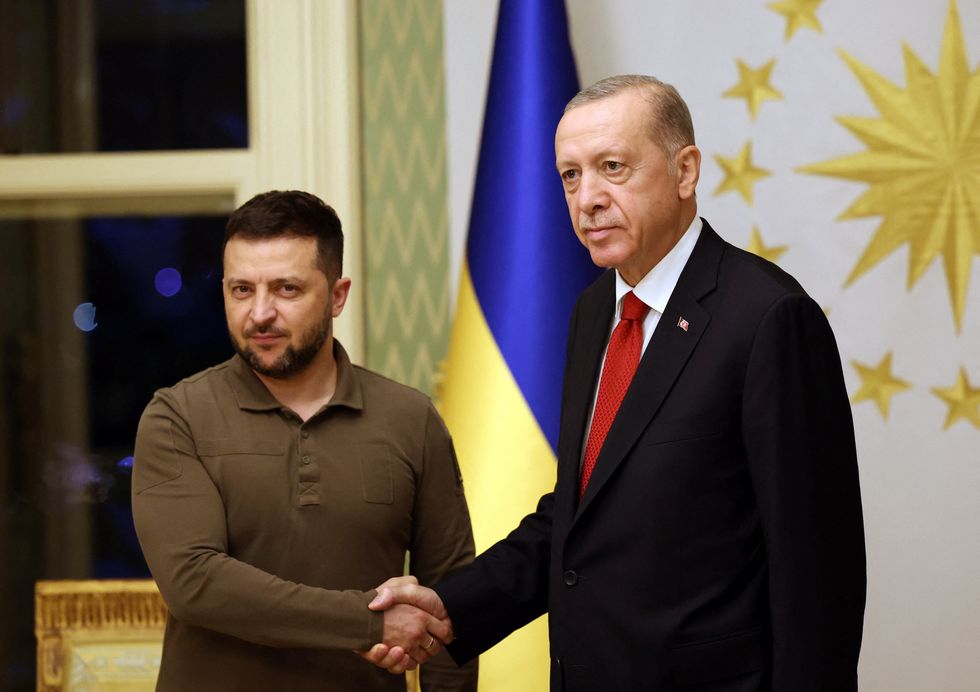 President Zelensky met with President Erdogan in person before the surprise swap
Reuters
"[The prisoners of war] were supposed to stay in Turkey until the end of the conflict."

Under the terms of the prison swap deal set out last September, 215 Ukrainian soldiers were traded for Viktor Medvedchuk, a personal friend of Putin, and 55 Russian soldiers.
While regular soldiers of the Azov Regiment were shipped back to Ukraine, Turkey had promised Russia that the commandos would be kept in Turkey until the end of the war.
However, the commanders were released after Erdogan met with Zelensky in Istanbul on Friday, where Ukraine's Nato membership was also discussed.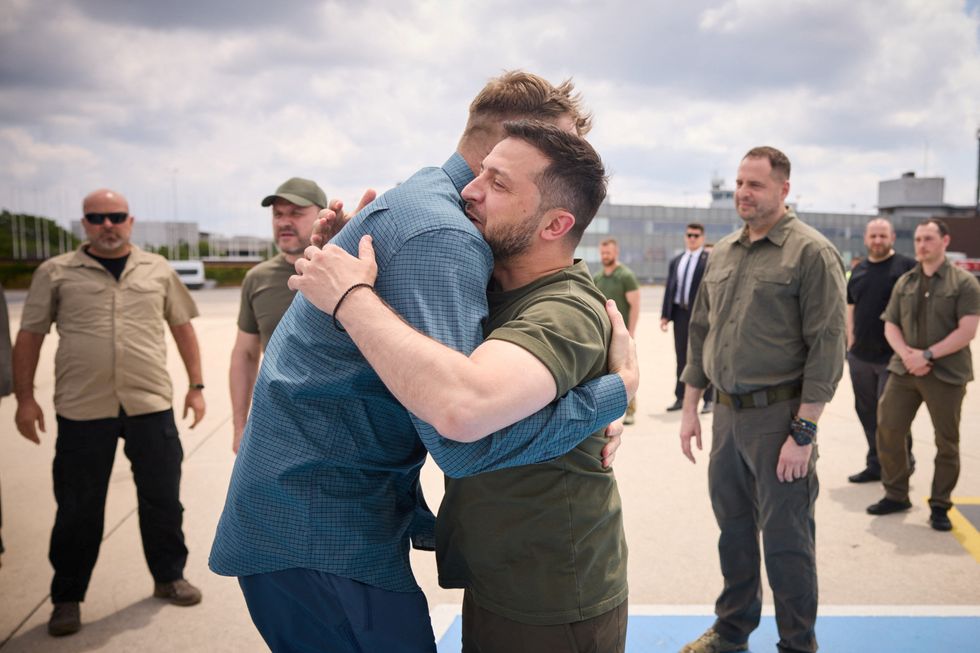 Ukraine's President Volodymyr Zelenskiy embraces one of commanders
Reuters
With the subject due to be discussed at the annual Nato summit in Vilnius this week, Erdogan weighed in: "Without a doubt, Ukraine deserves to be in Nato."

Turkey, itself a Nato member, has attempted to straddle both sides of the conflict, maintaining business and air links with Russia while Europe cut contact and backing Putin after Wagner's failed march on Moscow.
Erdogan hosted peace talks that broke down and negotiated a deal which green-lighted Ukraine to export grain via its Black Sea ports.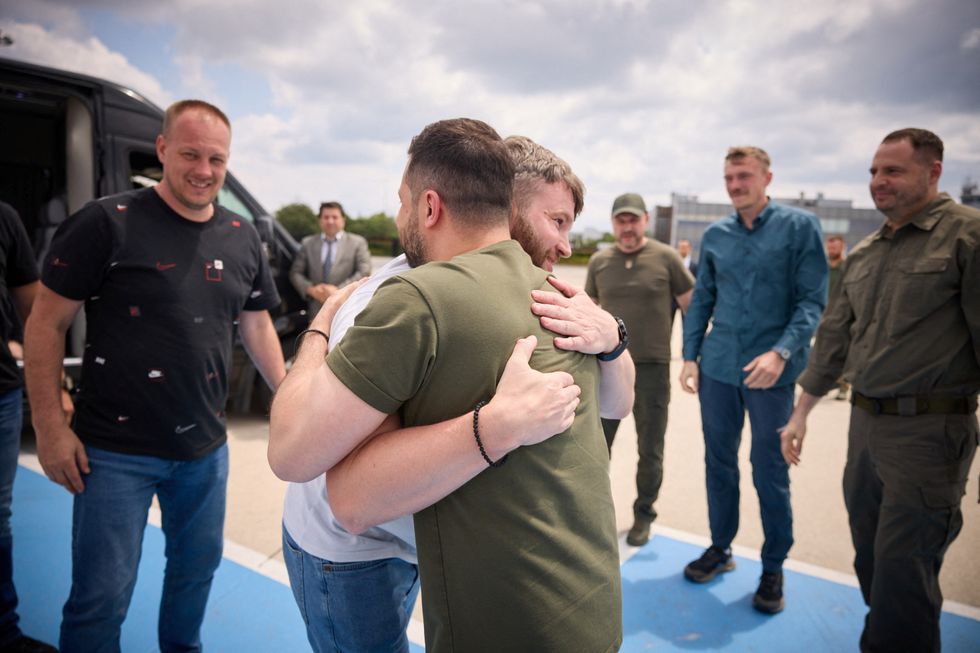 The commander have already pledged to return to the frontline
Reuters
Putin is due to visit Turkey in August for a rare overseas sit down.
Meanwhile, Zelensky has been making the most of the prisoner of war returns triumph, posting a video to social media showing himself hugging the commandos.
Zelensky noted: "We are returning home from Turkey and bringing our heroes home."
The Azov Regiment held out in the underground tunnels, nooks and crannies of the Azovstal steel works in Mariupol against the 80-day siege from Russian forces, earning worldwide notoriety.
UKRAINE WAR LATEST: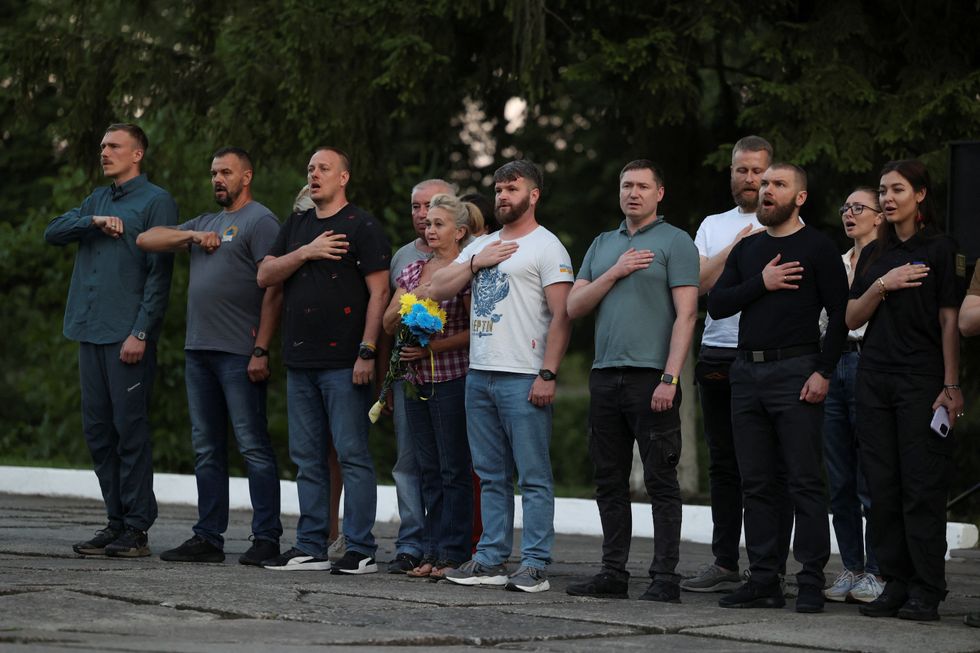 Commanders of defenders of the Azovstal Iron and Steel Works in Mariupol Denys Prokopenko, Sviatoslav Palamar, Denys Shleha, Serhii Volynskyi and Oleh Homenko sing a national anthem after their return from Istanbul, July 8, 2023
Reuters
Such acclaim made the fighters a prize scalp for Russia, and so losing them without prior notice has incensed political commentators.
One pro-war commentator and a former adviser to the Kremlin, Sergei Markov, said: "The consequences of this gross violation of these agreements and the release of Azov fascists needs to be very, very significant."
Russia's foreign minister, Sergei Lavrov, is reported to have taken the spurning up with his Turkish counterpart, Hakan Fidan, in a phone call on Sunday.
While Russia was left to reassess its position with Turkey, the commanders of the Azov Regiment returned to Lviv and wasted no time in pledging to return to the frontline.