A retired builder has described himself as "lucky to be alive" after driving himself to hospital with his bowels wrapped in a T-shirt.
Brendan Clancy, 67, from Upper Cwmtwrch in the Swansea Valley, got behind the wheel on the 10 minute journey to community hospital after a saw cut through his abdomen and his bowels.
---
Clancy lost his footing before he tripped onto the saw.
He had been cutting pallets in his garden when he fell onto the saw's nine inch blade.
PRINCE WILLIAM SPEAKING ABOUT THE AIR AMBULANCE
Clancy said: "I felt something squidgy and I realised my bowels were coming out.
"I couldn't believe it. They just kept coming out and it seemed as if it would never stop."
He added: "There was a bucket on the floor but that was dirty, and I thought I couldn't use that, so I went inside and grabbed a T-shirt and wrapped them up in that."
Clancy's wife Jayne was in Carmarthen at the time of the accident on June 9.
LATEST DEVELOPMENT: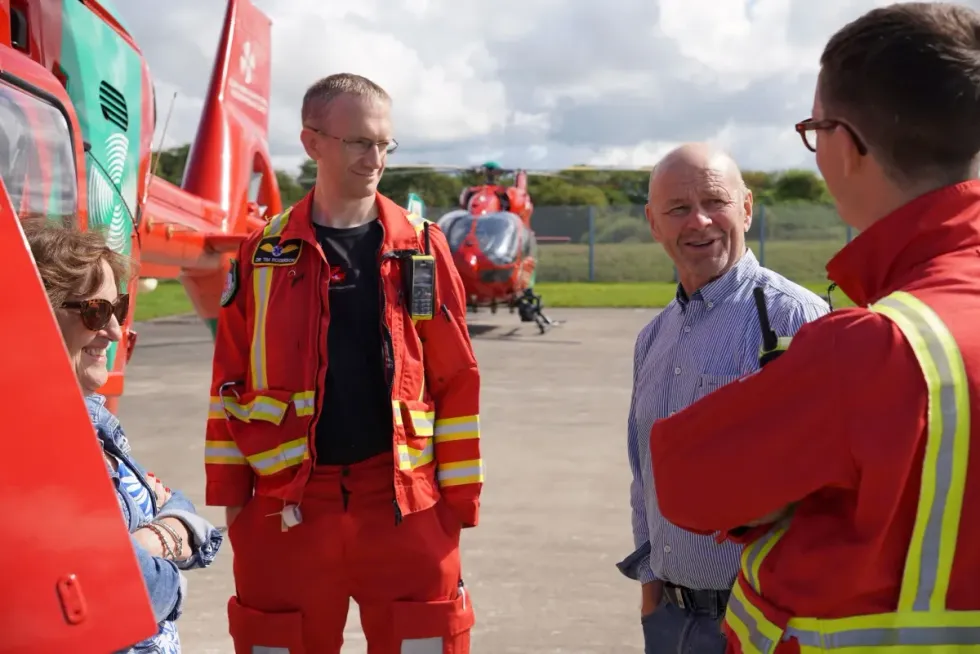 An image of Brendan Clancy meeting Welsh Air Ambulance personnel
WELSH AIR AMBULANCE
The 67-year-old drove himself to the minor injuries unit in Ystradgynlais.
He was taken to a nearby playing fields where an air ambulance was waiting.
Clancy was soon flown to the University Hospital of Wales in Cardiff.
He underwent four hours of surgery before he returned home a few days later without any lasting injuries other than a 12 inch scar.
Professor David Lockey, the critical care consultant who treated Clancy, said it was "good to hear" he had recovered quickly.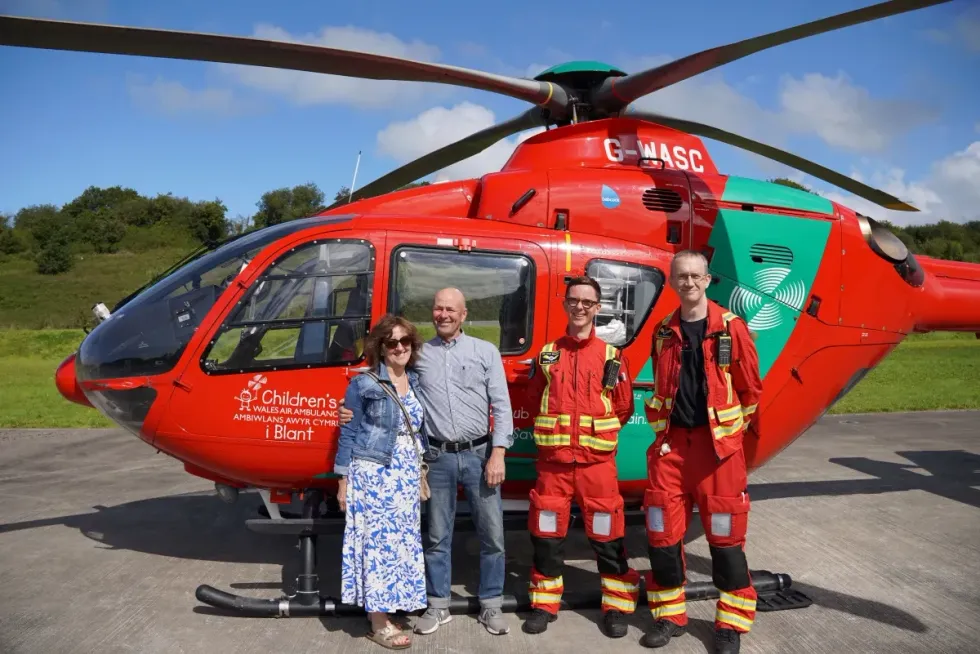 Brendan and Jayne Clancy
WELSH AIR AMBULANCE
He said: "Despite the positive outcome in this case, we would still advise anybody in an emergency situation to call 999 directly.

"It also serves as a reminder to everyone to be careful with power tools."
But Clancy also thanked the Welsh Air Ambulance for its role in his treatment.
He concluded: "I could not fault the Wales Air Ambulance; they were all absolutely fantastic.
"I have lived all over the world and to my mind there is no other service in this world that could better it.
"I appreciate how incredibly lucky I am to be alive and how lucky we are to have such an amazing service in this country."