By Tom Evans
Published: 15/07/2022
-
17:57
Updated: 14/02/2023
-
10:50
Rishi Sunak, Penny Mordaunt, Liz Truss, Kemi Badenoch and Tom Tugendhat are all bidding to take over as Tory leader after Boris Johnson's resignation.
The final five hopefuls took part in an online leadership hustings today, ahead of a weekend of televised leadership debates.
---
With the third round of voting due to take place on Monday, where at least one candidate will have to drop out of the race, all five were in full campaign mode on Friday.
Ms Mordaunt set off on the front foot, accusing Tory rivals of trying to block her from reaching the final two by "mudslinging" in a "black ops" campaign.


Liz Truss, Rishi Sunak, Penny Mordaunt, Tom Tugendhat and Kemi Badenoch are standing to be PM
UK Parliament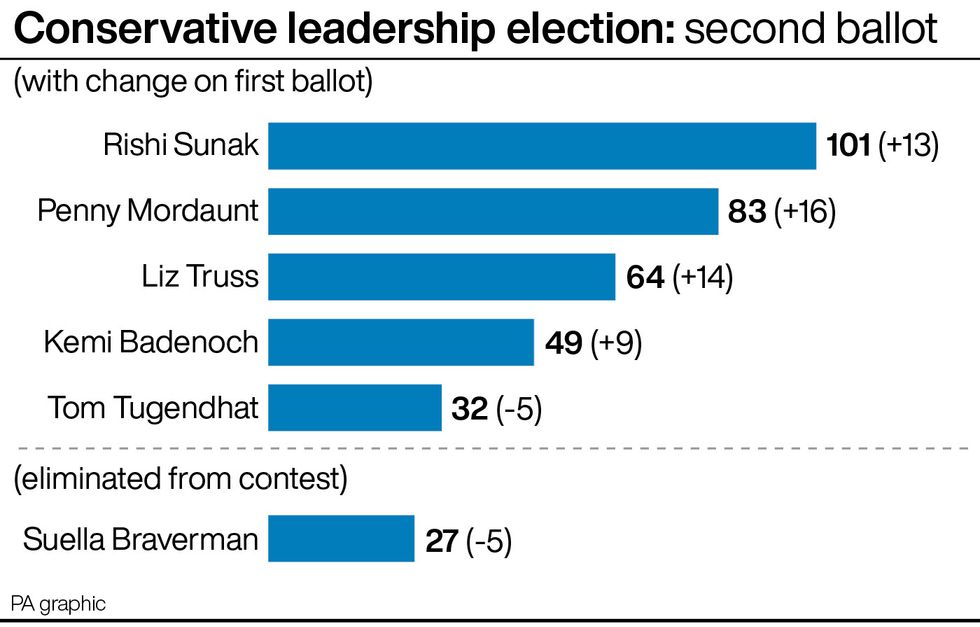 Tory leadership race: The results after the second ballot
PA Graphics/Press Association Images
Criticism of her for being too "woke" on issues such as trans rights, she predicts, is doomed to fail.
Allies of Ms Truss denied any involvement in the smear campaign, but the race to the final two is becoming increasingly bitter.
Ms Truss vowed to axe the scheduled corporation tax hike from 19 percent to 25 percent next year in her pitch.
And Suella Braverman, who dropped out of the leadership race on Thursday, wrote to supporters to get behind the Foreign Secretary.
The Attorney General wrote: "Other MPs and activists will make up their own minds who to support. Nobody can order them who to support and nor should they. But for those who want to support Kemi, I would say just this.
"Kemi is a great woman and a friend. She could do a fantastic job as PM one day but we need to look realistically at the numbers.
"Liz and Kemi are not both going to make it into the final two. So, a decision needs to be made to back one of them. The one we should back, I'd argue, is the one who can get to the final round: Liz can, Kemi cannot.
"Liz is undeniably the better-placed candidate to get to the voluntary party round and fight there for the things that all three of us believe."
Mr Sunak and Mr Tugendhat, meanwhile, spoke out about "cleaning up" Westminster after a string of scandals.
A spokesman for Mr Sunak's campaign said there needs to be "a cross-party approach to take forward any reforms to ensure that kind of behaviour is not repeated".
While a member of Mr Tugendhat's team emphasised that the former Army officer would represent "a clean start" for the party.
Asked specifically whether Chris Pincher should remain an MP after being accused of groping two men, both campaigns said the investigation into his behaviour should be allowed to conclude first.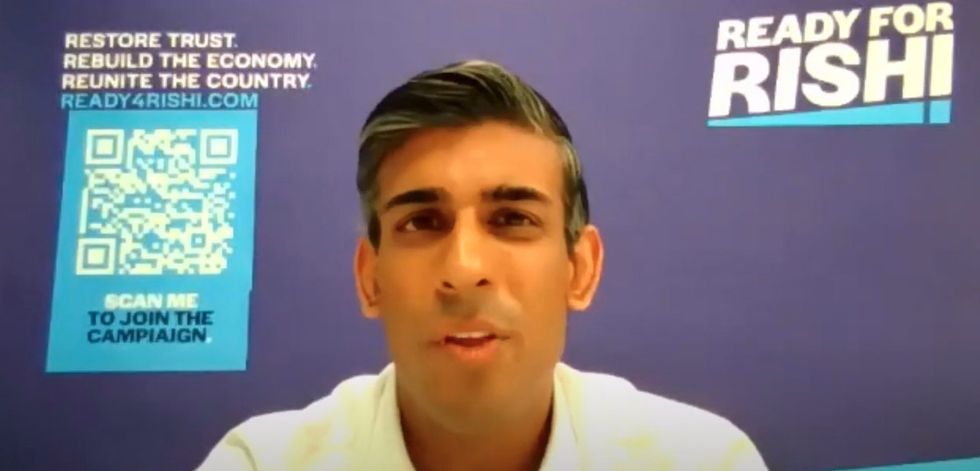 Rishi Sunak appearing during the digital hustings on Friday
ConHome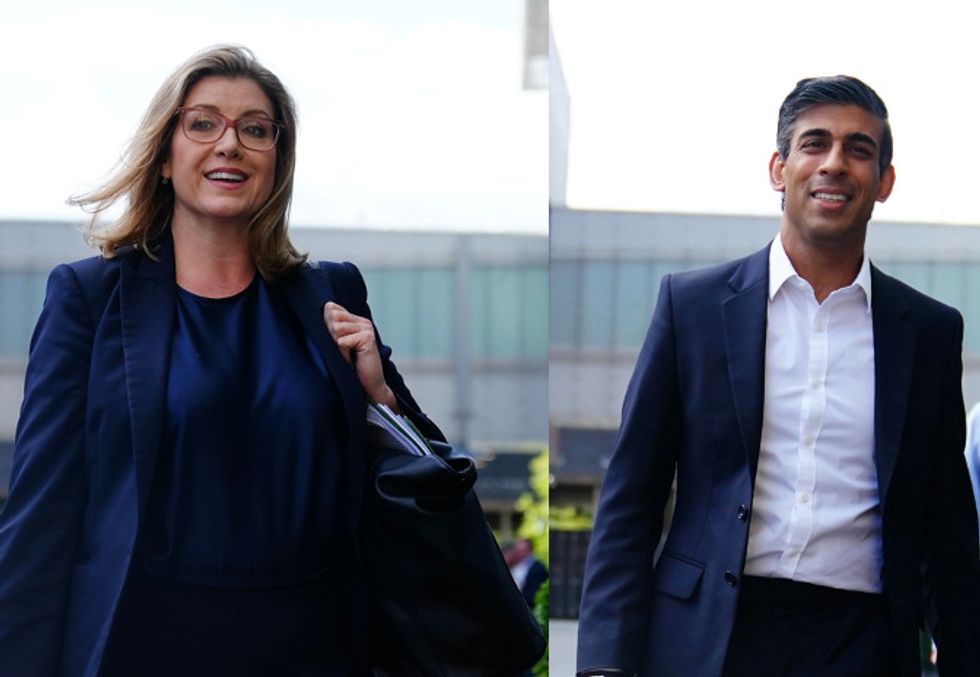 Penny Mordaunt and Rishi Sunak in London on Friday ahead of a televised debate
PA
Ms Badenoch campaigned on a different pitch, pledging to call for an emergency Budget to help struggling families in the cost-of-living crisis if she is made PM.
The 42-year-old said she will cut fuel duty and cancel the rise in corporation tax.
She also promised to raise the income tax threshold and pledged to bring the universal credit and pension credit uplift forward from April 2023 to this autumn.
Mr Sunak suffered arguably the gaffe of the day as he appeared in front of a QR code during the online hustings.
Unfortunately for him, the promotional material read: "Scan me to join the campiaign."
It triggered mockery on social media, as the former Chancellor's leadership pitch evidently backfired.
The five contenders will be whittled down to four on Monday, three on Tuesday and two on Wednesday if no one pulls out before any of the scheduled ballots.
The final two will then campaign to win the support of Tory members before the winner is officially announced on September 5.